The Mandalorian's Bird-Like Creature The Convor Explained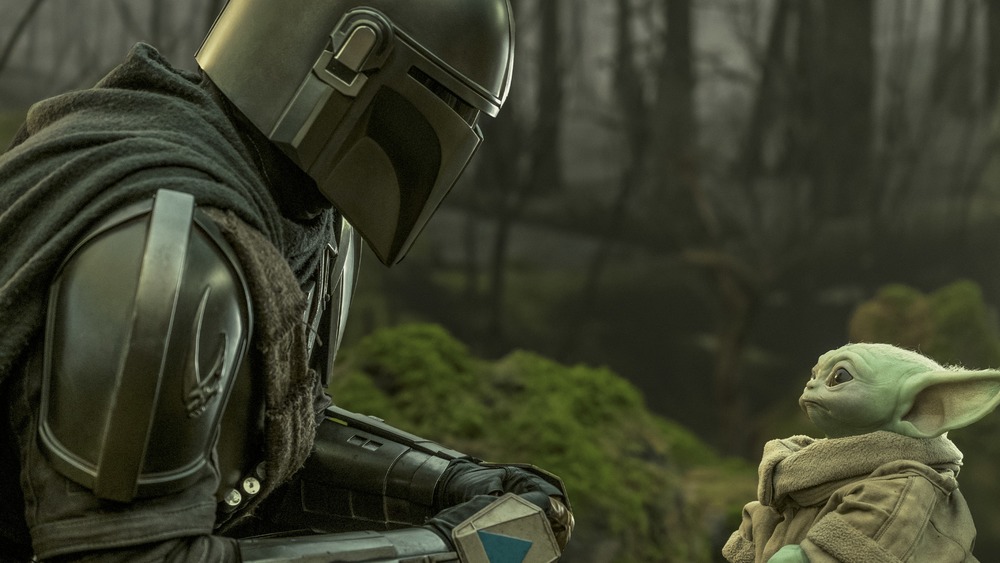 Disney+
Contains spoilers for The Mandalorian season 2
As a Star Wars-themed Disney+ sci-fi epic, The Mandalorian is a pretty huge show by default. However, "Chapter 13: The Jedi" pulls out all the stops by introducing us to Rosario Dawson's Ahsoka Tano, the eagerly awaited Jedi who makes her debut as a live-action character. Oh, and the show also finally reveals that Baby Yoda's real name is Grogu, thus continuing the show's trend of absolutely acing new character names.
With a barrage of such major reveals, it's easy to miss some of the show's Easter eggs that draw from the vast lore of the galaxy far, far away. For instance, did you notice the peculiar bird that watched over Din Djarin (Pedro Pascal) and Baby Yoda — sorry, Grogu? That little guy wasn't just some random space owl, you know. Let's take a closer look at The Mandalorian's peculiar bird-like creature, the convor.  
The convor is a creature with a connection to Ahsoka Tano and the Force
The convor is a member of the convorees, an owl-like avian species with a monkey-like prehensile tail. The Mandalorian isn't the species' first rodeo, as they have made appearances on Star Wars: The Clone Wars and Star Wars Rebels. The convorees have a connection to the Force, and individuals have been known to accompany Force users in their travels. Since "The Jedi" brought us Ahsoka Tano's The Mandalorian debut, it's no surprise we also got the live-action debut of the convorees. Per series canon, one particular convor called Morai has a strong friendship with Jedi apostate. In fact, many fans have pointed out on Twitter that the convor we see observing our heroes from a tree may very well be Morai.
Dave Filoni, executive producer of Star Wars Rebels, told IGN in 2016 that convorees are far more than just random cute creatures flying around. "In some ways, I could say that it's a messenger, it's an observer," Filoni describes the bird. "It is definitely something. And ... I would rather have fans debate — but I would suggest ... that whatever that thing is an avatar of has actually appeared in the animated Star Wars universe before. So decrypt from there." Mysterious! 
As for where the surprisingly noble convorees get their name, the answer is not quite as mysterious. However, it's pretty endearing. Filoni named the species after his wife, Anne Convery.