How You Can Play Through Mike's D&D Adventure From Stranger Things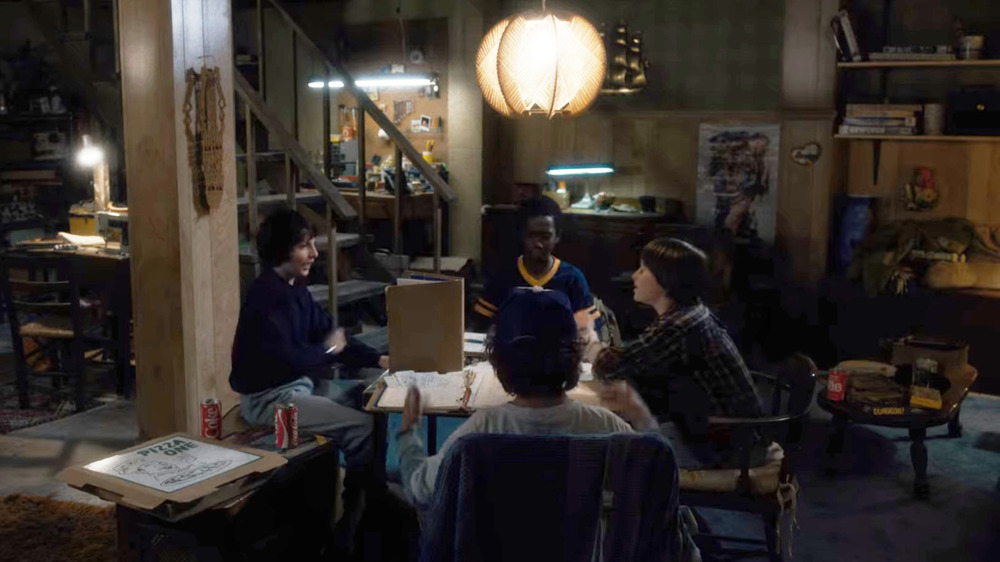 Netflix
We may receive a commission on purchases made from links.
With the holiday season well underway, plenty of people are racking their brains, trying to come up with the perfect present. Now, the folks behind Netflix's Stranger Things humbly put it to you: Why not give the gift that keeps on giving? Why not offer your loved ones a classic board game crossed with a traumatic childhood simulator?
If that sounds like a hoot, you're in luck, as Hasbro has released a Stranger Things-themed Dungeons & Dragons starter set. The game comes with five pre-made characters modeled after the series' main cast, a set of dice, two Demogorgon figures, and a story credited to Mike Wheeler. Yes, the same Mike Wheeler from the hit Netflix series — the campaign, titled "Hunt for the Thessalhydra," was indeed written by a fictional character, bringing players one step closer to their collective dream of joining Hawkins, Indiana's most stress-laden youth social circle.
Dungeons & Dragons has played an integral role in the Stranger Things universe since season 1, so an in-universe spin-off game is a great fit. The box is even designed to look like a D&D set from the 1980s, lending a period aesthetic to the proceedings. The game itself is billed as an easy starting point for new players and a novel experience for seasoned veterans, so you should be able to enjoy it even if you've never played Dungeons & Dragons before — either due to your having been stuck in Hawkins Laboratory as a human experiment for the last decade, or just because you never got around to it.
Stranger Things turns D&D upside down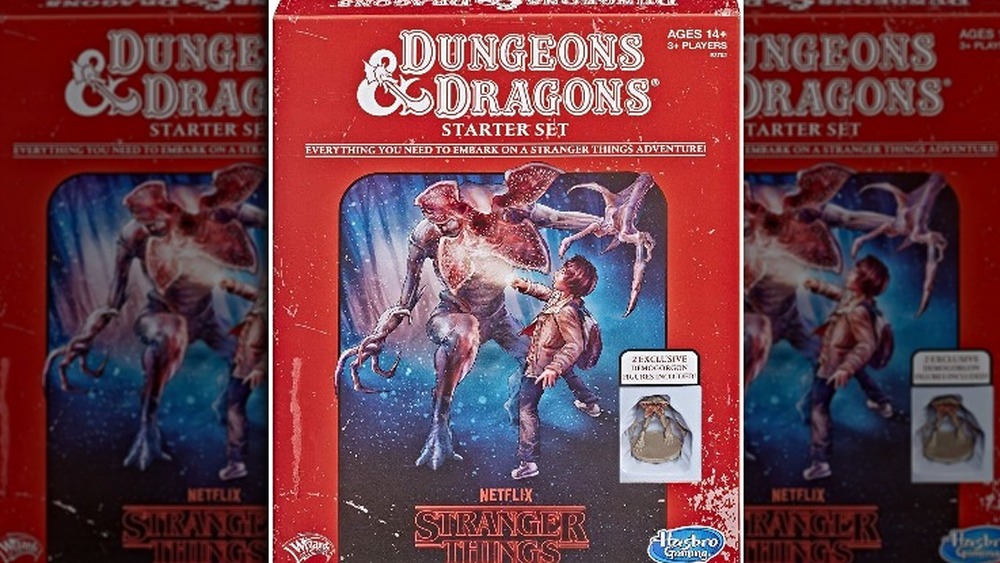 Hasbro/Netflix
In keeping with the game's purported authorship, the Stranger Things Dungeons & Dragons campaign book is designed to look homegrown, with hand-drawn illustrations and story notes. The adventure takes players to a mysterious castle, a monster's lair, and, of course, into the Upside Down.
Reviews for the game have been favorable, once you get past the requisite complaints about 5th Edition D&D. One Amazon customer called it "good quality and right on point." Another said that it was a "great one-shot with great ideas to incorporate in other campaigns."
While this is the first collaboration between D&D and Stranger Things, it won't be the last. In 2020, IDW and Dark Horse announced a new four-issue comic book miniseries entitled Stranger Things and Dungeons & Dragons. Written by Jody Houser and Jim Zub, it tells the story of the show's main characters as they bond over the tabletop game for the first time. The first issue was released in November 2020.
Between the comics, the tabletop game, and the laundry list of other tie-ins ranging from novels to video games, there might just be enough auxiliary merch to tide us all over until Stranger Things season 4 is released at a yet-to-be-announced point in the next year or two.