Synopses For New Walking Dead Season 10 Episodes Are Eye-Opening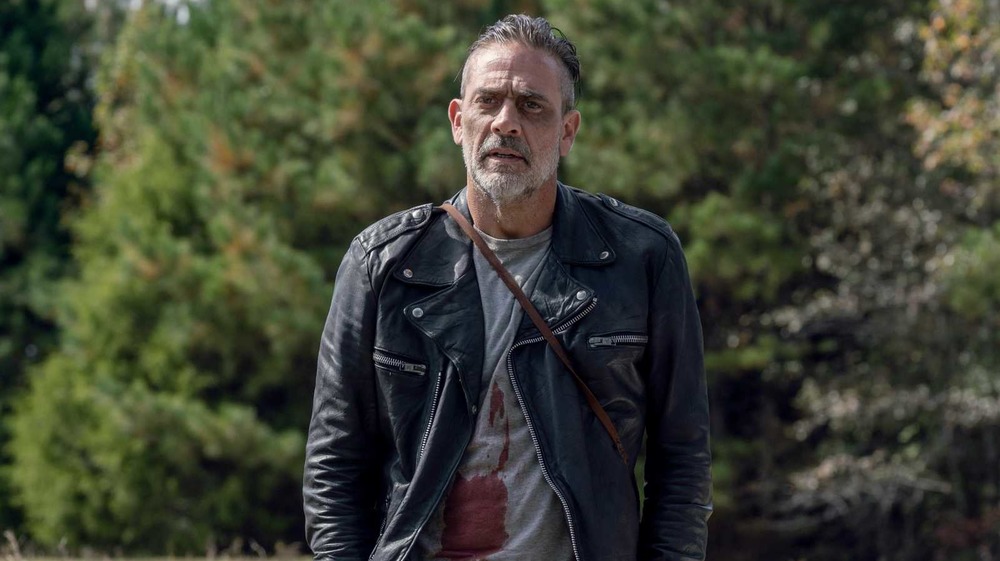 AMC
It's been a long, zombie-infested run, but The Walking Dead's historic tenure on AMC as one of the network's flagship programs is slowly but surely coming to a close. The news went public on September 9, 2020, revealing that a grand total of 24 episodes will comprise the 11th and final season, giving the showrunners a chance to properly say farewell to the ragtag group of apocalypse survivors. However, that's a story for 2021 and 2022, since TWD's tenth season hasn't even reached its conclusion yet thanks to the always inconvenient COVID-19 pandemic (via Deadline).
With six more chapters of season 10 in the barrel, viewers have patiently waited months for any news regarding their arrival, and AMC finally delivered. As reported by TV Line, The Walking Dead will once again grace television sets across the globe beginning on Sunday, February 28, 2021. This marks over four months since the previous installment, "A Certain Doom," hit the airwaves. Additionally, for those subscribed to AMC+, they can get their walker fix a bit early: Every new episode drops the Thursday before its scheduled Sunday-night cable debut.
The bulk of the season is already in the history books, so audiences have a somewhat-complete idea of where the remaining installments will go. However, in true Walking Dead tradition, it appears as though a few surprises are on the way. In the same press release announcing the program's return, AMC also provided some quick blurbs on each of the six upcoming season 10 episodes, and the finer details are rather telling.
Maggie tells her story in 'Home Sweet Home'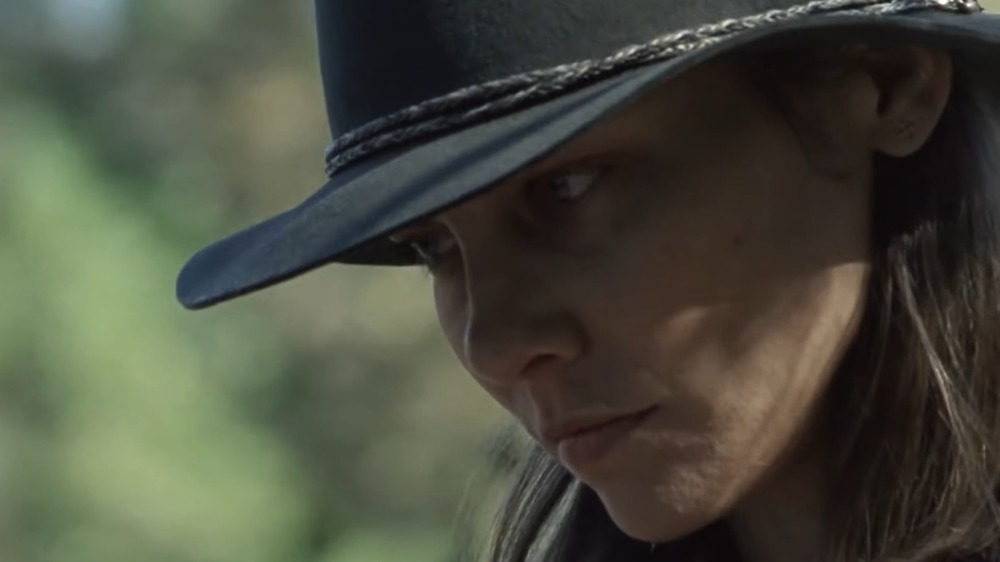 AMC
The 17th episode of season 10, "Home Sweet Home" appears to pick up right where "A Certain Doom left" off, and sounds far more story-driven than its action-packed predecessors. The plot synopsis states, "Maggie (Lauren Cohan) has returned with a story she is not ready to share, even when her past catches up to her. Negan's (Jeffrey Dean Morgan) safety is at stake again. Daryl (Norman Reedus) and Maggie fight an unseen and unknown threat."
Quite a few different plot threads stemming from The Walking Dead's biggest names are seemingly explored further in this episode. First and foremost, "Home Sweet Home" will likely include some form of flashback as Maggie recalls what she's been up to since splitting off from the main group, apparently reconnecting with her old life in some way. Also, to the surprise of no one, Negan will find himself in trouble yet again this season after spending some time in the Whisperers' custody and standing trial for Margo's (Jerri Tubbs) death. Finally, it'll be interesting to discover the nature of this new enemy coming after Daryl and Maggie now that the Whisperer War is concluded. 
TWD's season 10 return is shaping up to be just the right episode to ease viewers back in and lay the groundwork for those to come.
'Find Me' features Daryl opening up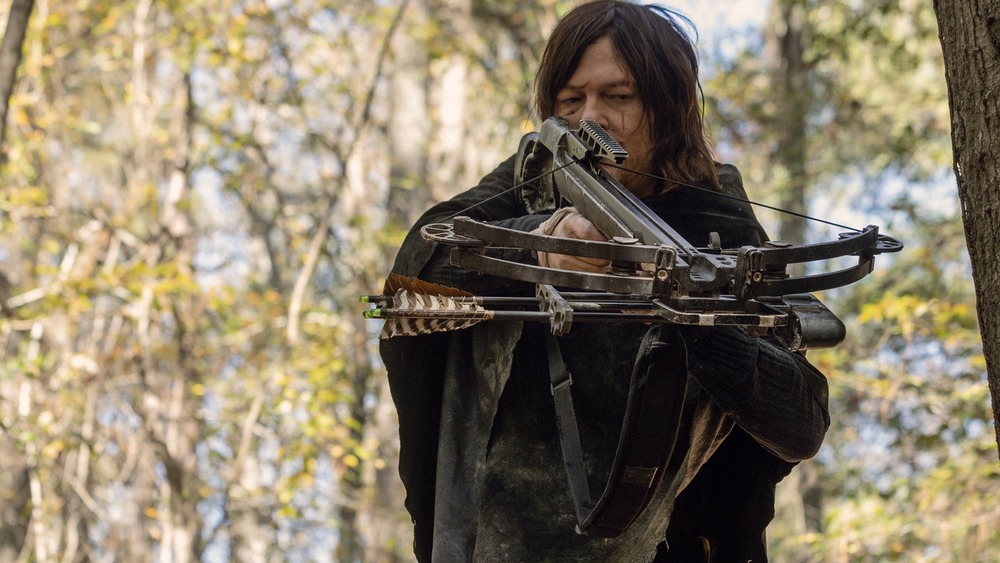 AMC
Moving away from the larger season-wide conflict, the episode "Find Me" promises a character-focused narrative, which is always a breath of fresh air in a show that's strength is in its writing. Once again, the story concerns itself with days gone by, yet still hints that there's plenty of zombie-killing action on the way in the present. "An adventure for Daryl and Carol (Melissa McBride) turns sideways when they come across an old cabin. It takes Daryl back to the years when he left the group after Rick disappeared as he relives a time that only the apocalypse could manifest," the synopsis reads.
Both characters having played a major role in The Walking Dead's story from the very start, it should come as no surprise that Rick (Andrew Lincoln) and Daryl grew incredibly close over the years, cultivating a brotherly relationship. Therefore, when the former left, Daryl probably went through quite a range of emotions to process his loss, and it can't be easy to recollect such hard times. This speaks volumes about his relationship to Carol, since he trusts her enough to open up and face these inner demons in her presence during their time at this nondescript lodging.
Additionally, TWD has kept rather quiet about the specifics of what happened to the cast post-Rick Grimes' rescue by the CRM, so "Find Me" could prove one of the program's more revealing installments to date and go a long way in providing some much-needed context for this undocumented time period.
What perils befall Gabriel and Aaron in 'One More'?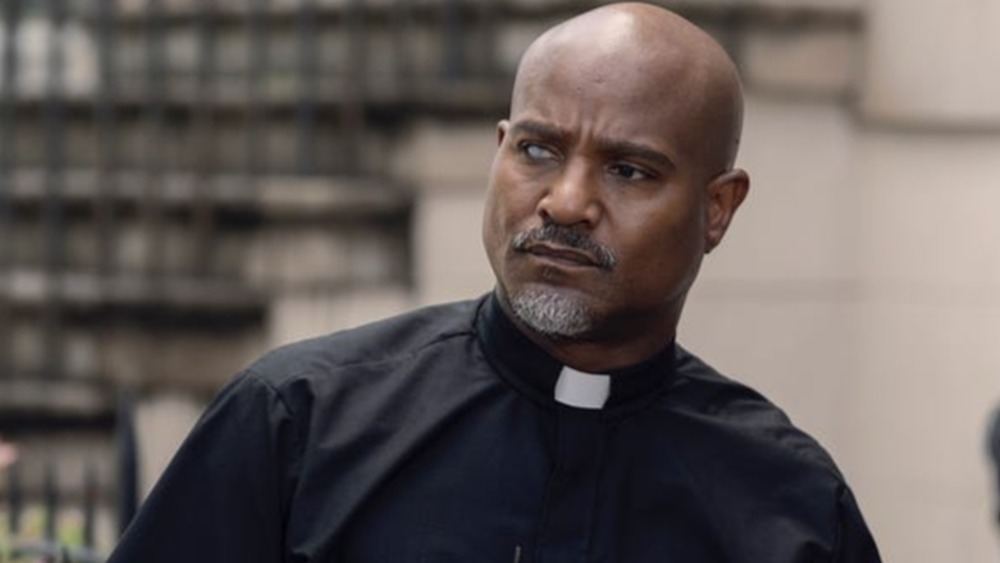 AMC
Episode 19 of season 10, entitled "One More", sounds like a very self-contained tale on its own. Reading between the lines, however, indicates that there could be wider repercussions to deal with down the line. The logline is as follows: "Gabriel (Seth Gilliam) and Aaron (Ross Marquand) search for food and supplies to bring back to Alexandria. Small tragedies lead to bigger tragedies as faith is broken and optimism is fragmented when they are put to the ultimate test."
Gabriel and Aaron aren't best friends by any means, but the fact remains that they're allies who are committed to keeping Alexandria and everyone within its borders safe and healthy. Even still, this synopsis seems to imply that their inner strength and collaborative skills will be placed under heavy scrutiny during a supply run gone awry, straining their devotion and hope for the community's survival at the same time. 
Whether or not these pressures will come solely from the time they spend together or outside forces they encounter amid their travels is anyone's guess, but knowing these two stalwart defenders of Alexandria can have their faith shaken is a highly intriguing premise. This doubt in their cause could add an interesting wrinkle to the remainder of their arcs as well.
'Splinter' puts Princess in the spotlight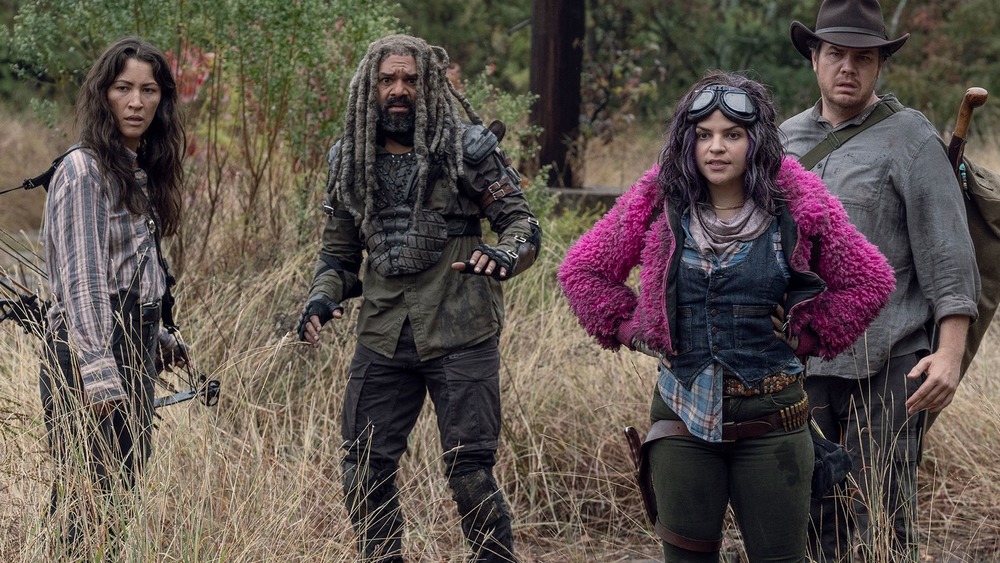 AMC
"Splinter" once again ties the season more heavily to the events of "A Certain Doom" by detailing the whereabouts of Eugene, Ezekiel, Yumiko, and franchise newcomer Princess, who finally gets her moment in the sun. According to the press release, in the episode, "Eugene (Josh McDermitt), Ezekiel (Khary Payton), Yumiko (Eleanor Matsuura), and Princess (Paola Lázaro) are captured and separated. Princess struggles with memories of her traumatic past and tries to escape one way or another with the help of Ezekiel."
Only three episodes into her Walking Dead career, Princess, also known as Juanita Sanchez, is still severely lacking in the backstory department. As a result of her isolation in this episode and the mental fracture that ensues, audiences will probably witness either flashbacks or dialogue exposition that explains who she is, where she came from, and how she become the eccentric walker-killer she is today. This, set against the backdrop of her and Ezekiel's escape attempts, amounts to an overall thrilling installment.
Yet again, The Walking Dead supplies a highly character-centric episode — with a healthy dose of action — that will go a long way in giving Princess some dimension and relatability. Hopefully, it'll also find time to provide some answers as to who is responsible for taking her and her companions hostage and what their motives are.
Daryl and Carol work alone in 'Diverged'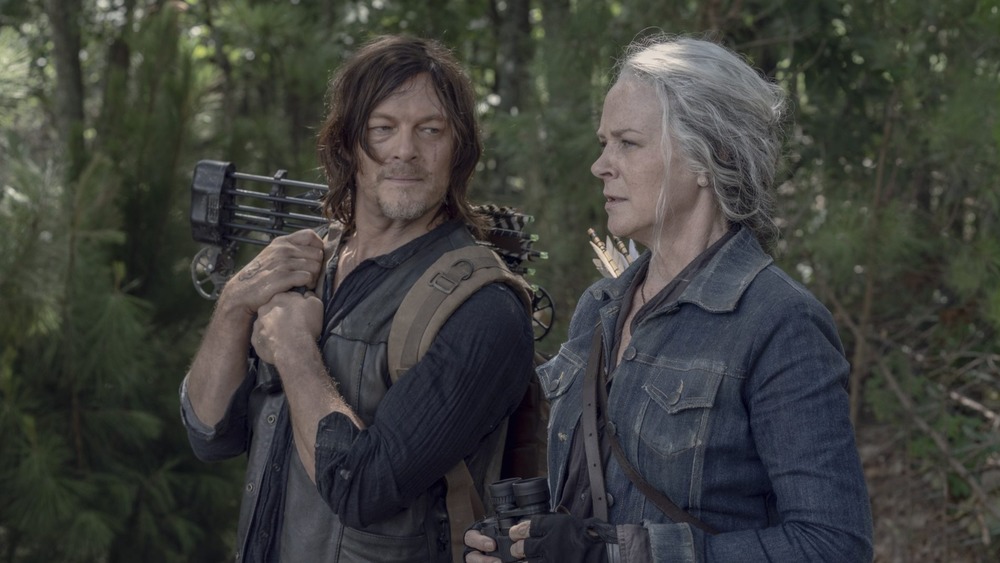 AMC
The episode "Diverged" — on a surface level, at least — sounds like one of The Walking Dead's most emotional episodes in recent memory, as evidenced by the very vague description AMC put out. "Daryl and Carol come to a fork in the road and head their separate ways. Each going into their own type of survival mode, the easiest of challenges become much harder," the synopsis reads. "Will their individual journeys be the tipping point needed to mend their friendship or is the distance between them permanent?"
It's no secret that Daryl and Carol's friendship is among the closest on the program, but their personal ideologies and life traumas make it hard for them to not butt heads from time to time. Whether or not this supposed fork in the road is literal or metaphorical doesn't really matter, as it'll test their mettle as individuals and indicate how badly they need one another either way. It's also a possibility that the events of "Find Me" can impact "Diverged," making it even harder to foresee what might happen in this story.
At any rate, it's pretty much a given that these two Walking Dead mainstays will reunite at some point down the line since they're getting their own spin-off series in the future. Although, that show could turn out to be a prequel set just after Rick's disappearance, meaning whatever choices they make in "Diverged" could end up sticking in the long run.
'Here's Negan' humanizes the inhuman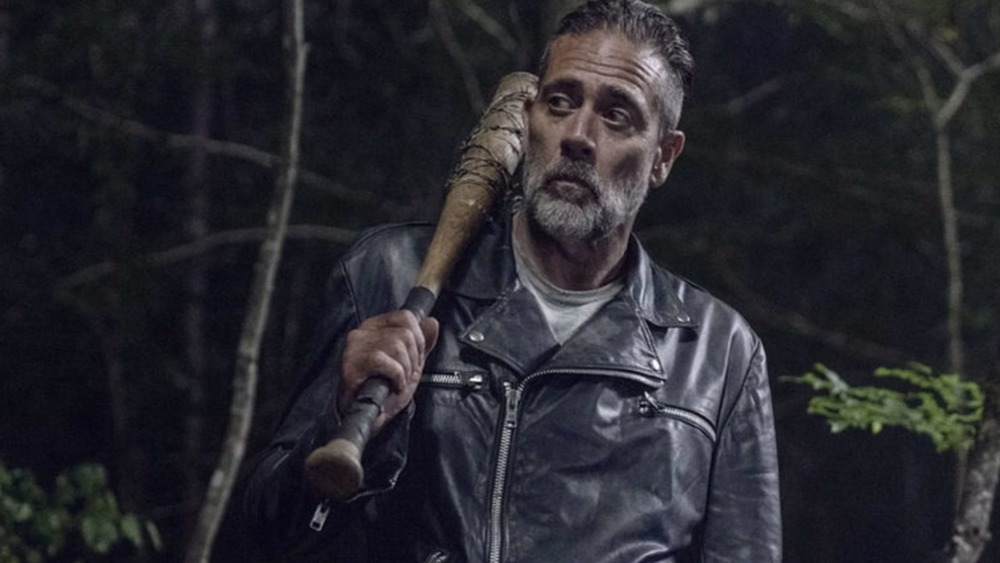 AMC
In keeping with season 10's trend of extensive character breakdowns, its finale, "Here's Negan," goes all-in on one of The Walking Dead's most persistent villainous entities. In this episode, "Carol takes Negan on a journey, hoping to minimize the increasing tension. Negan reflects on the events that led him to this point and comes to a conclusion about his future." While this might just sound like a recap of everything Negan has done since he arrived on screen, this particular reminiscing session goes back even further than that.
The title refers to the comic book of the same name, which takes readers on a trip down memory lane through Negan's pre-apocalypse life and details his fall to villain status. By the looks of this, the contents of this episode will follow suit and flesh out his TV counterpart in the same manner. Also, according to ComicBook.com, the rest of season 10 will introduce the former leader of the Saviors' deceased wife Lucille (played by Jeffrey Dean Morgan's real-life spouse Hilarie Burton) in one or more flashbacks. "Here's Negan" will undoubtedly turn out to be a must-see event for Walking Dead die-hards and a fine cap to its second-to-last season.
Of course, a lot of this is pure speculation, and knowing the minds behind The Walking Dead, it's entirely likely more twists, turns, and speed-bumps will arise when these episodes actually air this coming February.