The 14 Best Thanksgiving Sitcom Episodes, Ranked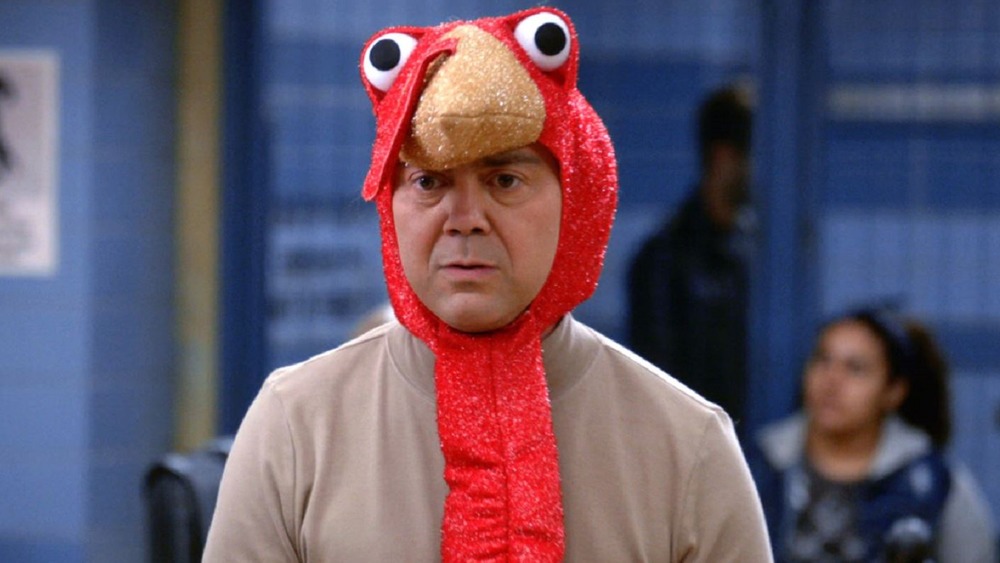 Fox
When most people think about Thanksgiving, they think about turkey, football, or the Macy's Thanksgiving Day Parade. As for us, we think about sitcoms. After all, every sitcom worth its laugh track has at least one solid Thanksgiving episode, where you can spend half an hour with a fictional family and feel right at home during the festivities.
Whether it involves dive-bombing live turkeys or avoiding dishes of tofurkey, each of these holiday episodes has something hilarious to offer. Some offer warm lessons and teach characters to cherish one another, while others are a pure ode to the chaos that Thanksgiving can bring. But which ones are the best of the best? Well, for your reading pleasure, we've assembled a ranking of episodes based on the quality of laughs, cultural impact, and comfort. After all, watching these episodes should make you laugh and feel good.
Curious to see if your favorite installment made the list? Well, here are our picks of the best Thanksgiving sitcom episodes, ranked.
14. Gilmore Girls, A Deep-Fried Korean Thanksgiving (Season 3, Episode 9)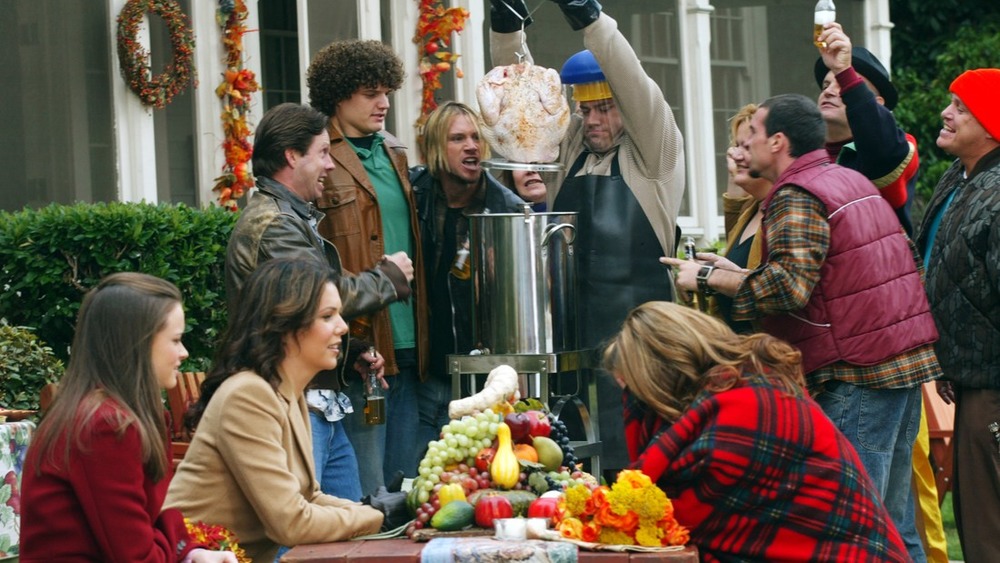 The CW
"Gilmore Girls" is known for fast quippy dialogue, but "A Deep-Fried Korean Thanksgiving" challenges the Gilmores to both eat and talk their way through Thanksgiving.
The Gilmores' Thanksgiving docket is stacked as they have to visit four different parties throughout the day. And as Rory and Lorelai zip between four dinners throughout Star's Hollow, the jokes come as hard and fast as the plates of food continually served to the two leads. Even the dishes themselves are funny — Lorelai is unsuccessful at offloading her plate of tofurkey at the first house, and Sookie's lawn is set on fire while various foods are deep-fried throughout the evening.
There are also some major character plots that emerge during "A Deep-Fried Korean Thanksgiving," which may potentially deter viewers less familiar with the overarching "Gilmore Girls" storylines. As Rory settles into her second-ever relationship with Jess, she worries about hurting her ex's feelings, and Lorelai is shocked at her parents' dinner when she learns that Rory applied to more than just one college. To be fair, the one school Lorelai thought Rory was applying to was Harvard, so it totally makes sense that the studious and responsible Rory would have applied to backups.
13. Seinfeld, The Mom and Pop Store (Season 6, Episode 8)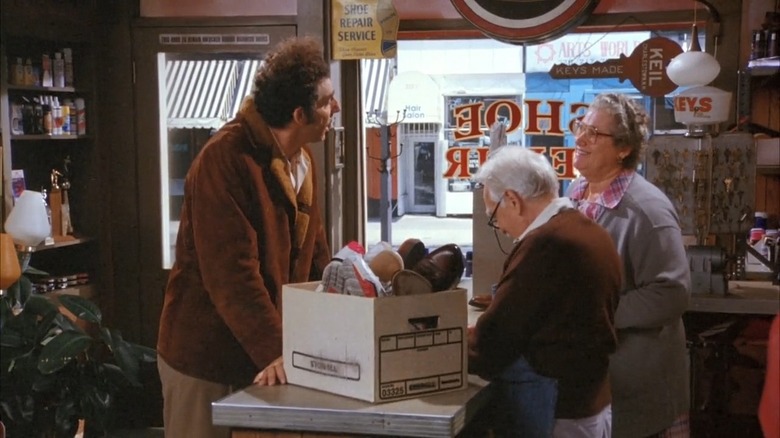 NBC
Like any episode of "Seinfeld," "The Mom and Pop Store" features wild plots and mishaps that diverge and weave together to an almost unbelievable degree, but New Yorkers know that weirder things can and have happened.
The episode's title refers to a local shoe repair store where Kramer takes all of Jerry's sneakers for cleaning. Unfortunately, Kramer points out an electrical problem to the store owners, but since they're unable to bring it up to code, they close their store, leaving Jerry with only a pair of cowboy boots for the rest of the episode. Elaine, George, and Kramer each have their own misadventures along the way, with one character getting bitten by Jon Voight in a cameo appearance.
Many sitcoms that take place in New York attempt to portray an authentic NYC Thanksgiving experience, but this one is the most relatable. Sometimes everyone ends up at the table happy together, but other times, you're left with no shoes, and you accidentally take down a float for the Macy's Thanksgiving Day Parade.
12. Friends, The One with the Late Thanksgiving (Season 10, Episode 8)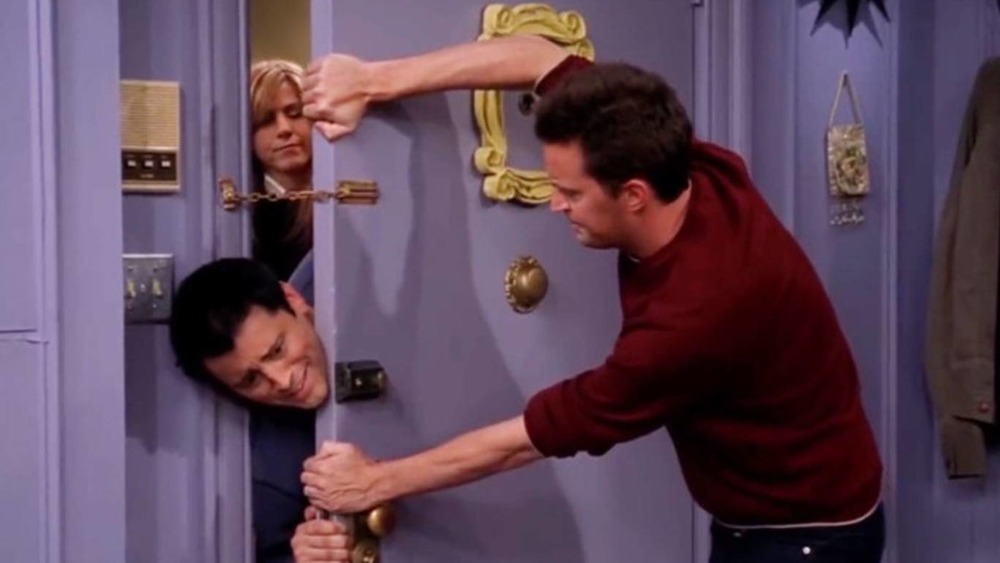 NBC
When you ask most millennials about what Thanksgiving specials are nearest to their heart, it's a good guess that they'll mention "Friends." There are plenty of great "Friends" Thanksgiving episodes to choose from —  "These are my Thanksgiving pants" — but "The One With the Late Thanksgiving" has got to be the best of the bunch.
The main premise is that after Monica and Chandler agree to host Thanksgiving against their will, the other characters hit various detours and all arrive an hour late to the party. A frustrated Monica and Chandler lock everyone out, which causes a whole other set of problems for everyone to address.
While it may not have iconic guest stars like Brad Pitt or maternity pants, "The One with the Late Thanksgiving" gave audiences the famed "floating heads" image that's spawned countless recreations. And as the final Thanksgiving episode of the series, it's comforting to watch the fully realized characters playfully bicker and push one another's buttons, then come together and share a genuinely happy moment with their friends.
11. Modern Family, Three Turkeys (Season 6, Episode 8)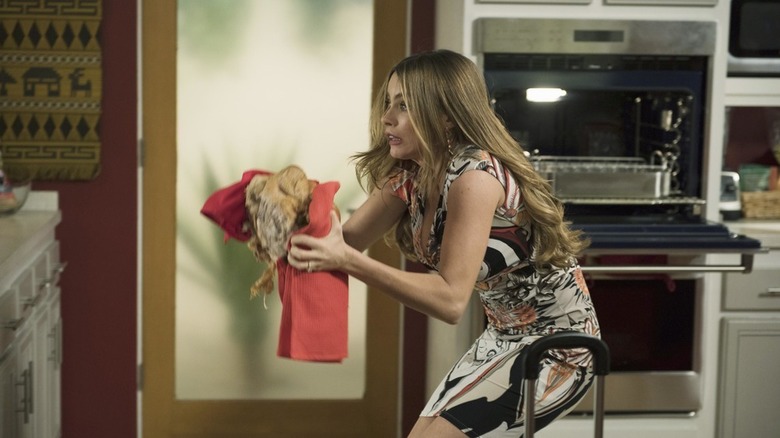 ABC
The family units that make up the cast of "Modern Family" find themselves juggled around like hot potatoes in this fun Thanksgiving episode, one that centers around the episode's titular turkeys.
The plot kicks off when Claire lets Phil be in charge of cooking the Thanksgiving bird, which he does with the gentle encouragement of a Nigella Lawson cameo. But Claire is unable to trust that he'll get the job done. So, she secretly cooks and hides a second turkey, but a power outage forces them to relocate the cooking and festivities to Jay's house, as he and Gloria are away on vacation.
However, unbeknownst to the Dunphys, Jay and Gloria actually stayed home after their vacation was canceled, hoping to get some alone time away from their extended family. As dinner looms closer, various turkeys are moved, hidden, and served throughout the episode. And like all great Thanksgiving episodes, the action is punctuated with the fact that these family members will always care and show up for one another, despite their misadventures and very different personalities.
10. Fresh Off the Boat, Huangsgiving (Season 2, Episode 8)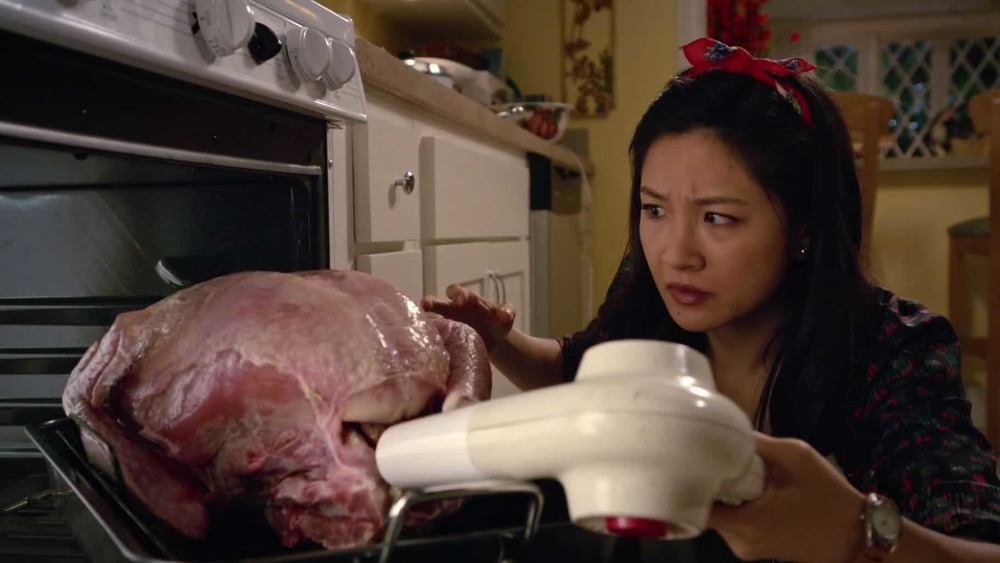 ABC
In Season 2 of "Fresh Off the Boat," the fall holiday for the Huangs begins in the most stressful way imaginable — a 5:30 a.m. phone call to announce which family will host Thanksgiving. For the first time, Jessica is chosen (an honor won by inundating her mother with Florida oranges decorated with her own face), so she and her husband, Louis, scramble to ensure the party wins the favor of Jessica's mother and inspires jealousy from her sister.
The Floridian feast is dubbed "Huangsgiving" by Louis, who claims there's nothing to worry about since he runs "a semi-successful restaurant." But Jessica and Louis' competitive nature gets the best of them as their planned dishes go awry. The Cornish hens that Louis had planned on serving ("They're the personal pan pizzas of the bird world!") come live, which sends the dinner into a tailspin of trying to find a new main dish to cook quickly on Thanksgiving Day.
There's plenty of food-related humor, as well as familiar family antics between each of the Huangs, making for a delightful episode to watch after your own family has eaten and packed up leftovers to go.
9. Brooklyn Nine-Nine, Two Turkeys (Season 5, Episode 7)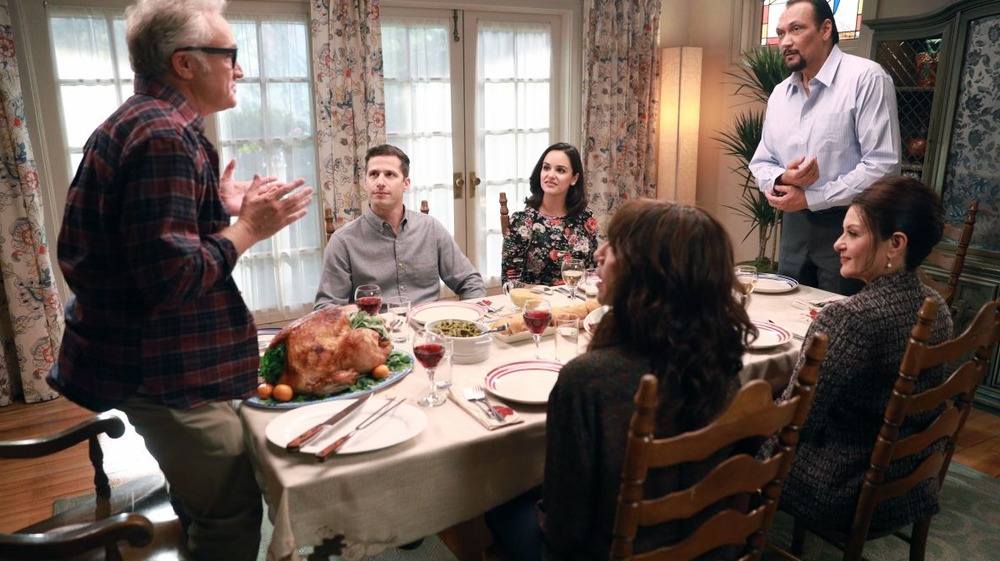 Fox
"Brooklyn Nine-Nine," the cop comedy created by "Parks and Recreation" alum Michael Schur, is better known for its Halloween Heist episodes, but the series also boasts some great Thanksgiving installments in its lineup.
In "Two Turkeys," newly engaged Detective Jake Peralta and Sergeant Amy Santiago attempt to throw a peaceful Thanksgiving dinner with their two families. The turkey-related laughs come early in the cold open, when Detective Boyle arrives at work dressed in a turkey costume ... and immediately gets stuck in the elevator doors. Of the consistently hilarious cold opens featured on "Brooklyn Nine-Nine," it's definitely one of the best holiday-themed ones.
As Amy's reserved and calculating parents arrive for Thanksgiving, Jake's mother is taken aback by Amy's mom bringing a second turkey. The two sets of parents immediately clash with one another while Jake and Amy attempt to keep the peace, and the B-plot sees Captain Holt sleuthing to find a pie thief.
The misadventures at Jake and Amy's will be familiar to anyone who's had a family holiday end at the hospital, and both plots end with an endearing message about treasuring family. It's a great Thanksgiving episode that pulls at the heartstrings while still packing plenty of laughs.
8. Community, Cooperative Escapism in Familial Relations (Season 4, Episode 5)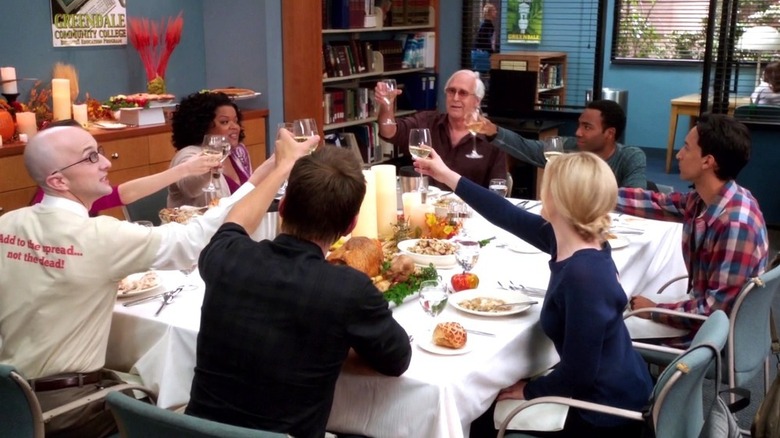 NBC
Many Thanksgiving episodes explore what it means to find your own chosen family while coming to terms with the family you grew up with. "Cooperative Escapism in Familial Relations" from the fourth season of "Community" is no exception.
The episode opens with Greendale's beloved study group discussing their plans for the Thanksgiving holiday. Shirley, the group's de facto mother figure, offers to host the other students for dinner with her and her in-laws, and most of the group happily accepts her invitation. Meanwhile, Jeff and Britta tackle Jeff's reunion with his absent father and half-brother.
The dinner at Shirley's quickly becomes more akin to a hostage situation as the study group immediately grows weary of Shirley's in-laws, and the crew devises an escape plan. As for Jeff, he initially chickens out of confronting his father, but a heartfelt conversation with his half-brother reveals Jeff is just repeating the same behaviors that the elder Winger demonstrated with him.
While Thanksgiving Day itself is funny but disastrous for the squad, Jeff makes it up to them by hosting a better Thanksgiving several days later in their very study room. The episode is thoroughly weird but in the best way (e.g., Britta does an impromptu rap encouraging Jeff's emotional breakthroughs via therapy), making it a quirky episode to queue into your Thanksgiving marathon.
7. New Girl, Thanksgiving IV (Season 4, Episode 9)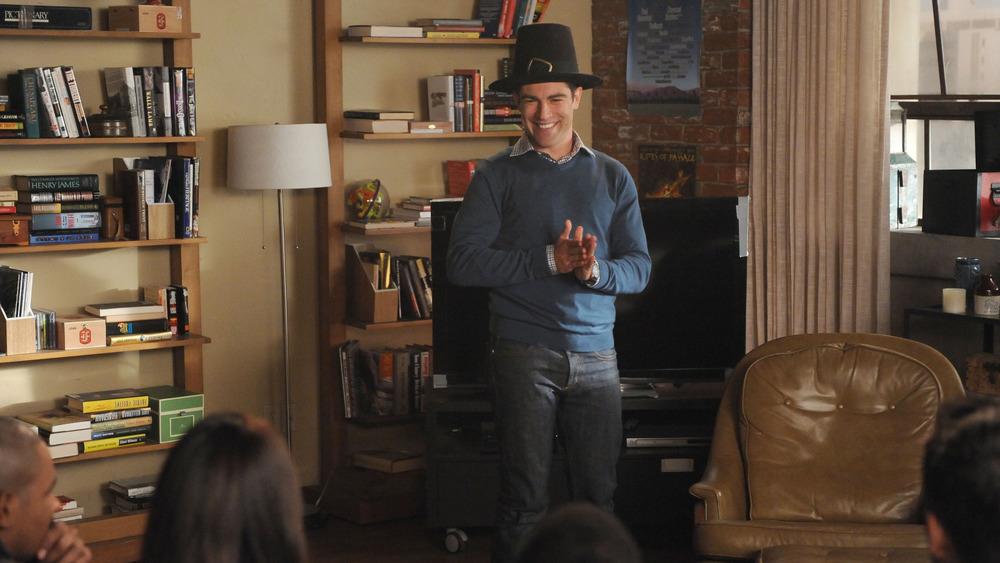 Fox
What do you do when you and all your friends are single before the winter holidays? If you're Schmidt from "New Girl," the obvious answer is to host "Bangsgiving" and have everyone invite a date for someone else in the loft.
The premise of Bangsgiving is seen as a welcome respite for all of the members of the loft, who are either single or still processing former relationships. Jess sees Bangsgiving as an opportunity to not think about dating her cute coworker (and subordinate) Ryan, while Cece and Schmidt are tasked with setting one another up ... even though they still harbor feelings for each other.
Although "New Girl" never fails to deliver laughs with its Thanksgiving episodes, the group dynamic between the loft's main characters is the reason why "Thanksgiving IV" ranks supreme among them. Characters that didn't receive a ton of attention in earlier seasons, like Coach and Winston, get a ton of love throughout Bangsgiving, as Winston processes his fear of lunch ladies and Coach comes around to being with a woman who's physically stronger than him. And for Schmidt and Cece fans, there's more than enough jokes to go around that both build their relationship and induce major laughs.
6. How I Met Your Mother, Slapsgiving (Season 3, Episode 9)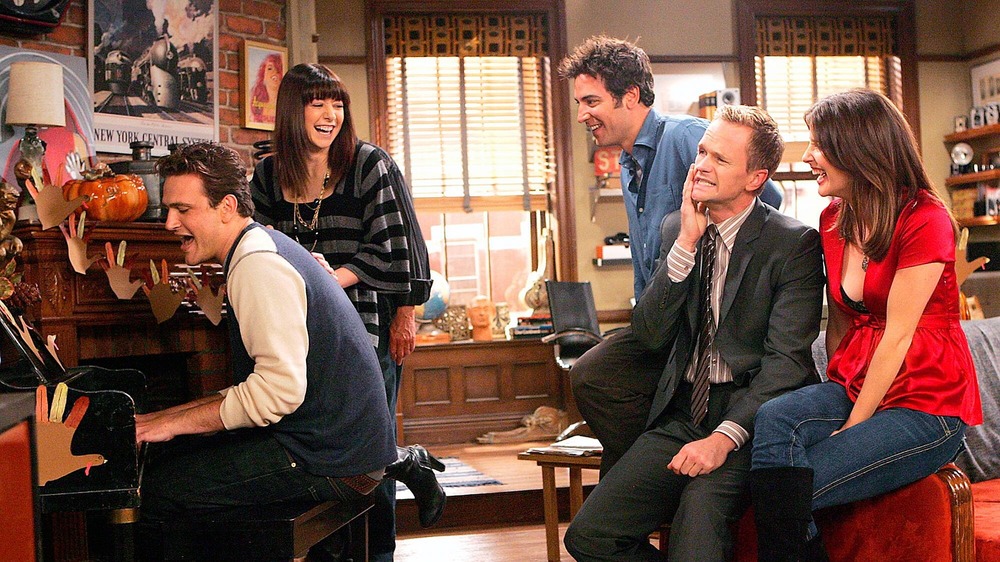 CBS
"Slapsgiving" is a cornucopia (no pun intended) of all the running gags that made "How I Met Your Mother" great. In Ted's voiceover, we learn for the first time about his and Robin's inside joke of saluting terms that start with a military rank. Plus, we see one of the Slap Bet slaps doled out by Marshall, older Ted rewriting history as an unreliable narrator, and one of Barney's legendary high fives — "Relapse Five! That's where we high five, then it's awkward for a little bit, then we high-five again!"
Throughout "Slapsgiving," Ted and Robin are finally forced to address how hard and awkward it is to break up with someone but still constantly hang out among friends. The pair's growth in acknowledging that they still care about one another outside of their romantic relationship is only heightened by Barney's fear of Marshall's impending slap. Once the slap does happen, the group is treated to the now-infamous musical number "You Just Got Slapped," which features Jason Segel's singing chops and Neil Patrick Harris' hilarious harmonies of pain. It's a classic for die-hard "How I Met Your Mother" fans but funny enough on its own for more casual viewers.
5. It's Always Sunny in Philadelphia, The Gang Squashes Their Beefs (Season 9, Episode 10)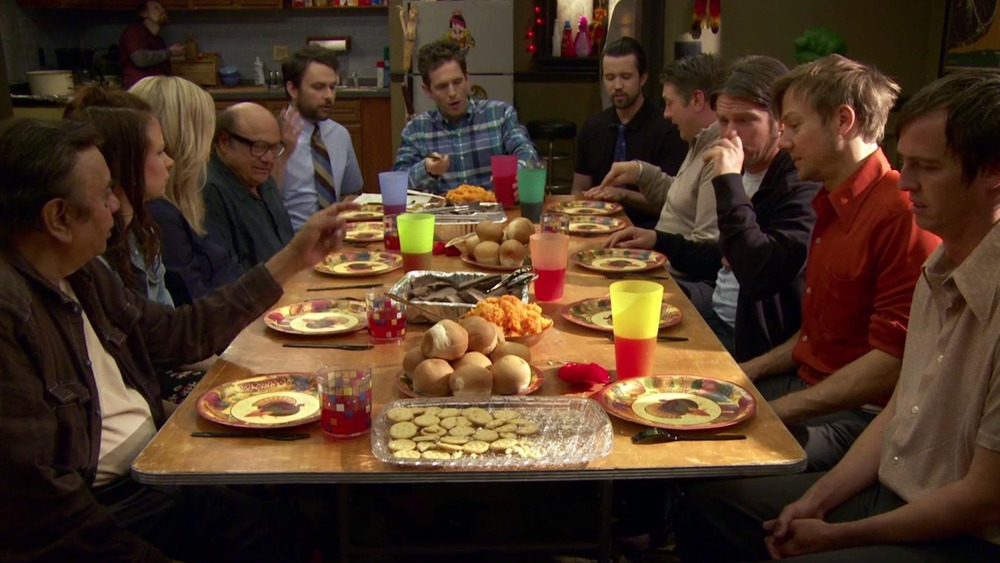 FX
The idea of an "It's Always Sunny in Philadelphia" Thanksgiving episode seems almost oxymoronic, as the show's ragtag group of friends, known as "the gang," aren't typically the type to put differences aside to give thanks. However, that's exactly what "The Gang Squashes Their Beefs" sets out to do in this chaotic 20 minutes of television.
The plot starts when various members of the gang are unable to fulfill their Thanksgiving traditions (eating hoagies from Wawa and watching "Thunder Gun Express") due to various grudges other characters have come to hold them over the years. So, the gang invites several wronged parties to a peacemaking Thanksgiving meal, with the intention of signing a treaty while also literally acting out other reconciliation metaphors like "wiping the slate clean" and "burying the hatchet."
The sit-down goes just about as well as one would expect for the "It's Always Sunny" crew, quickly devolving into a food fight with zero beefs squashed (and the aforementioned hatchet thrown into someone's arm). It's a truly comical sequence that only gets better upon each rewatch, with lines perfectly delivered by everyone in the cast.
4. Bob's Burgers, Turkey in a Can (Season 4, Episode 5)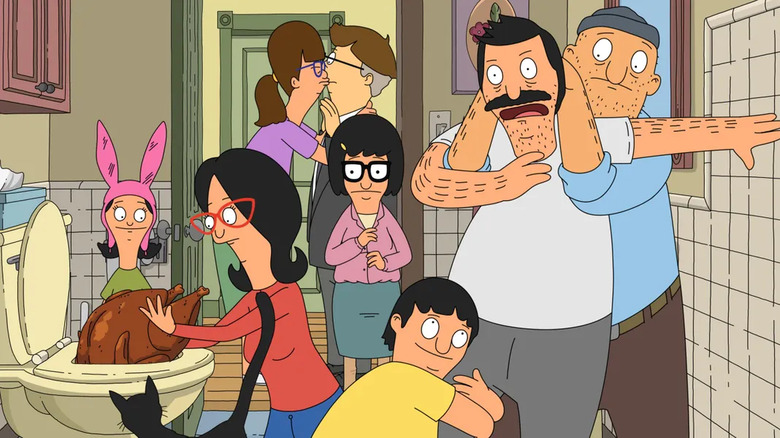 Fox
You can't make a Thanksgiving special lineup without including the Belcher family. And while some may consider "An Indecent Thanksgiving Proposal" to be the best "Bob's Burgers" Thanksgiving episode — after all, it gave us Linda's brilliant "Kill the Turkey" song — we're giving that honor to "Turkey in a Can."
Everyone in the Belcher clan knows that Bob's favorite holiday is Thanksgiving, but the feast quickly goes awry when Bob finds his precious dry-brined turkeys in the toilet. The episode then becomes a whodunnit among Bob's family members, with some hilarious exchanges between Bob and the deli counter guy peppered in between.
By the episode's end, the turkey bandit is discovered, and the family is able to enjoy their holiday meal. We won't spoil the ending, but it's a wholesome and touching scene that'll make any parent want to hold their little ones extra close.
3. Master of None, Thanksgiving (Season 2, Episode 8)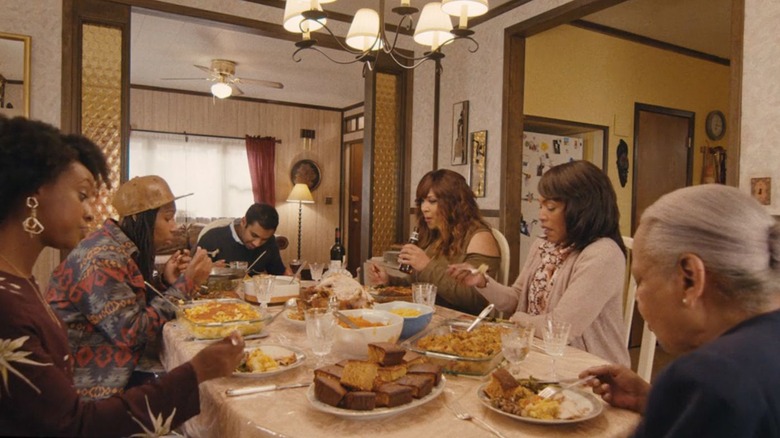 Netflix
Aziz Ansari's "Master of None" walked a fine line between comedy and drama, prompting both tears and laughter. Throughout the show's two-season run, the series explored dating in today's social media-filled world, various immigrant experiences in America, and the stories of people living in New York City.
Season 2's "Thanksgiving" takes place over 30 years of fall holidays for Lena Waithe's Denise. As she, Dev (Ansari), and her family gather at the table time and time again, the episode serves as an intimate look at how LGBTQ+ issues are discussed in Black families and how Denise's family slowly grows to accept her sexuality. The comedy is more clever and nuanced than some of the other shows on this list, but there are enough gags (such as Denise's '90s crush on Jennifer Aniston and Dev attempting to cover up their illicit smoking by blowing through a toilet paper roll and dryer sheets) to help you laugh and cry through the episode. "Thanksgiving" is cinematically beautiful to look at as well, but the writing is what makes this episode shine, so much so that Ansari and Waithe earned an Emmy for it.
2. Brooklyn Nine-Nine, Thanksgiving (Season 1, Episode 10)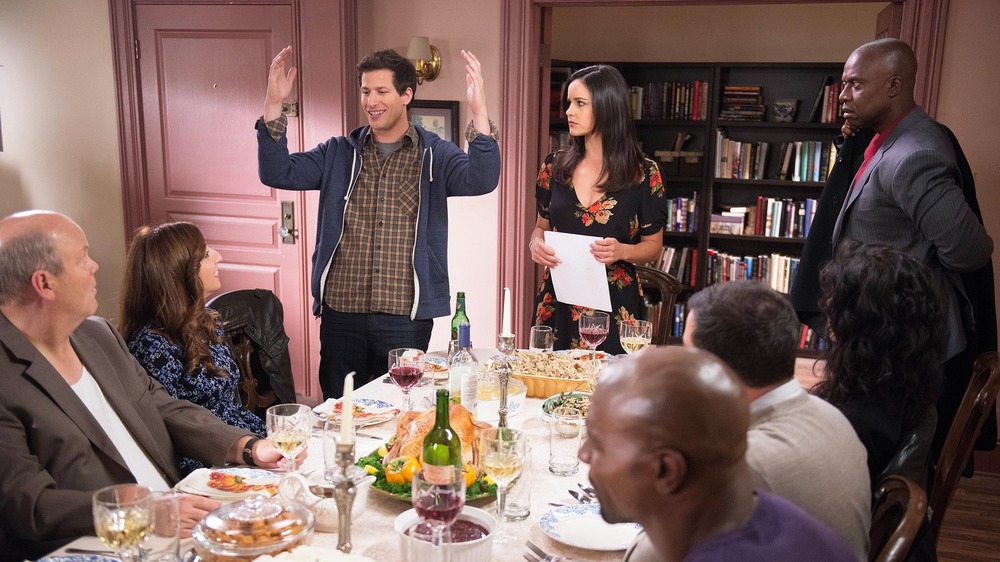 Fox
The festivities for the "Brooklyn Nine-Nine" episode "Thanksgiving" begin during the cold open, when the squad creates "Boyle Bingo" in anticipation of everything Detective Boyle will say or do throughout Turkey Day. A lighthearted roast ensues when Boyle's passion for the holiday lends itself to immense predictability among his coworkers.
As for the rest of the episode, Season 1's "Thanksgiving" shows a team still learning about one another. Amy hosts a Thanksgiving dinner for the squad, but she really wants to use it as an opportunity to ask Captain Holt to be her mentor. And Jake tries to squirrel his way out of the feast by taking on any cases that arise during the holiday. As chaos follows at Amy's holiday gathering, we learn that Jake hates Thanksgiving because he was never able to spend it with his own family, and Amy's perfectionist persona is humanized when the squad learns she's a terrible chef. The jokes per minute are through the roof, and they further flesh out smaller character details, like Terry getting intensely hangry before the feast and Hitchcock taking off his shirt because "you can't get food on your shirt if you're not wearing one."
Ultimately, Boyle saves Thanksgiving by throwing together an ultimate New York takeout meal for the squad, and Holt both accepts Santiago's request to be her mentor and imparts a heartfelt message about finding your own family to Jake. It's everything a Thanksgiving episode should be — funny, sweet and satisfying.
1. WKRP in Cincinnati, Turkeys Away (Season 1, Episode 7)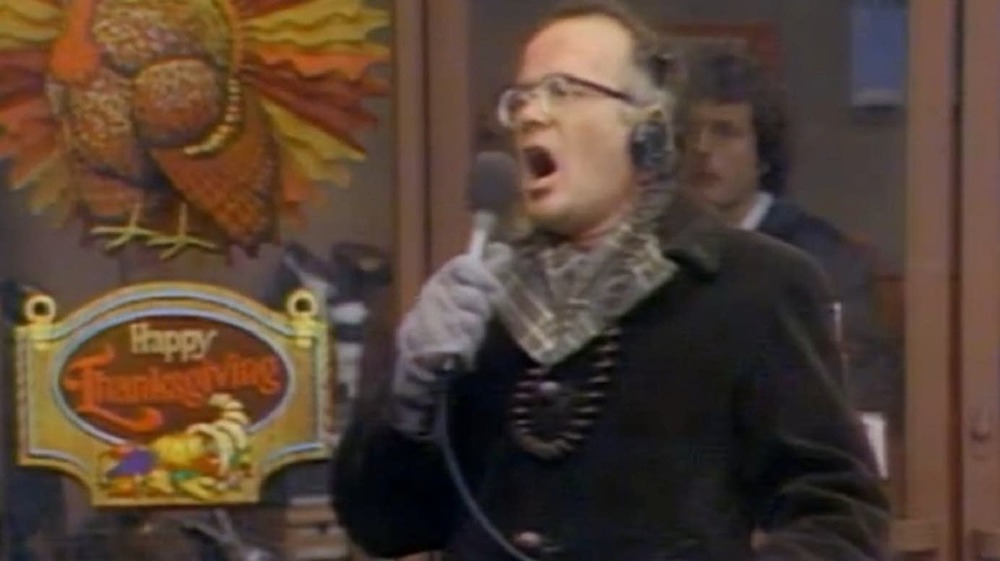 CBS
It would be wrong to have a Thanksgiving roundup without including the "WKRP in Cincinnati" episode "Turkeys Away." More than 40 years after it first aired, the episode is still widely regarded as an essential holiday special, if not the best Thanksgiving episode of all time.
The premise is pretty simple. WKRP is a radio station that's thrown into flux when it changes over from "easy listening" radio to a Top 40 station playing contemporary late '70s rock. For a holiday twist, the station's incompetent manager, Arthur Carlson, decides to promote the station by staging a Thanksgiving publicity stunt at a local mall and hosting a Turkey giveaway.
However, Carlson instructs the team to drop live turkeys from a helicopter, and reporter Les Nessman's promotional piece quickly becomes a verbal play-by-play of the disaster. The beauty of "Turkeys Away" is that the audience never sees the carnage of the falling turkeys, only Nessman's slow realization and horror as he narrates the chaos around him in a cheeky reference to the radio description of the Hindenburg disaster.
We won't spoil the episode's last punchline, but it's an iconic one that you'll be quoting for years as you prep your Thanksgiving plate.