The New Highly Rated Western Everyone's Binging On Showtime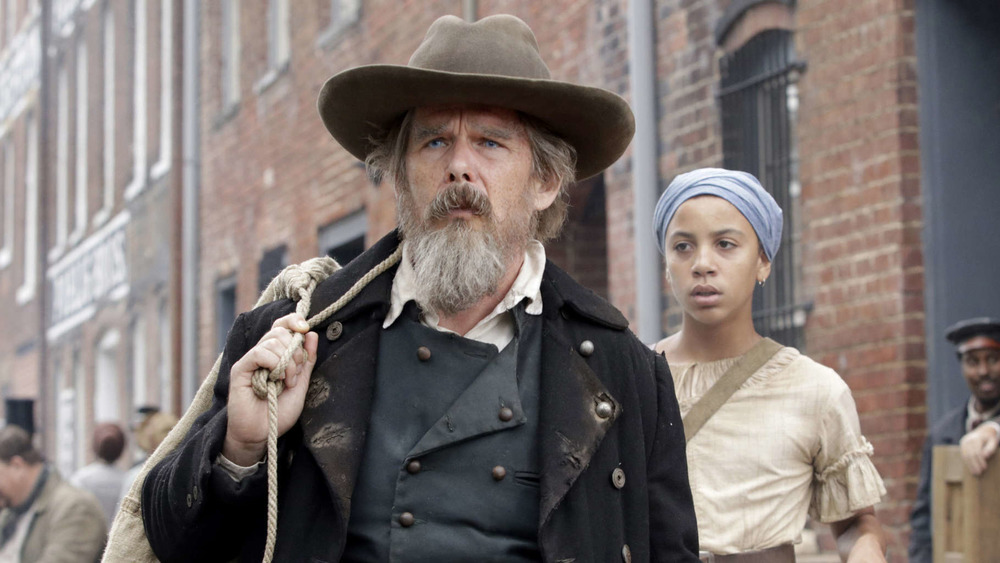 Showtime
Ethan Hawke's latest role, and your soon-to-be latest binge-watch, sees him heading up Showtime's most critically acclaimed series in years. 
The Oscar-winner and First Reformed star's latest project is The Good Lord Bird, a seven-episode limited series based on James McBride's 2013 novel of the same name. Adapted by Hawke and notable horror producer Jason Blum through Blumhouse Television, the historical western centers on the life, work, and word of American abolitionist John Brown. Told mostly through the eyes of a fictional enslaved boy named Henry "Onion" Shackleford (Joshua Caleb Johnson), the series follows Brown, Shackleford, and his army of abolitionists and anti-slavery rabble-rousers as they attempt to beat back and ultimately put an end to the culture of legalized slavery in America. Along the way, historical icons like Frederick Douglass, played by Hamilton and Snowpiercer's Daveed Diggs, Harriet Tubman (Zainab Jah), and J.E.B. Stuart (Wyatt Russell), a former U.S. Army officer turned Confederate Army general, appear has friends and foes in Brown's journey to realize his "Provisional Constitution" — a document that, among other things, proposed an end to slavery and equal citizenship regardless of race, sex, religious faith, or prior condition.
Despite premiering in early October to less fanfare than Watchmen or Lovecraft Country, some of the year's other poignant looks at the lingering shadows of America's violent racial history, the Showtime limited series has garnered a 100% critical rating on review aggregator Rotten Tomatoes. Critics have called it "a wild ride," "never, ever preachy," and "breathtaking and infuriating," with particular praise for Hawke's performance and the show's moments of near manic and perfectly executed comedy. 
"As long as you don't come to it for a direct history lesson, it is as entertaining as almost any new show of 2020," wrote Brian Tallerico of RogerEbert.com. 
Ethan Hawke shines in The Good Lord Bird's tale of a radical abolitionist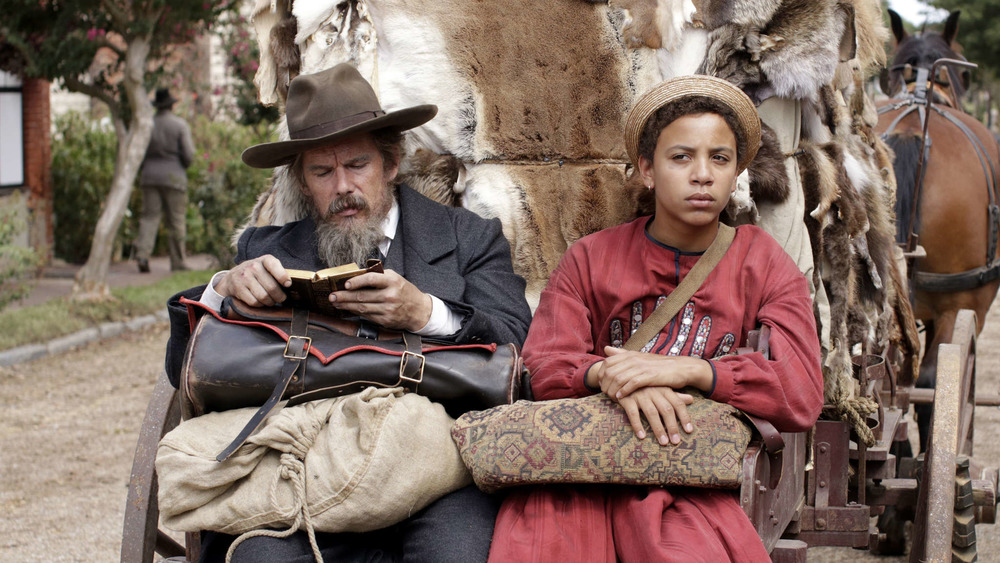 Showtime
For those who might not be familiar with Brown — which is likely most folks — the anti-slavery advocate was a former tannery owner and a man who once nearly took up the cloth. He ultimately swapped out the more pacifistic path for bloody brawls in his quest to save the soul of his nation. A controversial figure in his time, the anti-slavery advocate headed up a group of abolitionist soldiers during Bleeding Kansas — a series of border conflicts in the then-territory that resulted in electoral fraud, assaults, raids, and an estimated 200 people dead in murders and armed battles over whether the latest addition to the U.S. union would be a slave or free state. 
The Hawke-created and executive produced series covers all of this, all the way up to the radical and righteous abolitionist's 1859 raid on a Virginian Army depot, otherwise known as a federal arsenal. The raid of Harpers Ferry in West Virginia and Brown's failed attempt to incite a slave revolt was one of a series of events that eventually led to the American Civil War. It also saw him tried for treason and murder, eventually hanged at in December of 1859.
TV Insider's Matt Roush said "producer and star Ethan Hawke does justice to the legend, and to history," while Melanie McFarland at Salon noted that, "The series takes a brutish time in history frequently presented dryly out of respect, and dares successfully to capture the uproarious insanity of a righteous, outgunned rebel." 
But Collider's review perhaps sums the show up best, noting what Hawke and The Good Lord Bird ultimately accomplish in retelling elements of Brown's journey. "The show's ultimate message is about the beauty of life, not the extinguishing of it, and recognizing the enormity of the sacrifices people have made to defend the right we all have to exist in peace."