The Surprising YouTube Show That Led To Sasha Banks' Mandalorian Role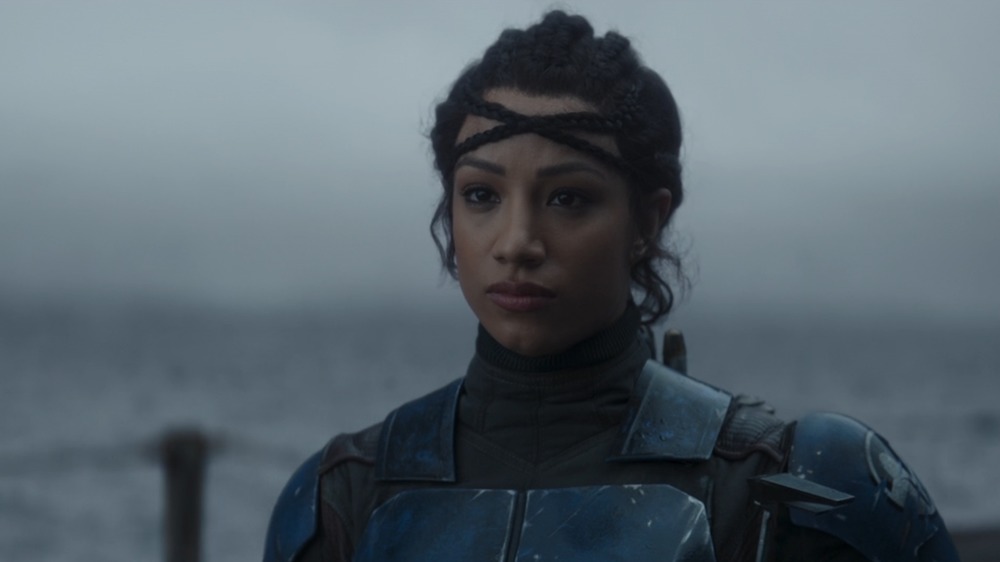 Disney+
The WWE star and SmackDown Women's Champion Sasha Banks made her acting debut on one of 2020's most anticipated series: The Mandalorian, season 2. The role took her fighting from the ring to the galaxy far, far away, but she got there in a most unexpected way. Apparently, she's got hot chicken wings to thank for the opportunity.
In the episode "Chapter 11: The Heiress," The Mandalorian (Pedro Pascal) travels to the water planet Trask in search of other Mandalorians. Once aboard a fishing vessel, he's betrayed and The Child (a.k.a. Baby Yoda) is eaten by a giant sea monster. Just as it looks like he's going to drown, three Mandalorians show up and save them. Alongside the beloved Bo-Katan Kryze (Katee Sackhoff) arrives Koska Reeves, played by the indomitable Sasha Banks, who dives into the monster-infested water and saves Baby Yoda all on her own.
"I still cannot get over it. It still does not feel real to me," Banks said to Variety, about being on The Mandalorian. According to IMDb, she'll be returning for the next two episodes (as Mercedes Varnado). Amazingly, she owes these roles to a two-year-old appearance on YouTube.
Jon Favreau found Banks via the YouTube talk show Hot Ones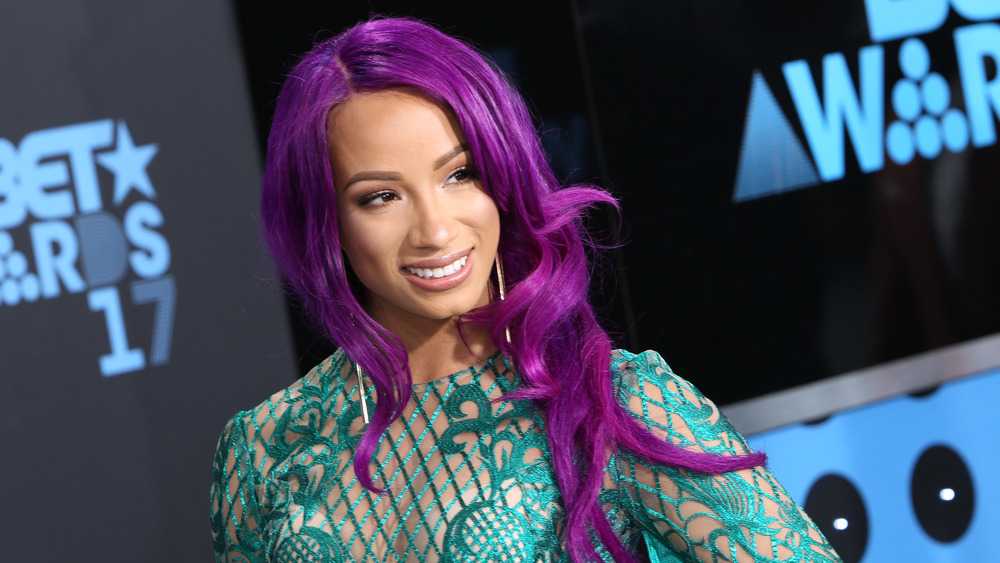 Leon Bennett/Getty Images
Back in 2018, Banks appeared on the YouTube show Hot Ones with host Sean Evans. It's a highly unusual talk show, consisting of Evans interviewing celebrities while they eat increasingly hot chicken wings (or a vegan substitute). The interviews are more casual than most other talk shows, and put their guests in a vulnerable spot as they struggle to answer questions through the heat.
Banks told Variety that it was thanks to her Hot Ones interview that she's now a part of the Star Wars universe. The Mandalorian's creator Jon Favreau saw her episode and reached out, she said. On Hot Ones, Banks is endearing, confident, unafraid of pain, and doesn't shed a single tear at the hottest sauce in the lineup. She brings that same unflinching quality to The Mandalorian when she slurps up a still-moving worm, while discussing Mando's plans.
Despite her confidence in all things wrestling and hot wings, Banks said she was nervous about joining The Mandalorian. "I still just can't get over how awesome that was. Not only to be part of Star Wars, but one of legit the greatest episodes in the history of television like that. I could watch that all the time. That was such a bad a** introduction to the world of Star Wars. I'm so thankful I saved Baby Yoda."
We're also thankful you saved Baby Yoda, Sasha Banks.