Rogue One: A Star Wars Story Character Posters Revealed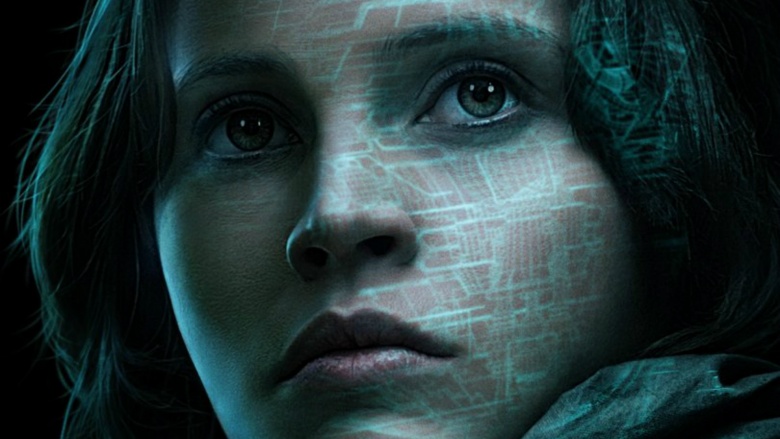 Lucasfilm
The Death Star looms large over the Star Wars galaxy. You can see it on everyone's face.
Following the release of the amazing final trailer for Rogue One: A Star War Story, Lucasfilm has unveiled a batch of posters that spotlight the main characters in the upcoming anthology flick–each with the blueprints for the Death Star overlayed.
We get a better look at rebel recruit Jyn Erso (Felicity Jones); Captain Cassian Andor (Diego Luna), "an intelligence officer for the Rebel Alliance"; Orson Krennic (Ben Mendelsohn), a "cruel" and "obsessed," but "brilliant" villain; Chirrut Imwe (Donnie Yen), "a warrior monk with faith in the Force"; K-2SO (Alan Tudyk), a droid "reprogrammed to fight the Empire that made him"; Bodhi Rook (Riz Ahmed), a "former Imperial pilot who's seen the light"; Baze Malbus (Jiang Wen), a "soldier" and "friend"; and Saw Gerrera (Forest Whitaker), who is "resolved to win the fight against the Empire."
There are two notable omissions, however: Jyn's dad Galen Erso (Mads Mikkelsen), who we learn from the trailer is the one who helps the Empire build the Death Star; and Darth Vader, who we've only seen fleeting glimpses of so far.
Rogue One will land in theaters Dec. 16. Check out everything we think we know about it and things you missed in the new trailer.



Jyn Erso. A checkered past. A greater cause. #RogueOne pic.twitter.com/w8UfQQ3Jwo


— Star Wars (@starwars) October 17, 2016



Cassian Andor. An intelligence officer for the Rebel Alliance. #RogueOne pic.twitter.com/m6WsfTcysf


— Star Wars (@starwars) October 17, 2016



Chirrut Îmwe. A warrior monk with faith in the Force. #RogueOne pic.twitter.com/xyMcbhRI7E


— Star Wars (@starwars) October 17, 2016



Baze Malbus. Soldier. Friend. #RogueOne pic.twitter.com/5lh4XA41mD


— Star Wars (@starwars) October 17, 2016



Bodhi Rook. Former Imperial pilot who's seen the light. #RogueOne pic.twitter.com/9fBQYqUah7


— Star Wars (@starwars) October 17, 2016



K-2SO. Reprogrammed to fight the Empire that made him. #RogueOne pic.twitter.com/W4N9k0foUM


— Star Wars (@starwars) October 17, 2016



Saw Gerrera. Resolved to win the fight against the Empire. #RogueOne pic.twitter.com/UBGl6chfcg


— Star Wars (@starwars) October 17, 2016



Director Orson Krennic. Cruel. Brilliant. Obsessed. #RogueOne pic.twitter.com/ULlAMuxlct


— Star Wars (@starwars) October 17, 2016