Lucasfilm Sues Unauthorized Lightsaber Academy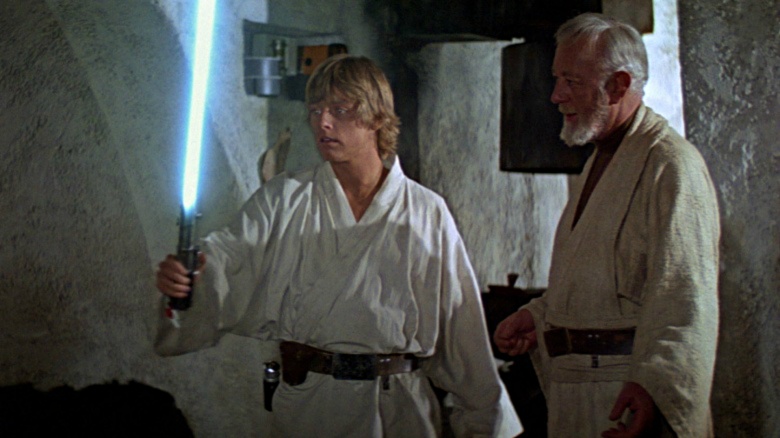 If you want to learn how to properly wield a lightsaber, Lucasfilm wants you to do it the old-fashioned way: fly your X-Wing to Dagobah and find an aging Jedi to teach you. Don't accept any imitations.
According to The Hollywood Reporter, the Disney subsidiary filed a lawsuit against Michael Brown, owner of the unauthorized Lightsaber Academy where students can learn the eight "core principles" of using the Star Wars weapon for "academic" and "stage" purposes.
In the suit, Lucasfilm accuses Brown of "cybersquatting, trademark infringement, and unfair competition." Attorneys said he responded to multiple cease and desist orders by instead filing a trademark application for "Lightsaber Academy, Inc.," and claims the logo for the school is nearly identical to the Jedi symbol.
"Defendants regularly use the Lucasfilm Trademarks without authorization in connection with their businesses," states the complaint. "Among other infringing activities, Defendants use a logo that is nearly identical, and confusingly similar, to Lucasfilm's trademark Jedi Order logo... round in shape, with six wing-like shapes curving upward (three per side), and an eight-pointed star featuring elongated top and bottom points stretched into a vertical line."
Lucasfilm is seeking "a permanent injunction, actual damages and profits, or alternatively, up to $2 million in statutory damages for each trademark infringed."
The website for the school claims that there are now more than 350 lightsaber "training clubs" across the world, and expects to have "double the number of clubs by 2017." You can also be certified to run your own academy, although there are no prices listed for any of the services.
It's been an especially litigious week in the Star Wars universe. A production company was recently fined $2 million for an accident on the set of The Force Awakens that left Harrison Ford with a broken leg.
Meanwhile, check out some of the most inappropriate Star Wars products ever sold.