Battlefront II's Janina Gavankar's Cameo In The Mandalorian Chapter 11 Isn't What You'd Expect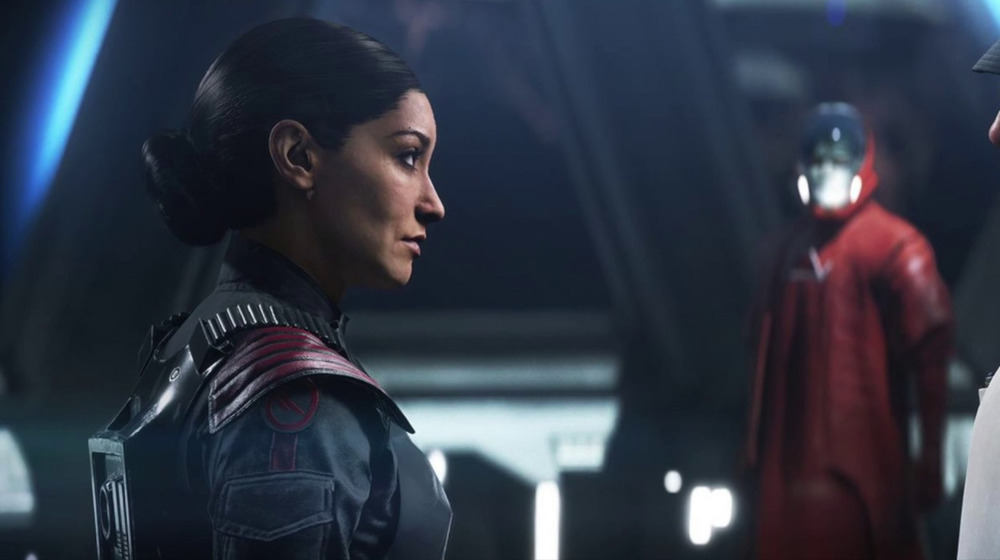 EA DICE
Contains spoilers for The Mandalorian season 2
Though we're only three episodes into season 2 of The Mandalorian, we've already been gifted with a memorable assortment of star-studded cameos. From Timothy Olyphant as Cobb Vanth to Amy Sedaris as Peli Motto and Temuera Morrison as Boba Fett, the new season is giving viewers plenty of reasons to keep tuning in. Star Wars fans definitely missed a secret cameo in the latest episode of the hit Disney+ show, one featuring a familiar face in the franchise's universe.
Star Wars Battlefront II star Janina Gavankar is the latest to land a cameo on The Mandalorian – but, as she recently revealed to IGN, her role isn't what you'd expect. Gavankar didn't reprise her video game character of Iden Versio, and she didn't even appear on screen. Instead, she worked as a puppeteer.
In the latest episode of The Mandalorian, entitled "Chapter 11: The Heiress," we see the Mandalorian's (Pedro Pascal) damaged ship, the Razor Crest, crash-land on the moon of Trask. In the middle of the faulty splashdown, we see a Mon Calamari (sporting a fashionable cable-knit sweater), looking on. Gavankar doesn't play the Mon Calamari, of course; she instead helped puppeteer the creature's nostrils.
How Janina Gavankar landed a puppeteering gig in The Mandalorian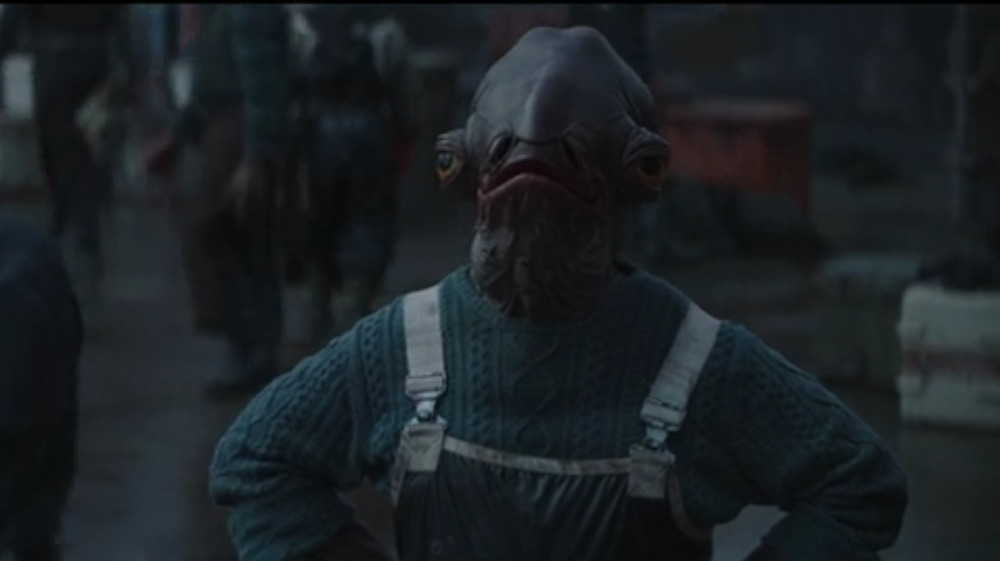 Disney Plus
So, how did Gavankar land this unique puppeteering role? Frank Ippolito, a veteran special effects artist and founder of Thingergy Inc., worked with Gavankar on several projects over the years. As Gavankar told IGN, when Ippolito was designing the Mon Calamari for this episode, he needed some help operating the character. He gave Gavankar a ring, and the rest is history.
"There is a Mon Calamari who puts their hands on their hips. That's Frank Ippolito who's inside that rig," Gavankar told IGN. "He made that headpiece, and it takes two puppeteers to animate it. And they needed a second puppeteer to just handle the nostrils of this character. And [Ippolito] called me and he said, 'Do you want to come puppeteer the nostrils of this Mon Calamari?'"
Gavankar was more than enthused to accept the offer. Her response? "F**k yes.'"
Some people working on The Mandalorian were puzzled as to why Gavankar was there — like executive producer Dave Filoni, who knew of Gavankar but was unsure why she was on set. When Filoni learned Gavankar was helping puppeteer the Mon Calamari, it all clicked. She told IGN that Filoni's reponse was "one of those 'of course you are' kind of things."
Even though Battlefront fans don't get to see Inferno Squad commander Iden Versio make an appearance in The Mandalorian, they can rewatch the scene knowing that the precise Mon Calamari-nostril-puppeteering is being handled by the same actor.