Rachel McAdams Won't Become Night Nurse In Doctor Strange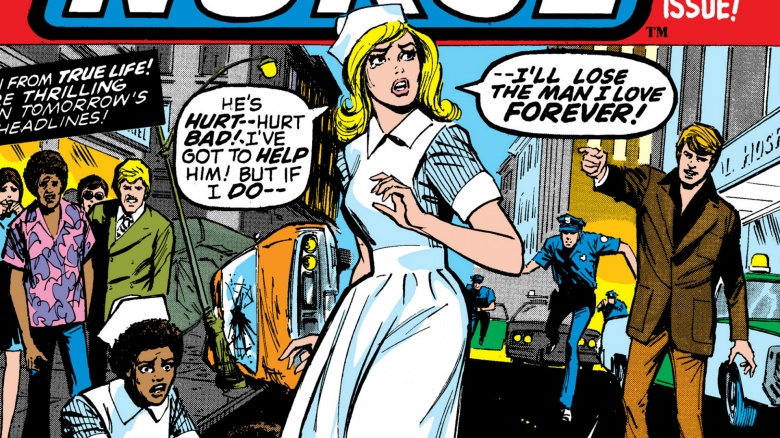 Rachel McAdams won't become the obscure Marvel Comics character Night Nurse in Doctor Strange, but that doesn't mean it won't ever happen.
When it was revealed that McAdams would be playing emergency room doctor Christine Palmer in the upcoming flick starring Benedict Cumberbatch as the Sorcerer Supreme, that set off alarms for die-hard Marvel fans. As Entertainment Weekly reports, Palmer appeared in a 1970s comic book called Night Nurse, which centers around three roommates working at a New York City hospital.
In 2004, Daredevil comic book writer Brian Michael Bendis reimagined the lead character from that comic, Linda Carter, as the character of Night Nurse. Although she doesn't possess any powers, she serves as a caregiver for wounded superheroes and becomes romantically linked to Dr. Stephen Strange.
Marvel Studios president Kevin Feige recently shot down the theory that Palmer would become Night Nurse in Doctor Strange, but hinted that it could happen at some point. "That storyline does not play into the movie," he said (via EW). "It's just as much fun for us as it is for the fans to speculate about that."
Last year, Daredevil showrunner Steven DeKnight said that he wanted to cast Rosario Dawson as Night Nurse in the Defenders universe on Netflix. But he said Marvel's movie division told him they their own had plans for the character. Dawson's character got the new name "Claire Temple," and she eventually crossed over onto Jessica Jones and Luke Cage.
McAdams has remained pretty secretive about her Doctor Strange character and the Night Nurse theory, only telling EW that "mum's the word on that one."
Doctor Strange arrives in theaters Nov. 4. Check out a few hidden details you missed in the trailer, and how the movie is connected to the rest of the Marvel Cinematic Universe.