How NASA's Shuttles Inspired Disney World's New Guardians Of The Galaxy Ride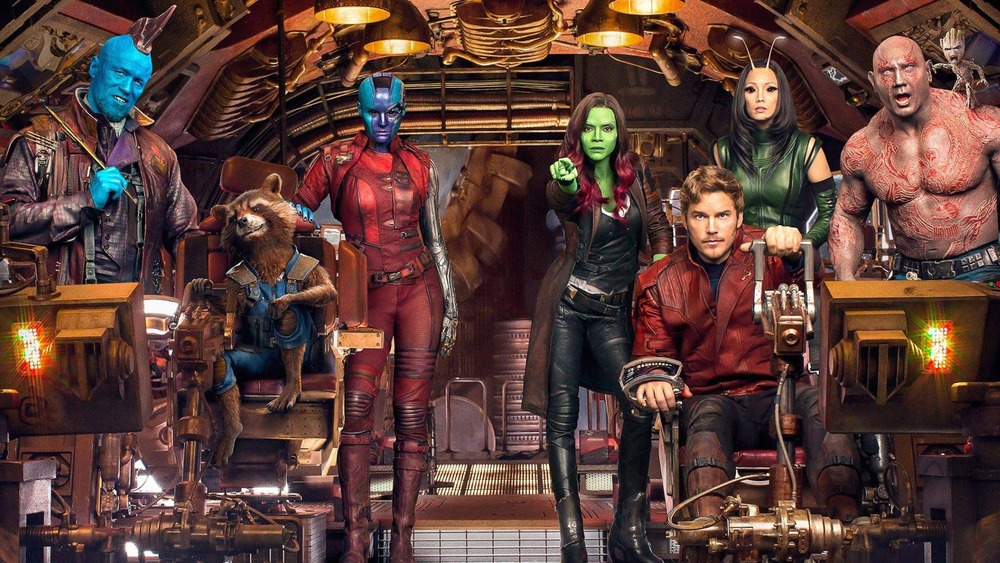 Marvel Studios/Disney
When Disney World launches Guardians of the Galaxy: Cosmic Rewind, its latest coaster addition to Future World at Epcot, park attendees and Marvel fans alike will be treated to an out of this world attraction. One that Bob Chapek, former chairman of Disney Parks, Experiences and Products and current CEO of The Walt Disney Company, promised would see "the real will become fantastic and the fantastic will become real."  
It seems that mission extends all the way down to the ride paint with the latest sneak peek at the coaster's coaches. Imagineer Zack Riddley gave fans a first look at the attraction on his Instagram. In the process, he revealed how the seemingly small but colorful paint touches of the vehicles' design came together with some help from the real and fantastic people at the National Aeronautics and Space Administration. 
The photo, which features two ride engineers, captures six carriages in striking blue and gold, reminiscent of the kind of eye-popping shades audiences see in will likely see again in Guardians of the Galaxy Vol. 3. But Riddley noted that if you squint, you might notice that each one features a unique design element. "If you look closely at the colorful paint design on the vehicles (called coaches in roller coaster engineering parlance), each one is unique with different wear patterns and impact marks," Riddley wrote in his Instagram post. "Imagineers were inspired by markings that appear on NASA Space Shuttles and other spacecraft upon reentry into Earth's atmosphere." 
It seems that when riders embark on their Guardians-inspired indoor coaster adventure, they'll get a little bit of the real and fantastic experience of traveling through space. 
The New Guardians of the Galaxy ride will make history as one of the longest enclosed coasters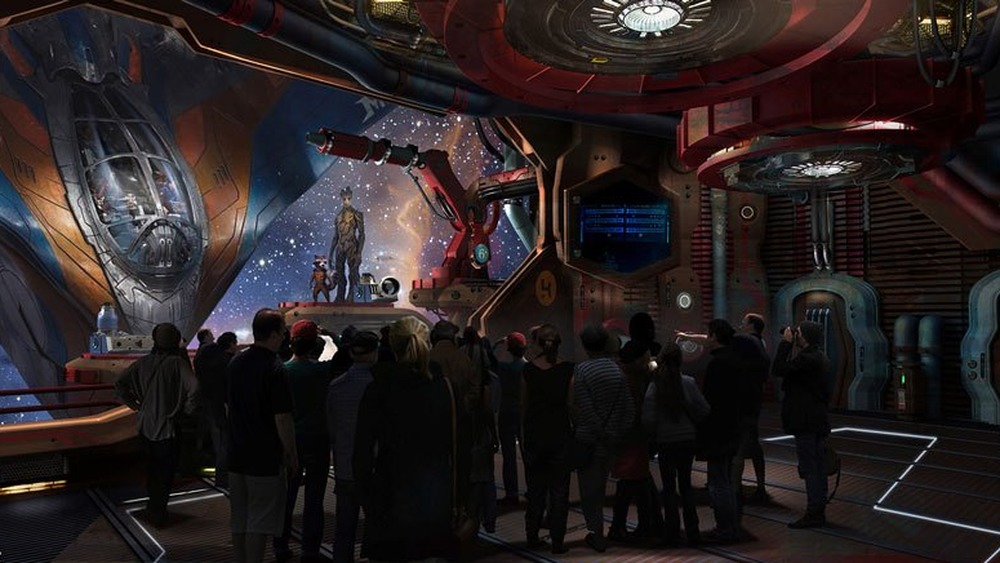 Marvel/Disney
The upcoming ride is taking the Disney Parks experience to new heights in more ways than one. The long-rumored attraction, which was officially announced back in 2017 according to IGN, is replacing the Universe of Energy pavilion, which housed "Ellen's Energy Adventure," starring Ellen DeGeneres, Bill Nye, Jamie Lee Curtis, Johnny Gilbert, and Alex Trebek, between 1996 and 2017. That's when the Ellen-led adventure superseded the older energy demonstrations and a ride with audio-animatronic dinosaurs that opened the pavilion in 1982 with a 7-minute slow-moving dark ride that broke up four large-format film presentations.  
The Guardians of the Galaxy ride will launch as part of the World Discovery portion of Epcot focused on spotlighting science, technology, and intergalactic adventure. While it will still be story will be based around the intergalactic military and police force Nova Corps, who have arrived on Earth and are inviting humans to learn more about Xandar, the Nova Empire's capital. First, park goers will explore the "Galaxarium," a planetarium-like exhibition, at which point you might even see Rocket Raccoon. Eventually, they'll be put on a "storytelling coaster" — or a roller coaster that includes show scenes — inside those NASA-inspired vehicles, which will be able to rotate 360 degrees and perform a reverse launch (via Disney Tourist Blog). 
The latter is the first for Walt Disney World, but so is the indoor coaster's length. Following the announcement of the new family-friendly ride at D23 Expo, Disney teased that they were "going big" with the Florida parks' first-ever attraction to feature MCU characters by delivering one of the world's longest enclosed roller coasters.  
Unfortunately, the ride is still being built and isn't expected until late 2021 or 2022. So fans will have to wait a bit longer to see what other high-flying galactic touches they plan to add to the MCU misfits' latest adventure.