Why Ṣọpẹ Dìrísù Felt Trapped While Filming Netflix's His House
Netflix
The 1979 classic The Amityville Horror was extra scary, being based on a true story. One of its biggest takeaways is a terrifying moment when the house first whispers, and then yells, "Get out!" to one of its residents. That character and his family stuck it out in the home a while longer, but not because they had to.
The couple featured in the Netflix horror movie His House, played by Ṣọpẹ Dìrísù and Wunmi Mosaku, are refugees from Sudan seeking asylum in England. While they wait to see if asylum will be granted, the agency handling their case places them in a rundown home outside of London. While they live in this limbo, the couple is reminded that leaving will jeopardize their future. Looper recently attended a roundtable discussion in which Dìrísù explained that he was excited to see the movie because "it's a haunted house film where you can't tell them to just leave. They can't just leave." And that pervasive confinement? It wore on Dìrísù.
Dìrísù explains how the realistic set of His House affected him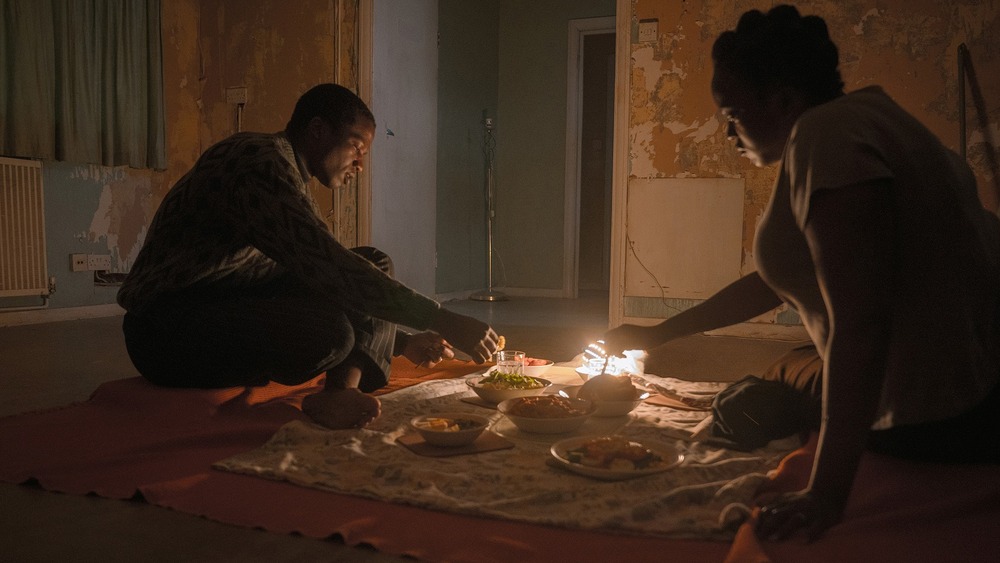 Netflix
Main characters Rial (Mosaku) and Bol (Dìrísù) are already terrorized by their own tragedies, like losing their daughter on their harrowing trip, along with many other escapees who also drowned. The house becomes yet another antagonist in their lives, a source of fear and chaos at every turn. From closets that open to expose the faces of those who perished, to constant mysterious noises and bumps-in-the-night, the home doesn't allow them a moment of peace. Dìrísù wants to give credit where it's due.
"When you see the film," he says, "the house is a character itself, and that is a testament to the locations and art departments who created this grotesque environment." Having to spend so much time in that particular setting, as opposed to a lot of other TV and movie projects that take place on multiple sets and different locations, drove home the relentless sense of doom that Rial and Bol were experiencing. "Returning to those studios, day after day, we were subjected to [the house's] horrors over and over and over again. That setting really fed into the understanding that the characters cannot leave."
His House is now streaming on Netflix.