Michael J. Fox Just Reprised His Marty McFly Role In The Most Unexpected Way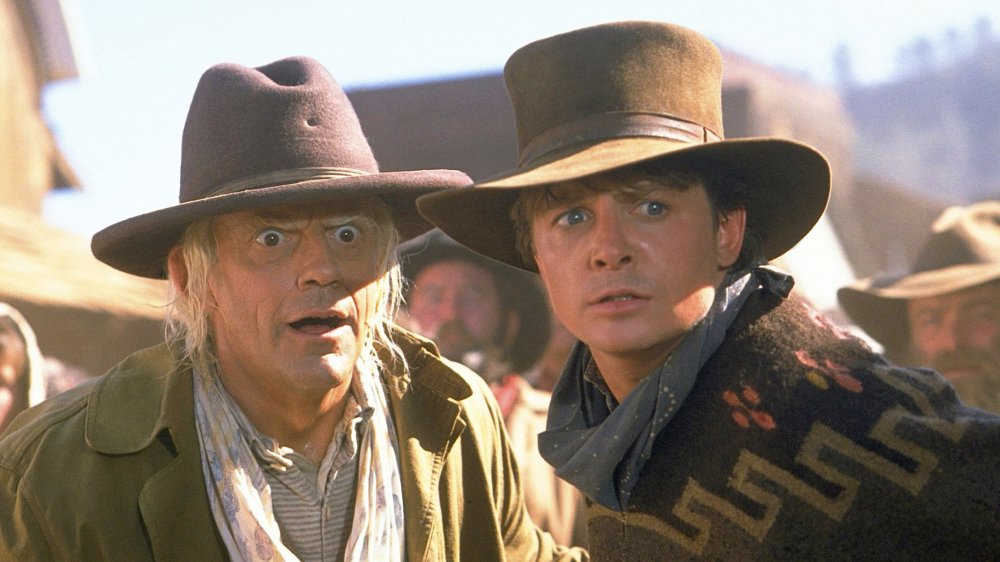 Universal Pictures
What happens when you mash one of the most beloved time-travel franchises of all time up with the reigning champion of the Billboard Hot 100? The answer is unexpected, weird, and wonderful.
Michael J. Fox appears to be reprising his role of Marty McFly from Back to the Future in a way that, in your wildest dreams, you most certainly could not have come up with. There are no DeLoreans present, it involves the third Back to the Future movie, and also Santa Claus is there.
While there is certainly an argument to be made that Old Saint Nick uses time travel to get toys to all the good little girls and boys in one night, one does not factor in the possibility that he also hops through the time vortex for a quick shot of whiskey in the Old West. And yet, that is the very scenario we seem to find ourselves in a teaser trailer for the new Lil Nas X video for his upcoming Christmas-themed single "Holiday."
Why Lil Nas X might be doing a Christmas song
Lil Nas X took to Twitter on the evening of Sunday, November 8, 2020 to reveal that, for the first time in almost two years, he has a new single arriving this coming Friday the 13th. While the teaser trailer for "Holiday" does not feature any guest appearances by Jason Voorhees, it does have a lot going for it that has fans extremely excited.
For one thing, the music video appears to be the country western equivalent of the Tim Allen classic Christmas movie franchise The Santa Clause. The plot, so far as music videos have plots, appears to be that Santa Claus drank too much and got thrown out of a Western saloon. With jolly Saint Nick down for the count, Nas picks up the Santa hat and becomes the newly christened "Santa Nas."
But the loose premise of The Santa Clause isn't the only sweet reference in this trailer. After Lil Nas X transforms into Santa and his horse becomes reindeer, Michael J. Fox (dressed as his "Clint Eastwood" persona from Back to the Future Part III) proclaims, "Whatever you do, Nas, don't got to 2020." Sound advice.
Lil Nas X bested Mariah Carey and Boyz II Men's "One Sweet Day" — the previous Billboard Hot 100 record for most consecutive weeks at number one — with "Old Town Road." Perhaps he's looking to topple Carey once again by making "Holiday" the song that everybody gets stuck in their head on Christmas instead of "All I Want For Christmas is You." We'll find out if he's successful this coming Friday, November 13, 2020.