Eerie Abandoned Movie Sets You Didn't Know Still Exist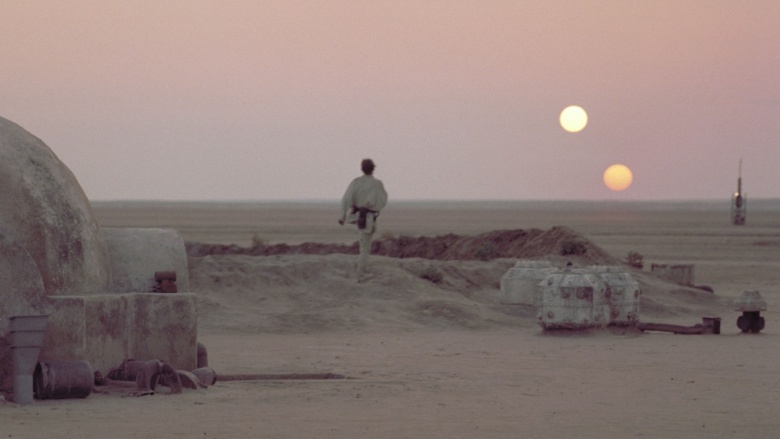 Movies aren't real, of course: they're elaborately produced fantasies that film crews often spend tens of millions and months of their time to create. But while a lot of what we see on the screen is created with computers and green screens, plenty is still filmed in real places—and sometimes, once the movie is done filming, those film crews just leave that set behind to rot, rust, and be reclaimed by nature. Here are some places where major motion pictures were filmed and you can still totally explore—if you don't mind the fact that they're kind of spooky.
The town of Spectre - Big Fish
Daniel Wallace's novel Big Fish is set in the fictional Alabama town of Spectre. When Tim Burton adapted the movie for the screen in 2003, crews built a real Spectre, complete with a church, storefronts, and houses. The movie takes place over several decades, during which time the town decays—and now it's pretty much decayed in real life, too. The only reason it hasn't been completely overtaken by grass and weeds is because some local goats feast on the plant life. The buildings are about to collapse (and a few have burned down), but fans of Big Fish can still visit Spectre, which is housed on a private island outside of Montgomery, Alabama. It requires paying a $3 toll to cross a bridge onto the island, and a code to get past a gate, which is given out by a nice old lady who lives near the abandoned set.
Linda Vista Hospital - End of Days
Is there anything creepier—and sadder—than an abandoned hospital? Sure: One that was also used to shoot movies...and is still abandoned. The Linda Vista Hospital was originally built in 1904 to treat Santa Fe Railroad employees injured on the job. The massive East Los Angeles facility was shut down in 1990 and, while reportedly haunted, was quickly put to use by Hollywood. Scary hospital sequences in Outbreak were shot there, as were the pilot of ER and the 1999 Arnold Schwarzenegger apocalyptic thriller End of Days. That scene where Satan (Gabriel Byrne) tortures a guy by nailing him to the ceiling? That was shot in this weird old hospital.
Great Smokey Mountain Railroad - The Fugitive
A standout scene from this 1993 Oscar-nominated Harrison Ford thriller takes place when a prison bus collides with a train, the wreckage from which Dr. Richard Kimble (Ford) escapes to freedom. That wasn't CGI—the crew really did crash a train on a disused portion of the Great Smokey Mountain Railroad in North Carolina. It cost $1.5 million to stage, and they only had one take to get it right. Rather than clean it up, The Fugitive crew just left the train and bus debris behind, where it's rusted over time. It's quite visible on many train excursions in the area.
The Tunisian desert - Star Wars
Some of the most recognizable set pieces from the first Star Wars movies still stand, 40 years after filming started. Standing in for Luke Skywalker's desert home planet of Tatooine were the deserts of Tunisia, particularly those near the towns of Tozeur and Tataouine (which is where George Lucas got the name "Tatooine.") And on that terrain sit many instantly recognizable Star Wars buildings, including Luke Skywalker's house, parts of Mos Espa, and a bunch of other buildings that blend in nicely with the desert. Also standing after all this time: a bunch of futuristic space-age "vaporators."
Hawthorne Plaza Mall - Gone Girl
One of the creepier scenes in a movie full of creepy scenes is the one in which police visit a Missouri mall left abandoned by the late 2000s, since overtaken by criminals and transients. (Police think the movie's titular Girl, Amy Dunne, may have illegally bought a gun in there, and have to investigate.) While the movie is set in East Carthage, Missouri, the mall used in Gone Girl is the former Hawthorne Plaza Mall in the Los Angeles suburb of Hawthorne. Like many malls it opened in the '70s and after a boom in the '80s, shut down in the late '90s. It's been used quite a few times for big-budget Hollywood movies in need of a mall or a big open space, such as Minority Report and Evolution. Gone Girl's set designers dressed it up to look decrepit and disgusting, but it's really just an eerily spooky and quiet building where the lights don't work. So yeah: still pretty unsettling.
Henry River Mill Village - The Hunger Games
About a century ago, Henry River Mill Village in North Carolina was a boomtown. It was once a major hub for textile production, but when those jobs started to fade away, it turned into a ghost town. Sadly enough, the disintegrating gray buildings left behind made an ideal shooting location for The Hunger Games movies. Scenes depicting Katniss in her similarly economically depressed home of District 12 were shot there. Being featured in one of the most popular film series of all time has injected new interest and cash into Henry River Mill Village—Hunger Games fans can go there and take a tour.
Blue Cloud Movie Ranch - Zero Dark Thirty
The Blue Cloud Movie Ranch in the Santa Clarita Valley of California served as a stand-in for the cave-marked countryside of Afghanistan for the 2012 war thriller Zero Dark Thirty. It's one of many films that have shot scenes at the Ranch, which includes other backdrops such as "Foreign Courtyard," "Army Camp," and "Third World Country." But none are quite as unsettling as the desert-like areas used in Zero Dark Thirty to approximate the hideout of Osama bin Laden at the time of his discovery and execution by an elite U.S. military squad. The Ranch is private property, but the owners do offer guests tours.
Cerro Gordo Mines - Iron Man
In the crucial opening scenes of the first Marvel Cinematic Universe entry, Tony Stark (Robert Downey Jr.) is captured in Afghanistan after demonstrating a missile and imprisoned in a desert cave by a terrorist cell. While in the cave, another prisoner grafts an electromagnet to Stark's chest, which eventually enables his escape. The real-life cave where this sequence was shot is actually located half a world away, in an abandoned mineshaft in the Cerro Gordo Mines of Inyo County, California.
Medieval German village - Hansel and Gretel: Witch Hunters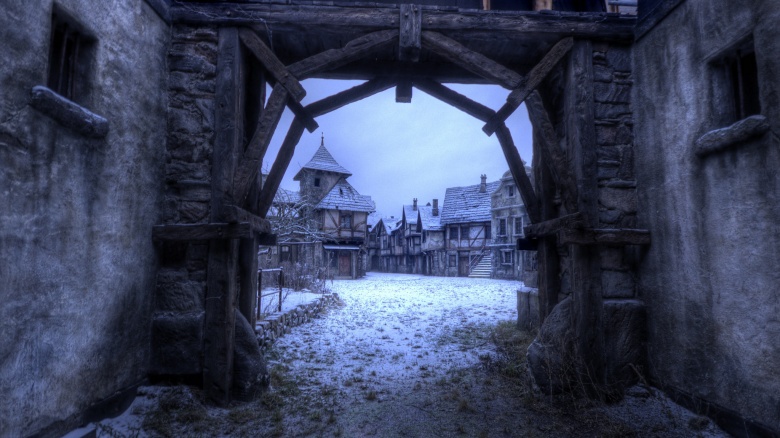 Imgur
This darkly comic action movie take on the Grimm story of Hansel and Gretel (Jeremy Renner and Gemma Arterton)—getting revenge against witches due to their near deaths at the hands of one as children—takes place in a Medieval German village. To bring those scenes to life, a real little town was built outside Berlin, where it remains standing, including a town square and a well. The result is a bunch of fake Medieval buildings where fake creepy stuff took place, and that look virtually identical to actual, legitimately creepy Medieval buildings. Fans are free to walk around the unused cottages—which, ironically enough, kind of look like gingerbread houses.