The Ending Of The Mandalorian Chapter 9 Explained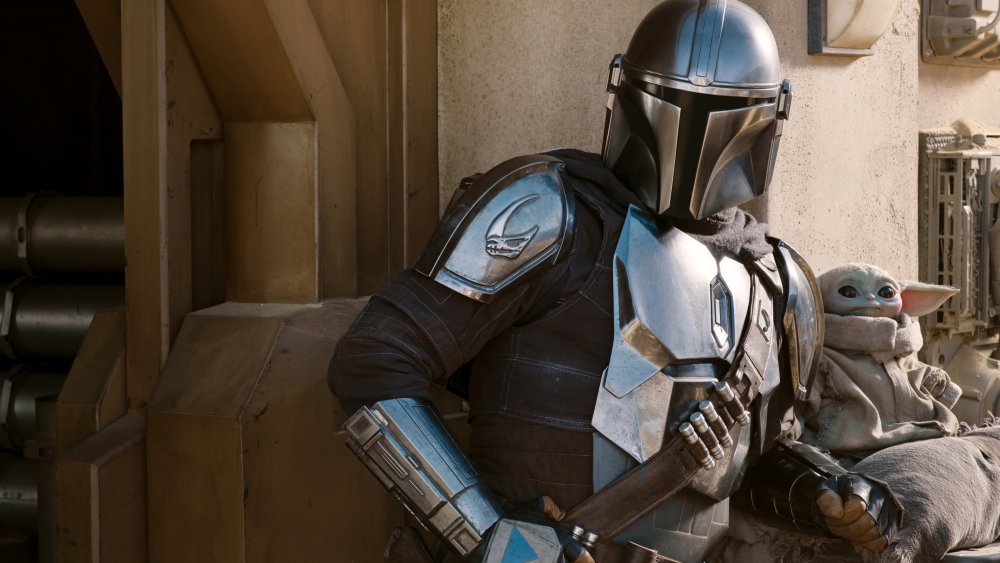 Disney+
After waiting nearly a year, fans of Disney+'s flagship series can rest easy; on October 30, 2020, The Mandalorian, a stand-alone spinoff of the Star Wars franchise, returned for its second season. When season one dropped during Disney+'s big initial launch on November 12, 2019, Star Wars fans flocked to the series, which chronicles the adventures of Din Djarin (Pedro Pascal), or "Mando," a Mandalorian bounty hunter who travels alone. However, when he is sent to procure an extremely valuable bounty for a mysterious and wealthy Client (Werner Herzog) who turns out to be working with the fallen Empire, Djarin changes his course, and protects the bounty — The Child, known across the Internet as "Baby Yoda — ultimately becoming a makeshift father to the tiny, powerful, and mysterious creature.
Though the first season initially seemed like it would chronicle a different adventure involving Mando and The Child each week, it closed out with a new mission for Mando, who must find beings like The Child and return him to his people. With allies like guild leader Greef Karga (Carl Weathers), Alderaan native and army veteran Cara Dune (Gina Carano), and Mandalorian forger The Armorer (Emily Swallow), Mando is far from alone now, but what lies ahead is anyone's guess.
Now that the first episode of season 2 is available to stream on Disney+, fans can start speculating about what's to come this season. Here's the ending of The Mandalorian chapter 9 explained.
Here's what happened in chapter 9 of The Mandalorian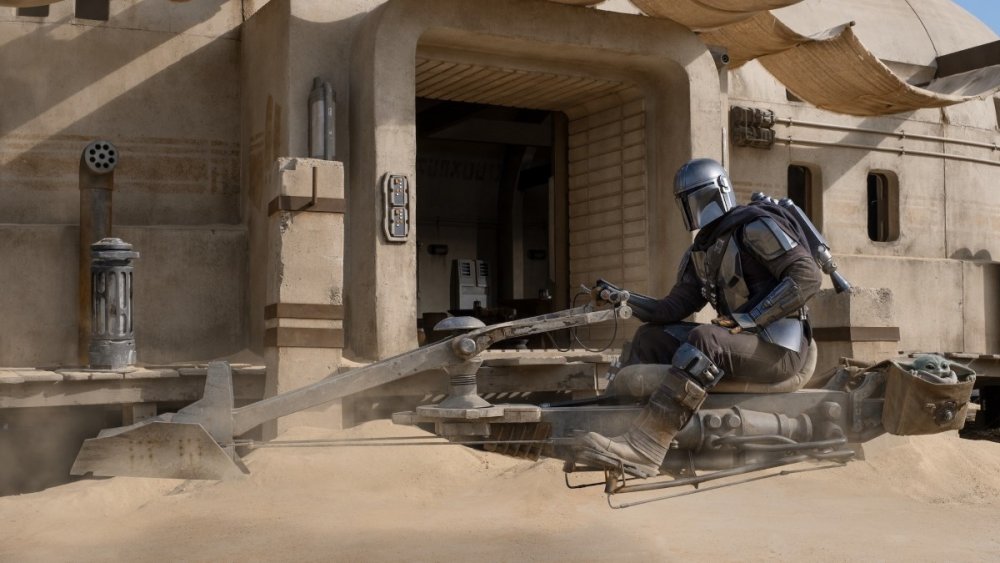 Disney+
Now that Mando and The Child are seeking fellow Mandalorians to help find The Child's mysterious brethren, Mando has a new mission, with The Child always in tow. (As Mando tells Peli Motto, Amy Sedaris' sardonic mechanic, The Child goes where Mando goes.) However, before he reunites with Peli, Mando meets up with Gor Koresh (a heavily disguised John Leguizamo), who tries to double-cross Mando, but ends up telling the bounty hunter that other Mandalorians have been spotted on Tatooine... while under significant duress.
Peli then sends Mando to the supposedly abandoned and looted town of Mos Pelgo, where he meets the town's Marshal, Cobb Vanth (Timothy Olyphant), who is masquerading in purloined Mandalorian armor. Though Mando is initially indignant and demands that Cobb remove the offending armor, the two men realize they have a bigger problem to deal with — specifically, the enormous krayt dragon jeopardizing the town. The two strike a bargain, where Mando will help Cobb and the surrounding Tusken Raiders eliminate the krayt dragon, saving everybody in the surrounding area.
Once they succeed, Mando and The Child set off once again, but this time, someone is watching, setting up a new and exciting story for episode 10. All in all, however, chapter 9 was a return to form when you consider that The Mandalorian's first season was largely episodic, placing Mando and The Child in a new environment every week –— save for the final two episodes. Does this mean that the second season of The Mandalorian will follow season 1's same format for the most part, or is the premiere a one-off? In any case, this playful series premiere felt familiar and new all at once, thanks to returning guest stars like Sedaris and a pitch-perfect turn from professional on-screen cowboy Olyphant.
Who watches Mando and the Child as they speed into the sunset... and what was that mysterious pearl?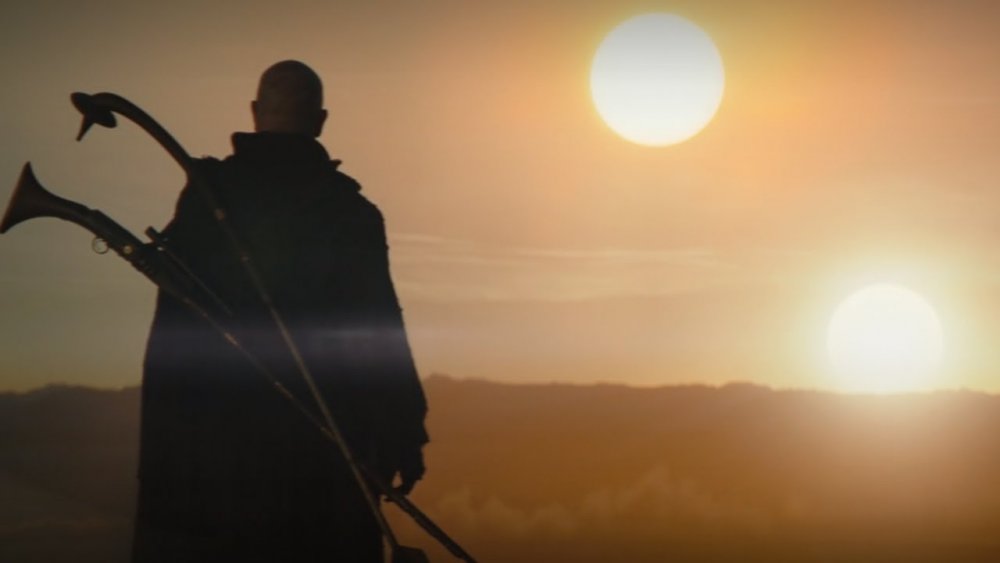 Disney+
If you thought that the heavily armed and scarred man watching Mando and the Child leave Mos Pelgo might be Boba Fett, you're exactly right. Played by Temuera Morrison, who largely took over this legendary role after Jeremy Bullock made it famous in the original trilogy, Boba Fett is watching Mando make off with his old uniform, and considering that he's the original bounty hunter in the Star Wars universe, fans can pretty much rest assured that Mando and Boba will meet sooner rather than later.
Boba Fett, of course, is one of Star Wars' most infamous characters — despite the fact that he barely uttered a word in the original trilogy before famously falling victim to a Sarlacc pit. A clone of the famous bounty hunter Jango Fett, which we learn in Episode II: Attack of the Clones, Boba is one of the most mysterious and legendary figures in the Star Wars canon, and fans are definitely excited to learn more about him in a show focused entirely on a different character in his same profession.
The Mandalorian's ninth chapter also set up another tantalizing mystery: what's the deal with that enormous pearl found within the fallen krayt dragon? Within Star Wars' dense mythology, krayt dragon pearls are not only rare and valuable, but are actually made from a substance called kyber, which can power lightsabers — which may well mean a new lightsaber is on the horizon.
So who else is tracking Mando and The Child?, Well we know that Moff Gideon (played by Breaking Bad and Better Call Saul fixture Giancarlo Esposito), a high-ranking Empire official who's after The Child, is sure to show up this season. After trying his hardest to lay claim to The Child during The Mandalorian's first season, Moff Gideon now has a powerful Darksaber, and will definitely reappear to wage war against Mando and his allies before long. 
The Mandalorian is released weekly on Fridays at 12 AM PST (or 3 AM EST), and if you want to watch the season premiere or catch up on the first season, all of The Mandalorian thus far is available to stream on Disney+.