Blade Runner Sequel Has A Very Telling Title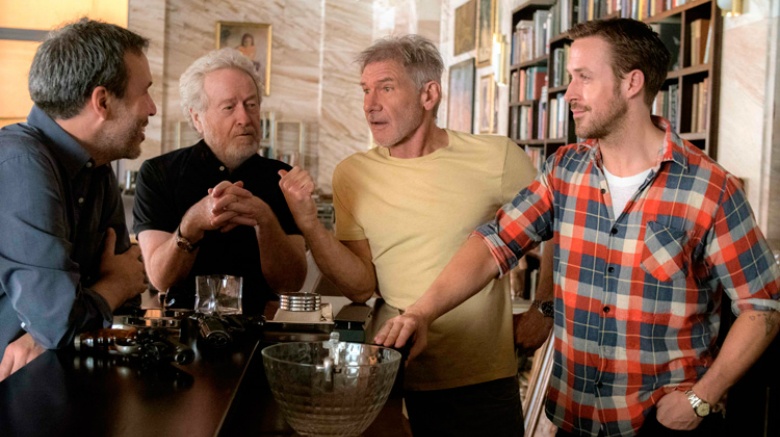 Warner Bros.
We may receive a commission on purchases made from links.
No, that's not the most expensive L.L. Bean catalog shoot ever.
At long last, Warner Bros. announced the official title of the upcoming Blade Runner sequel, and the studio released the photo above to prove it's definitely happening. That's director Denis Villeneuve and producer Ridley Scott (who directed the original 1982 movie) apparently talking shop with stars Harrison Ford and Ryan Gosling.
Entertainment Weekly reports the sequel will be called Blade Runner 2049, suggesting just how far into the future the film is set. The first flick took place in futuristic 2019, which obviously isn't all that futuristic anymore.
Villeneuve told EW that the events of Blade Runner 2049 once again take place in a dystopian Los Angeles. Hampton Fancher, who adapted Philip K. Dick's 1968 novel Do Androids Dream of Electric Sheep? into the original Blade Runner screenplay, is back for the sequel. Villeneuve said it was Fancher who helped him overcome his worries about helming such a landmark movie.
"He told me that Blade Runner was a dream," Villeneuve said. "We just have to dream again and not worry too much about logic. That removed so much pressure and gave me the key to move forward."
Plot details are hard to come by, but we know Ford will reprise his role as Rick Deckard, and the supporting cast includes Gosling, Jared Leto, Robin Wright, and Mackenzie Davis.
Blade Runner 2049 is slated for release Oct. 6, 2017. While we wait, check out some of the most unforgettable Harrison Ford moments ever.