Ewan McGregor Wore His Obi-Wan Kenobi Costume On The Mandalorian Set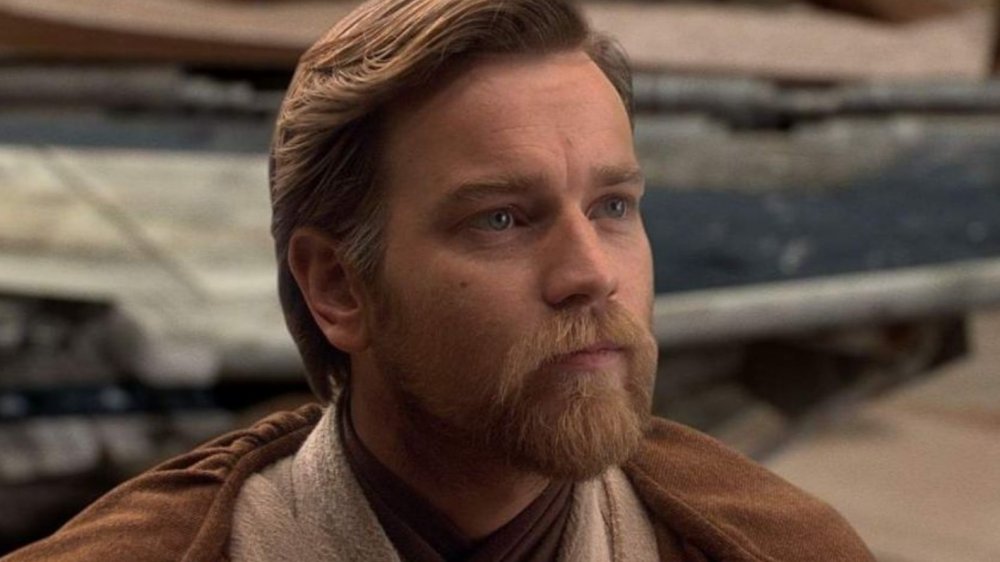 Disney/Lucasfilm
The Star Wars prequel trilogy gave Ewan McGregor more screen time as Obi-Wan Kenobi than the original Obi-Wan, Alec Guinness, ever got to see. The youthful portrayal of the lightsaber-wielding Jedi master gives us a more lively and dangerous version of the reclusive old neighbor that trained Luke in the original film. Touched by McGregor's charming smile and Scottish flair, Obi-Wan was arguably the saving grace of a trilogy that some people felt didn't live up the expectations established by the original movies.
Too bad the Star Wars storyline has wrapped up and we'll never see McGregor's Obi-Wan ever again. Except Obi-Wan isn't gone. Disney confirmed last year that we'll be seeing an Obi-Wan spinoff at some point in the future. That's right, McGregor will be reprising the role of Jedi master once again — this time on Disney+. He'll be doing his Jedi hermit thing in a series that is sure to be every bit as good as The Mandalorian since Deborah Chow, who directed part of The Mandalorian series, will be directing the new Kenobi series. 
That's all fine and dandy, but it doesn't really explain why McGregor wore his Obi-Wan costume on The Mandalorian set ...
Ewan McGregor dons Jedi robes once again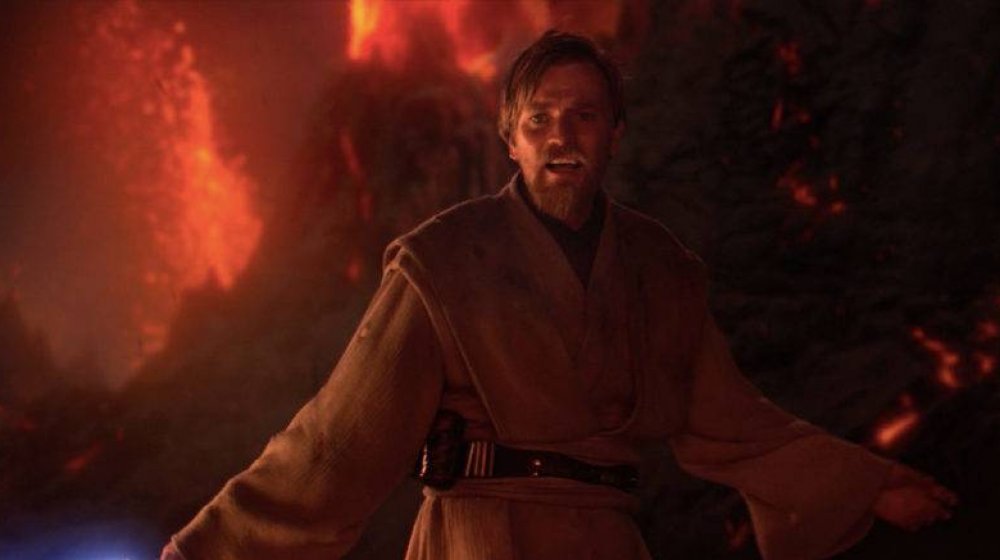 Disney/Lucasfilm
When Ewan McGregor was interviewed on the podcast Happy Sad Confused to talk about his recent motorcycle documentary Long Way Up, the conversation took a very Star Warsian turn and transitioned from the documentary to the new Disney+ Obi-Wan Kenobi series that's currently in the works.
The host of the podcast, Josh Horowitz, asked McGregor how he feels about getting back into the Obi-Wan role, and McGregor responded, "I really am very excited about it. It's been a long time coming ... I am excited about the fact that it's a series as opposed to a movie, it gives us more space." McGregor went on to say how excited he is to be working with Deborah Chow, because he thinks The Mandalorian is "really good."
McGregor also talked about the tests they've run for the series so far. When said tests were mentioned, Horowitz inquired if they required McGregor to be in full costume. "We did it properly," McGregor answered. "It was a funny moment walking on set because it was a lot of The Mandalorian crew and I walked on — for me it was a big moment. I walked into the dressing room and there were my beige cloaks and my belts and boots and it was like 'oh my god.'"
As cool as it is to know McGregor was walking around The Mandalorian set in his Jedi robes, what's cooler is the implication. If Disney+ is running costumed tests, that means they're moving forward with production, at least in a testing capacity. It gives us a little reassurance that the Kenobi spinoff series is actually going to be made, and we're very excited about it.