The One Rebecca Scene That Makes Us Love Armie Hammer Even More
This content was paid for by Netflix and created by Looper.
Throughout his career, actor Armie Hammer has deftly split his talents between Oscar-nominated arthouse fare like 2017's Call Me By Your Name and blockbusters like 2015's The Man From U.N.C.L.E., as well as appearing alongside Hollywood heavyweights like Leonardo DiCaprio in 2011's J. Edgar and Johnny Depp in 2013's The Lone Ranger.
Hammer's seemingly effortless talent as an actor is evident, whether he's getting weird in Boots Riley's 2018 comedy Sorry to Bother You or playing real-life figure Marty Ginsburg in the Ruth Bader Ginsburg biopic On the Basis of Sex that same year. Now, he's taking his talents in yet another new direction: Director Ben Wheatley adaptation of Daphne du Maurier's classic Gothic novel Rebecca.
In this new spin on Rebecca, Hammer plays the leading role of the handsome, mysterious widower Maxim de Winter, who whisks the unnamed protagonist (Lily James) off to his English manse as his new wife just a few weeks after they meet. Though Maxim seems like the perfect man on the surface, the façade begins to crack when he and the second Mrs. de Winter arrive at his estate, Manderlay. As a result, his young, naïve wife is left baffled while Maxim confronts his ugly past. Hammer's performance through Rebecca is pitch-perfect throughout the film, but there's one scene in particular that makes us love him even more.
Maxim de Winter is the perfect role for Armie Hammer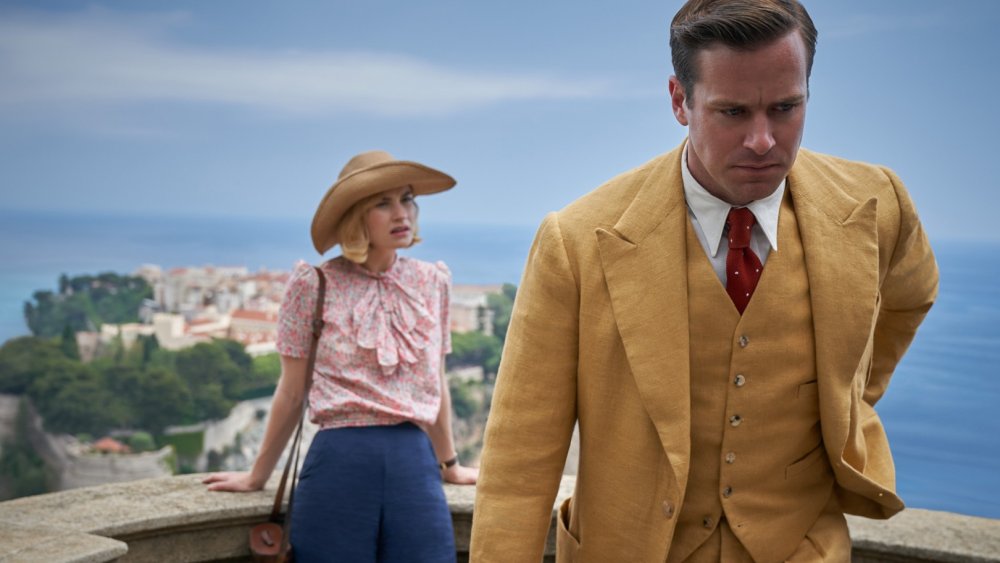 Kerry Brown/Netflix
During the scene in question, Hammer's Maxim is all set to host the annual costume ball at Manderley. But this year, it's different and exciting as he prepares to introduce his new wife to his friends and guests. While Maxim is clad in a perfectly fitted tuxedo, hair slicked back elegantly, he has no idea that his wife, who is getting ready upstairs, has been tricked by the devious housekeeper Mrs. Danvers (Kristin Scott Thomas), into dressing up in the same costume that Maxim's first wife, Rebecca, once wore.
While the protagonist gleefully primps, Maxim entertains his guests, clearly right at home at his upscale gala. Based on Hammer's other roles, it should come as no surprise that he's comfortable portraying people who exist in the upper echelon of society; in fact, the actor rose to prominence in 2010 when he played real-life figures Cameron and Tyler Winklevoss in The Social Network. As both formidable twins, who were rowing champions at Harvard, Hammer created two effortless, lived-in characters, and as the twins face off against Facebook founder Mark Zuckerberg (Jesse Eisenberg), it became clear that the "Winklevi" rarely hear the word "no." Playing Cameron and Tyler gave Hammer a chance to show off his versatility and range, whether they were competing in a race or staring Zuckerberg down in court. Years later, it makes perfect sense that Hammer would graduate from playing the supporting wealthy nemeses to the leading wealthy love interest.
The way he moves between shock, anger, and fear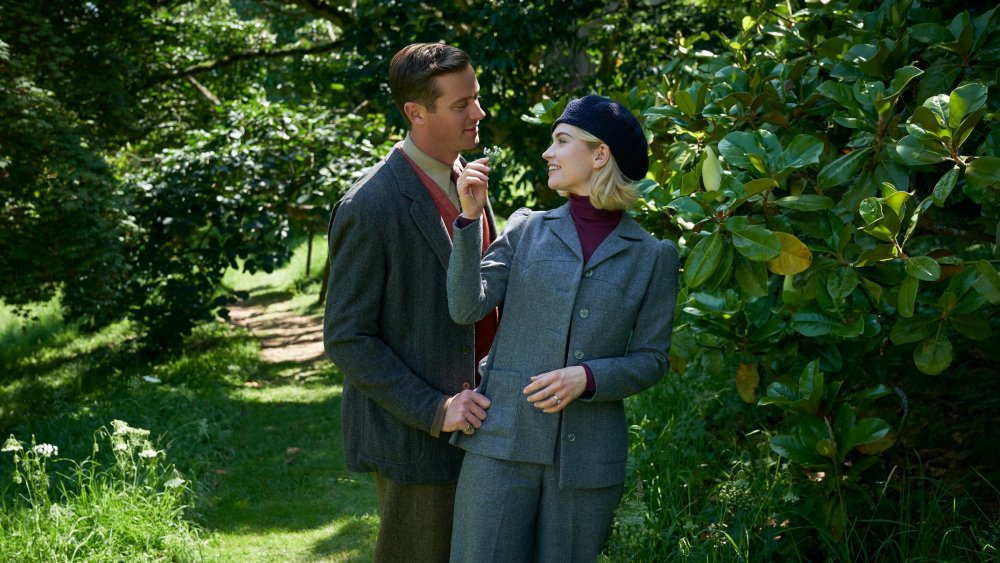 Kerry Brown/Netflix
Though the audience and the second Mrs. de Winter don't know this quite yet, the truth about Maxim and Rebecca's marriage is intensely complicated, a fact which Maxim worked hard to conceal from everybody around them. Despite his staff's enduring devotion to the late Rebecca — Mrs. Danvers, in particular, seemed to truly love the woman — Maxim's memories are marred by manipulation, cruelty, and abuse. When you consider that, his reaction at seeing his sweet new wife clad in Rebecca's clothes and posed in front of her portrait might not be positive.
In a scene that barely even features any dialogue, the camera focuses closely on Hammer's face as he seamlessly moves from shock to anger to what seems to be fear. Maxim can't control his immediate gut reaction to seeing his new wife dressed like his old one, and Hammer sells the scene perfectly, providing a full spectrum of emotion over the course of just a few seconds. The entire moment is reminiscent of one of Hammer's recent high-profile roles as Oliver in Call Me By Your Name, where he and Elio (Timothée Chalamet) have  to hide their relationship from Elio's parents. Throughout that film, Hammer shows off his ability to mask his real emotions while still letting the audience in on the secret, a skill he pulls off beautifully once again in Rebecca.
After visibly clenching his jaw in a masterful move that makes Hammer look like he's close to tears, Maxim loudly admonishes his wife, telling her to go back to her room and change her clothes immediately. It might seem like Maxim is simply angry — which is exactly what the protagonist believes — but after you learn exactly who Rebecca was and what transpired between her and Maxim long ago, it makes perfect sense that seeing her image projected onto his new wife would send Maxim into an emotional tailspin. As such, Hammer's performance sells it flawlessly.
Armie Hammer's performance is layered and complicated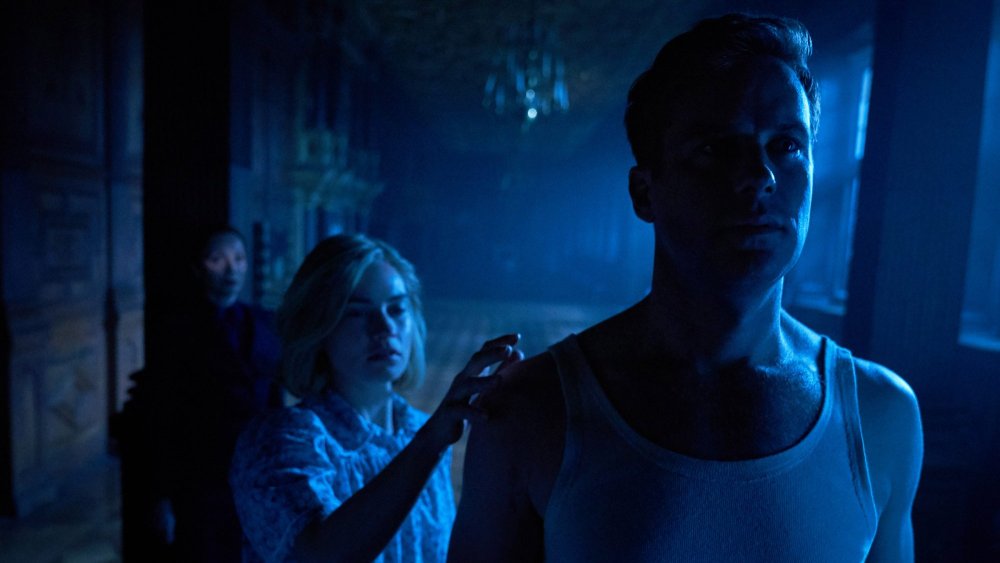 Kerry Brown/Netflix
Ultimately, Hammer's expert performance clearly signifies that Maxim feels a huge variety of emotions when it comes to Rebecca, the most dominant of which seems to be outright fear. The protagonist has no idea that Maxim and Rebecca had such a fraught relationship. Instead, she's afraid that Maxim still loves his first wife, but that couldn't be further from the truth. Though they seemed like the perfect couple to those around them, Maxim and Rebecca had plenty of problems, culminating in an act of violence Maxim can never forget.
Maxim's haunted demeanor is brought to life perfectly by Hammer, especially in an exchange a few minutes later, after Mrs. De Winter has changed into a new outfit and joined the party. That's when he tells his new wife that bringing her to Manderley was a mistake. This line could be read as an angry admission of regret over his hasty second marriage, but Hammer shows both sides of the seemingly cruel statement. By giving Maxim an air of terror and uncertainty, Hammer shows off another possible reason for Maxim's outburst, indicating that perhaps the recent widower is fearful of endangering his new bride. Manderley is a difficult and fraught place for Maxim under the best of circumstances, and now that his new wife is officially a resident of the estate, Hammer's performance indicates that Maxim is afraid that either she's in outright danger or, worse, that history could repeat itself.
Maxim de Winter is a tough role, but throughout his career, Hammer has proven time and time again that he's capable of difficult and complex parts that push him creatively as a performer. For this reason, it's impossible to imagine any other actor playing this modern incarnation of Maxim de Winter, whose inscrutability — thanks to Hammer's performance — barely conceals a layer of fright, vulnerability, and shame.
You can watch Hammer and Lily James in Rebecca, which is streaming on Netflix now, and discover Hammer's excellent performance for yourself.