The Trailer For The Christmas Chronicles 2 Has Fans Totally Hyped
For decades, the world associated Kurt Russell and extremely cold weather with John Carpenter's The Thing. But in 2018, Russell traded the Antarctic for the North Pole and shapeshifting aliens for elves as he donned a red suit and became Santa Claus in the Netflix original holiday movie The Christmas Chronicles.
The story of Santa Claus enlisting the aid of two wayward children on his quest to meet his Christmas deadline was a massive hit for Netflix. In the first week alone, Netflix subscribers across the globe streamed The Christmas Chronicles 20 million times, a statistic that Netflix's Chief Content Officer Ted Sarandos confirmed during the UBS Global Media and Communications Conference in December 2018. Unsurprisingly, Netflix thought a sequel might be a good idea. The Christmas Chronicles 2 was announced on September 15, 2020, and it's directed by none other than Home Alone's own Chris Columbus.
A little over a month after that announcement, the first trailer for The Christmas Chronicles 2 has now been unveiled — promising more snow, more Christmas, and, most importantly, more Goldie Hawn as Mrs. Claus. Unsurprisingly, fans are very excited for these upcoming Christmas shenanigans. 
"The Christmas Chronicles 2 looks brilliant !! The first film was witty yet charming ; this looks to be a fun ride with the awesome Kurt Russell at the helm or should I say sleigh !!! Looking forward to this film Thanks Netflix," one fan wrote in the comments section of the trailer on YouTube. Another added, "OMG YES! Me and my grandmother love the first one, BUT NOW there's gonna be a second one!"
Mrs. Claus, Christmas stars, and Belsnickel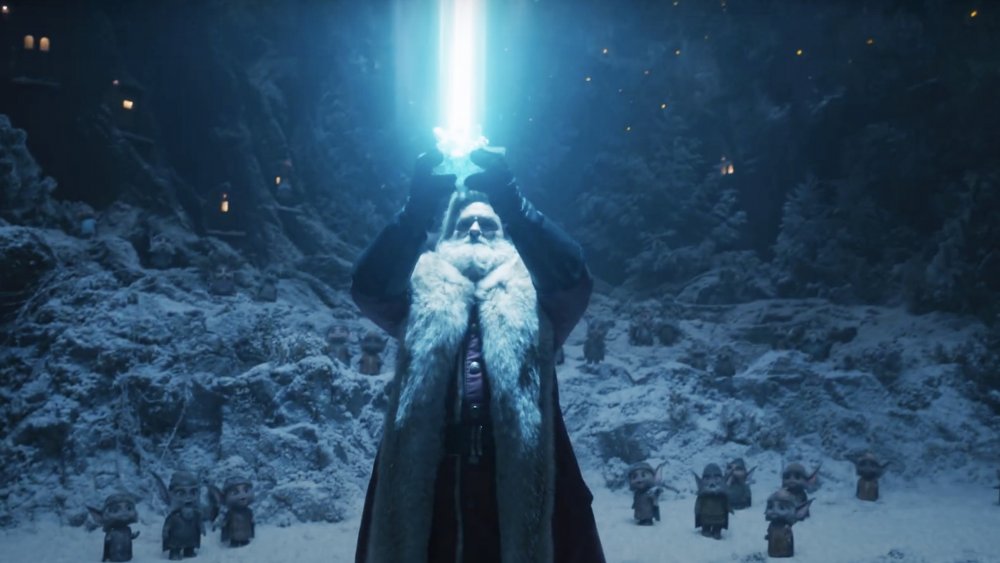 Netflix
The Christmas Chronicles 2 features the return of Kate Pierce (Darby Camp), one of the two children who helped Santa two Christmases ago. Kate and Jack (Jahzir Bruno), the son of her mother's new boyfriend, are whisked away from their Cancun vacation through a magic portal and wind up with Santa Claus in the North Pole. There are elves, presents, Christmas Trees, and, yes, Goldie Hawn as Mrs. Claus — but there's also the character who's responsible for Kate and Jack's journey: Belsnickel (Julian Dennison). Basically, Santa's village is protected by a Christmas star at the top of the tree in the heart of town, and Belsnickel steals it. The plot of The Christmas Chronicles 2 surrounds understanding who Belsnickel is and why he took the Christmas star — as well as, of course, getting it back.
For fans of The Office, the name "Belsnickel" is familiar because Dwight Schrute (Rainn Wilson) dresses up as the folklore character during the episode "Dwight Christmas." Santa Claus has, according to some folk tales, a bit of an entourage. Most people think of Santa's companions as being benevolent figures — like his elves, his reindeer, and Mrs. Claus — who help guarantee children get presents on Christmas. Belsnickel is a darker figure in the pantheon of Christmas characters, not unlike Krampus. If you've heard of bad children getting coal in their stockings rather than toys, then you know a little of what Belsnickel is all about.
Why Belsnickel has turned against Santa Claus is something we don't know as of yet, but we won't have long to wait. The Christmas Chronicles 2 debuts on Netflix on November 25, 2020 — exactly one month before Christmas.