The Truth About All The On-Set Injuries In Game Of Thrones Season 1
HBO
Game of Thrones is famous for making its characters suffer... and apparently, they suffered quite a bit off-screen as well.
In James Hibberd's expansive new oral history Fire Cannot Kill a Dragon, the Entertainment Weekly editor-at-large details brand new behind the scenes secrets from HBO's juggernaut fantasy series, which ended its run in May of 2019. After spending nearly a decade as the hottest show on television, fans are still dying to learn more about the show's secrets, especially after a final season and series finale that may have raised more questions than it answered.
Throughout its run, Game of Thrones staged some pretty high-octane battles and stunts, so it's no surprise that everyone from background actors to its stunt people to its series regulars ended up incurring injuries from time to time. Between off-set and on-set mishaps, here's the real truth about all the real-life injuries producers had to deal with during Game of Thrones' first season alone.
There were plenty of on-set injuries during Game of Thrones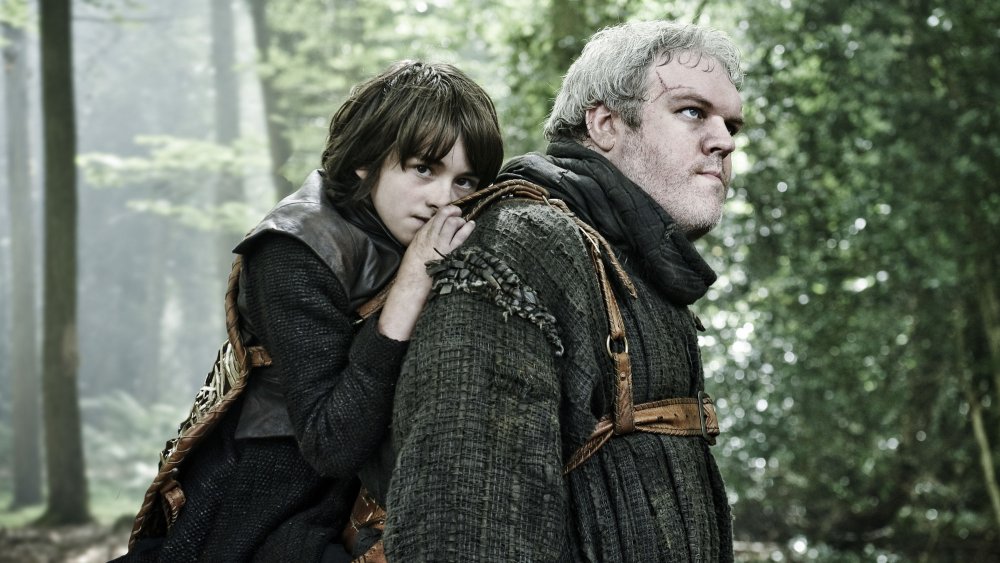 HBO
As production began on this massively ambitious project, the crew had to deal with some very real on-set injuries, from fainting spells to back problems.
As director Daniel Minahan recalled, "It was so cold in Paint Hall [the studio in which Thrones filmed], but it's supposed to be like [King's Landing's Mediterranean climate]. We were shooting this sequence with Cersei [Lannister, played by Lena Headey]. The handmaidens behind her were only wearing these gauzy togas. And one of them just fell flat, fainted, because she was so overcome with cold. At first I thought it was a joke, then we ran up there."
Meanwhile, Kristian Nairn, who memorably played the mostly-mute, lovable giant Hodor, ended up with what may be a lifelong injury. "I got a back injury that season I'm probably going to have for the rest of my life," Nairn told Hibberd. "My first day was the scene where Tyrion [Lannister, played by Peter Dinklage] gives Bran [Stark, played by Isaac Hempstead Wright] the plans for the saddle. They had me carry Isaac up and down that hall seventy-four times. Probably halfway through that my back had given up. I was afraid to say no. It was my first day on set, so I couldn't not do this. It's my own fault for not being honest. You wanted to appear bulletproof." Wright, in the very next passage, joked, "Kristian Nairn still sends me bills from his chiropractor."
Dinklage also remembered an incredibly dangerous horseback stunt that nearly went terribly wrong. As Dinklage recalled, "We shot one scene on horseback on the side of a cliff during a serious windstorm. The horses were very nervous. One guy was thrown from a horse just literally a couple feet away from the edge of a cliff. [...] So that was a bit difficult in terms of, like, life and death."
Some injuries happened off-set on Game of Thrones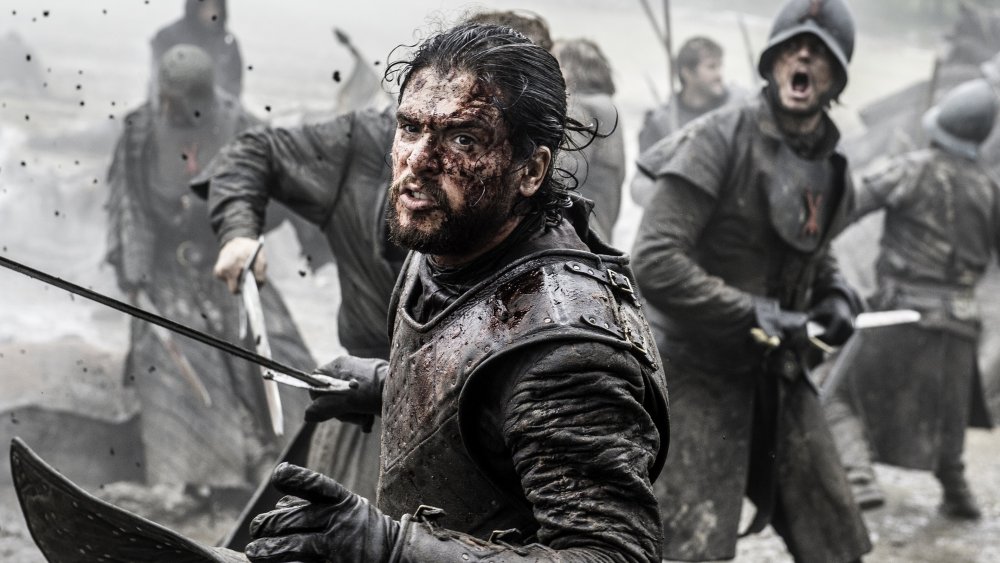 HBO
However, some of the injuries incurred during Game of Thrones' later seasons happened off-set, and still caused plenty of strife. At the beginning of the show's third season, Kit Harington, who played the heroic, alleged bastard Jon Snow, arrived with an ankle injury after he drunkenly tried to climb into his window and fell, breaking his ankle in four places. As Harington told Hibberd, "That's what happened. I didn't see the point in lying to anyone. I was an idiot. The invincibility of youth. The line producer had to rearrange everybody's schedules around me, and I bought him a nice bottle of whiskey because I felt so guilty. I'm sure they were cursing my name behind my back."
Harington's injury ended up requiring a body double until his ankle healed, but it caused internal consternation amongst producers, who realized that the loss of one of their lead actors could be catastrophic on several levels. On the heels of Emilia Clarke's first life-changing brain surgery while she was filming season two, which left her with a second aneurysm that would require another operation, showrunners David Benioff and Dan Weiss realized the inherent challenges of telling a story with, as Hibberd put it, "a large number of characters essential to its story."
As Weiss put it, "Accidents happen. But if Kit's fall had gone differently, then he's not in the show anymore. We had a lot of people, and the odds that something was going to happen that makes it impossible for them to continue started to feel pretty high."
All of Game of Thrones, including the injuries producers tried to hide from the audience, is available to stream on HBO Max now.