Netflix Just Made A Shocking Decision About GLOW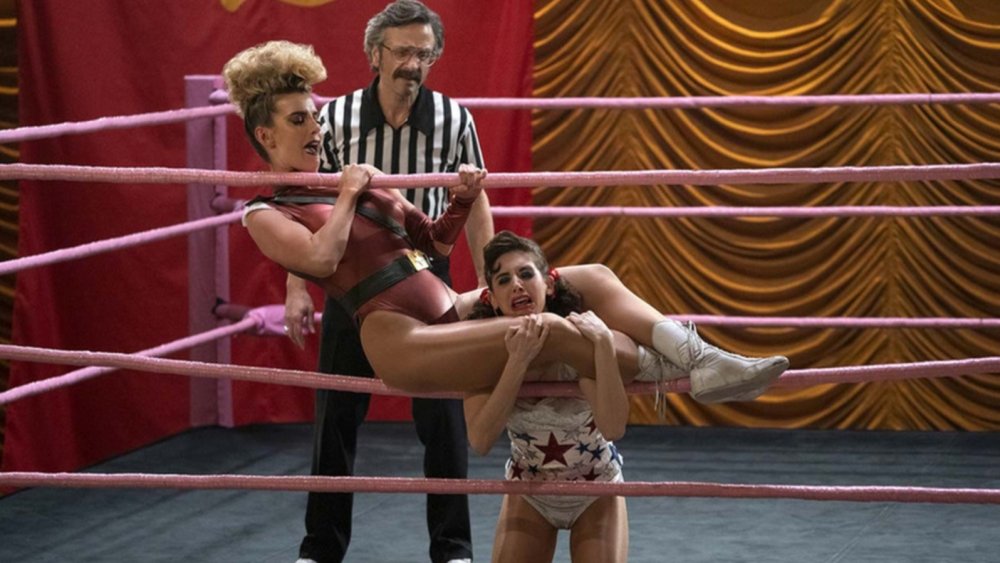 Netflix
Liz Flahive and Carly Mensch's Netflix comedy-drama GLOW was an instant hit from the moment it arrived on the streaming giant. Fans of both must-see TV and professional wrestling alike tuned in to check out its fictionalized account of the legendary Gorgeous Ladies of Wrestling promotion during its heyday in the 1980s. With a strong cast, led by Alison Brie, and a story that finds the perfect balance between spectacle and personal struggle, GLOW was nominated for and won a slew of awards, including a handful of Emmys, during its time. It seemed as though nothing could go wrong for the series, but recently, it received an Andre the Giant-sized haymaker that it'll likely never recover from.
After three highly successful seasons that only got better and better, Netflix was poised to cap off its run with a fourth and final season, announcing their renewal of the show in September of 2019. However, much to the disappointment of GLOW viewers everywhere, they won't receive the closure the streaming service promised them last year. As reported by Deadline, on October 5, 2020, Netflix went back on its word to produce any more episodes of GLOW and are considering season 4 officially canceled. Their call to put the series down for the count didn't come out of left field, as Netflix originals get put on the chopping block all the time. However, in the case of GLOW, it wasn't mere corporate decision making that brought about its untimely demise.
COVID-19 made it impossible to safely produce GLOW's fourth season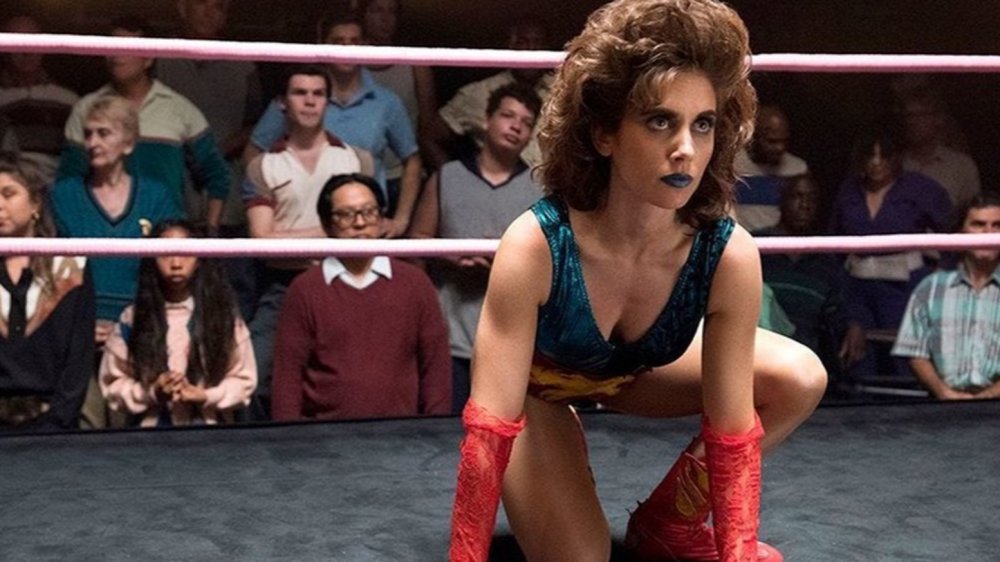 Netflix
At the end of the day, the deciding factor in sending GLOW to the Netflix graveyard was the ongoing COVID-19 pandemic. According to a representative for the streamer, "We've made the difficult decision not to do a fourth season of GLOW due to COVID, which makes shooting this physically intimate show with its large ensemble cast especially challenging." The show is about wrestling, very much a contact sport, which doesn't exactly lend itself to social distancing guidelines. Couple that with the massive cast and crew required to make it all happen, and it becomes clear why filming couldn't continue.
It's also worth mentioning that the most likely timeframe for GLOW's return to television would have been sometime in 2022, since they only completed one episode by the time they halted production in March of 2020. That puts nearly three years between seasons, leaving a long time for fan interest in the show to wane before its return. To those calling the shots at Netflix, running that risk on such a pricey program wasn't justifiable for their business model, so they found it in their best interest to cut their losses entirely. 
In a heartfelt statement to Deadline, creators Flahive and Mensch expressed their disappointment in losing their passion project: "Netflix has decided not to finish filming the final season of GLOW. We were handed the creative freedom to make a complicated comedy about women and tell their stories. And wrestle. And now that's gone." Of course, the two showrunners are aware of the current world situation and understand that health comes before any brand of entertainment. "Register to vote. And please vote," they said in their statement's conclusion.
GLOW stands among Netflix's finest original programs, and it's quite sad to see it go before it could properly say goodbye. Perhaps someday, when the world is a safer place, GLOW will have the chance at a farewell run not only for its own sake, but for its loyal fans.