What To Watch While You're Waiting For Stranger Things Season 2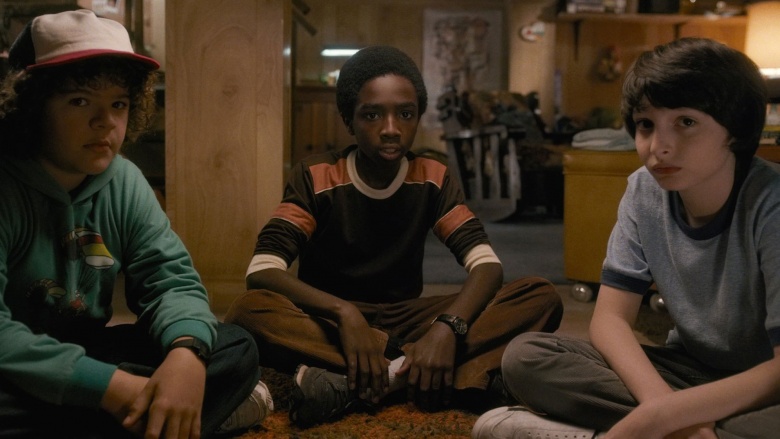 Now that the first season of Netflix's new sci-fi/horror series Stranger Things is a hit, hordes of fans are stuck eagerly awaiting the second season, due to premiere sometime in 2017. In the meantime, you may be left wondering—what should I watch now? Well, Looper is here to save the day with a list of TV shows and movies we think you'll love if you're a serious Stranger Things fanatic. All of our entries capture some of the magic we found with Mike, Eleven, and the rest of the crew, and offer a perfect way to fill your time between repeat viewings of Stranger Things season one.
Stand by Me (1986)
Description: Four close friends spend a week in the summer of 1959 trying to trace the last steps of a missing boy who disappeared near their small Oregon community. They face some obstacles along the way that—while not supernatural—are still pretty intimidating and ominous.
Why you'll love it: While many fans point out the parallels between Stranger Things and sci-fi classics like E.T. and Close Encounters of the Third Kind, the entire series can also be viewed as essentially a love letter from the Duffer brothers to this 1986 cult classic. Stand by Me is steeped in nostalgia for an earlier time, the intense and turbulent friendships that only pre-teens are capable of, the emotional punch of Stephen King (whose short story was the basis for the film), and brilliant acting and characterizations from an underage cast. The dynamics between the kids are realistic, and will definitely remind you of the bond between Mike, Dustin, Lucas, and Will.
Where to watch: rent it on iTunes and Amazon Video.
Cloak & Dagger (1984)
Description: Davey Osborne (played by E.T.'s Henry Thomas) loves role-playing games, and has an imaginary best friend, a super-spy named Jack Flack (played by the great Dabney Coleman, also pulling double duty as Davey's father Hal). One day he witnesses the real-life murder of an FBI agent who passes a video game called Cloak & Dagger to Davey before he dies. Davey has to figure out the mystery of the game's true meaning and the death of the agent before the FBI—and others—find him.
Why you'll love it: Being filmed and set during the '80s, this espionage-filled kid flick abounds with the nerdy, the nostalgic, and lots of fun. It captures the Stranger Things vibe perfectly, following a smart kid through his quest to solve a potentially dangerous mystery.
Where to watch: Stream on HBO GO and HBO NOW; rent on iTunes, Google Play, and Amazon Video.
Super 8 (2011)
Description: Director J.J. Abrams brings us a thrilling tale of a group of teenagers who are filming their own "Super 8" independent movie. During a night scene they're filming at a train station, a passing train derails and releases a supernatural and potentially dangerous creature into their midst. The government soon invades their small town, and the teens have to figure out the nature of the creature in order to save their community.
Why you'll love it: It's a nostalgic sci-fi homage to Super 8 producer Steven Spielberg, but the references and callbacks to his work don't overpower the tale. The interactions between the kids are spot-on, and there are several intense and impressive action sequences that will take your breath away. You'll love seeing the practical effects the kids utilize in their movie-within-a-movie (which you can watch in full after the credits.)
Where to watch: Rent on iTunes, Google Play, and Amazon Video
Midnight Special (2016)
Description: A boy with unexplained powers is on the run with his father, both of them fugitives from the government as well as a mysterious cult—each of whom want the boy for their own purposes.
Why you'll love it: Take everything that we love about Stranger Things—including an endangered child with supernatural powers, '80s nostalgia, and the pairing of a parent with a hard-nosed cop who team up to save him—and pack it into a 111-minute movie. Also like Stranger Things, you'll find lots of tributes to Spielberg and John Carpenter in Midnight Special. It's definitely worth your time, and is likely destined for cult classic status.
Where to watch: Rent on iTunes, Google Play, and Amazon Video
The Goonies (1985)
Description: A group of misfit kids band together in an effort to save their neighborhood from being demolished by developers. Along the way, they discover a centuries-old map that leads them on an adventure to find the long-lost treasure of famed pirate "One-Eyed Willie." The road to the treasure won't be easy, especially with a group of criminals hot on their heels trying to claim the lost gold for themselves.
Why you'll love it: If you haven't seen The Goonies before, go watch it right now. This Spielberg-produced classic is nostalgic, suspenseful, and hilarious. The gang of kids—who call themselves the Goonies—will capture your heart with their bond. Several of the characters are obvious reference points for the cast of Stranger Things, including Chunk (Dustin), Mikey (Mike), and Stef (Barb). While the bad-guy Fratellis aren't nearly as scary as Brenner and his crew from Hawkins Lab, they still make for exciting (albeit somewhat campy) adversaries.
Where to watch: Rent on iTunes, Amazon Video, Google Play
Wayward Pines (2015- )
Description: A U.S. Secret Service agent (Matt Dillon) goes to the titular small town in Idaho to investigate the disappearance of two fellow agents. After he arrives, he wakes up in the hospital following a car accident and finds that he can no longer contact the outside world or leave the strange town.
Why you'll love it: While Wayward Pines has a more adult-oriented cast than Stranger Things, the mysteriously supernatural subject matter packs the suspense in spades. You'll be drawn in by the mystery of Wayward Pines, Idaho, and when you finally learn some of the truth, there's no way you'll see it coming. With two seasons under its belt and counting—and some episodes written by Stranger Things' own Duffer brothers—you won't regret binge-watching Wayward Pines.
Where to watch: Hulu, the FOXNow App (with cable subscription), or rent on iTunes, Google Play, and Amazon Video.
Freaks & Geeks (1999-2000)
Description: It's 1980 in a suburb of Detroit, Michigan. An academically gifted student attempts to change her image by hanging out with the "slackers" at her high school, while her geeky younger brother and his buddies simply try to survive the academic year and their school's undercurrents of cliques.
Why you'll love it: Full disclosure here: there are no mysterious or supernatural elements in this offering from Judd Apatow. But Freaks & Geeks became a cult classic show for a reason: the strong cast and the stories of the characters they play. Stranger Things has often garnered praise for how accurately it portrays kids in their everyday lives, and Freaks & Geeks has that same quality. The only complaint we have is that it was cancelled after only one season—but what a season!
Where to watch: Netflix
Twin Peaks (1990-1991)
Description: After a homecoming queen is brutally murdered, an FBI agent is called in to investigate the crime—which resembles a similar murder from another state. As he tracks down clues pointing to the perpetrator, he soon finds that not all is as it seems in Twin Peaks. A dark and supernatural side of the town emerges, and the FBI agent finds himself pitted against the citizens of the town and otherworldly forces determined to stop his investigation.
Why you'll love it: If you enjoyed the mystery and drama of Stranger Things, you'll probably like Twin Peaks. The main motivation of the protagonist is to get to the bottom of the murder, much like Hopper in Stranger Things. The supernatural elements are different from Stranger Things, but still suspenseful. We only have a few problems with this show—mainly that the pacing is a little slower than some fans might like (especially considering how much the Duffer brothers packed into their episodes), and that occasionally the dramatic turns of the cast come off as a little overdone, bordering on campy. That being said, Twin Peaks is still a cult classic that we recommend any Stranger Things fan watch at least once, and with Twin Peaks returning for a revival in 2017, now is a great time to catch up on what you've been missing.
Where to watch: Hulu, Netflix, Amazon Prime, or rent on iTunes, Amazon Video, Google Play
Fringe (2008-2013)
Description: The FBI forms a special "Fringe Division," tasked with investigating a series of unexplained occurrences centering around fringe science. While the series started out in a "mystery/monster of the week" format, eventually an overarching serial mystery emerged, focused on a parallel universe.
Why you'll love it: Fringe is a great sci-fi and supernatural mystery series which successfully follows in the steps of similar shows like Lost and The X-Files. While the alternate reality featured in Fringe isn't quite as horrifically scary as the Upside Down, this show manages to suck you in and leave you wanting more.
Where to watch: Netflix, or rent on iTunes, Amazon Video, and Google Play
The Killing (2011-2014)
Description: A teenage girl goes missing from her Seattle home, and local investigators are called into the case. Later seasons focus on other similar crimes and the lengths the detectives have to go to in order to solve them.
Why you'll love it: While there's no supernatural element in The Killing, the drama and mystery is top notch. If you love the obsessive tendencies of Joyce and Hopper as they're pulled deeper and deeper into Will's disappearance, wait until you meet The Killing's protagonist, homicide detective Sarah Linden. Just days from retirement at the start of the series, Linden eventually becomes completely obsessed with the case of the missing girl.
Where to watch: Netflix, or rent on iTunes, Amazon Video, and Google Play
The X-Files (1993-2002, 2016)
Description: FBI Special Agents Scully and Mulder investigate "X-Files"—unsolved and marginalized cases with paranormal elements—with Mulder as the perpetual dreamer and believer and Scully offering a skeptic counterpoint to keep Mulder grounded. Episodes sometimes feature a "monster of the week" scenario, while others are tied to the overarching mystery of the series—in which Mulder and Scully find themselves being used as pawns in a much larger conflict.
Why you'll love it: Mike, Dustin, Lucas, and Will are outcasts, and bond through their shared fate as the "geeks" in the school. The strong friendship between Mulder and Scully strongly resembles that bond, as they are constantly marginalized and scoffed at by their FBI colleagues for the cases they investigate. The cases found in The X-Files can sometimes be silly and campy, but often are downright creepy—including plenty of references to alternate dimensions, telekinetic powers, and government complicity in secret research programs. We'd love to see a new X-Files miniseries like the one aired in 2016—but one that focuses on the town of Hawkins and Dr. Brenner's lab from Mulder and Scully's perspective. Make it happen, Fox!
Where to watch: Netflix, Hulu, or rent on iTunes, Amazon Video, and Google Play