The Witches Trailer Proves The Film Will Be Your New Halloween Obsession
Looking for a new way to lovingly traumatize your children? How about a movie adapted from a book by the guy who permanently maimed a bunch of fictional kids during a candy factory tour directed by the maker of The Polar Express? Yeah, that's got your attention. A new trailer for Robert Zemeckis' take on Roald Dahl's The Witches has just dropped, and it promises to be the best comedic addition to your Halloween viewing parties since Hocus Pocus.
The Witches, originally published in 1983, is among Dahl's most disturbing and well-loved middle-grade books. It tells the story of a recently orphaned boy, taken in by his grandmother, and their encounter with a coven of terrible witches — beastly creatures disguised as regular women, bent on killing, maiming, and transforming children. The book was first adapted for the screen in 1990 by the Jim Henson Company, with Anjelica Houston playing the Grand High Witch.
Now, a new generation of young people can look forward to cowering under their covers, fearing transfiguration, as Hollywood mastermind Robert Zemeckis (Forest Gump, Who Framed Roger Rabbit?) is set to release a new take on The Witches, while at the same time definitely not making Back to the Future 4. Here's what the surprise trailer revealed.
The Witches looks like a new Halloween classic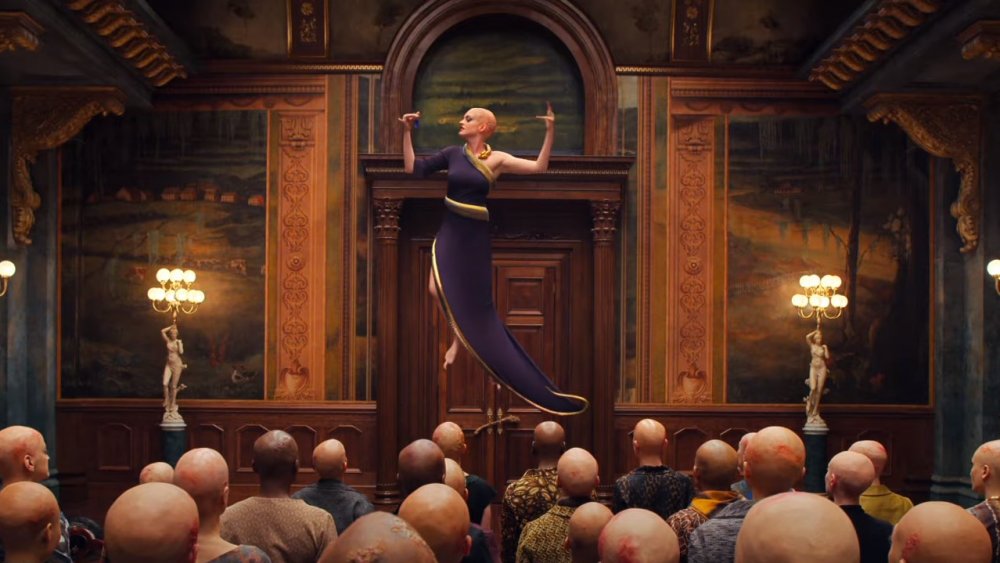 HBO Max
This time around, the story's protagonist is played by newcomer Jahzir Bruno, voiced in narration by Chris Rock. Octavia Spencer plays the boy's grandmother, while Anne Hathaway takes up the mantle of the Grand High Witch, matron of a coven of unspeakable spell-casters and developer of a new serum capable of turning a child into a mouse. Stanley Tucci co-stars, along with acclaimed Broadway sorceress Kristin Chenoweth. No word yet as to whether this means we should expect to see a green-skinned Idina Menzel.
Footage from The Witches paints a visually distinctive, otherworldly picture, somewhere between The Addams Family and a Wes Anderson movie. Hathaway, poised and wide-eyed as ever, looks set to add her name to the long list of classic Halloween movie enchantresses a la the Sanderson sisters from Hocus Pocus. Notably missing, when compared to the original film, is the bevy of gruesome Jim Henson Company prosthetics and animatronics that gave millennials their very first night terrors. How will this new version fare at scaring the pants off of its audience? Luckily, we won't have to wait long to find out.
Produced in part by Guillermo del Toro, an ambitious bad dream engineer in his own right, The Witches was originally intended for theatrical release, winding up as one of the legion of movies pushed directly to streaming due to nationwide theater closures. It is now scheduled for an out-of-left-field HBO Max release on October 22, 2020. Trick? Or treat?