This Is The Worst Thing The Crew Ever Did On Futurama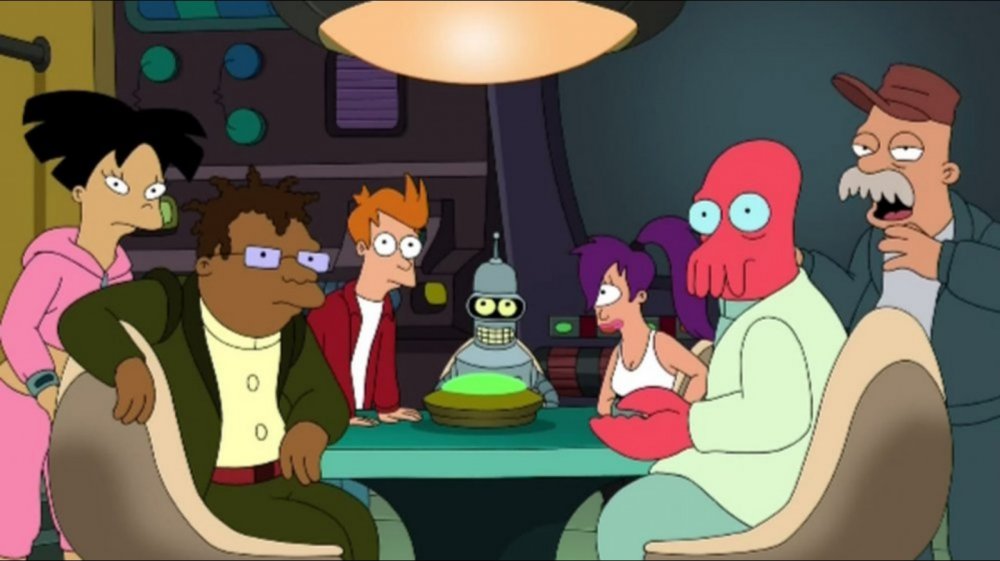 Comedy Central
The crew of the Planet Express Ship is made up of lovable misfits who each come from unlikely backgrounds typical of the 31st century. This crew has been through some amazing adventures as well as some of the saddest moments in TV history. They aren't exactly heroes, but they aren't villains either. They're whatever the comedic storyline needs them to be.
The crew has saved the world more than once. They've flown across the galaxy, entered alternate dimensions, and traveled through time. They've also caused the Earth and other planets plenty of trouble, but that's usually the result of some idiotic blunder rather than any outright malice (unless we're talking about Bender, of course). We all love to root for Futurama's ragtag team of delivery personnel, but let's be honest here — this crew has caused at least as many catastrophes as they've prevented. One of these catastrophes stands out clearly as the worst thing the crew ever did on Futurama: They caused the massacre of hundreds of billions of alien infants. That's right, the Planet Express crew is guilty of mass infanticide — pretty dark stuff.
Queue up season 2 episode 18, entitled "The Problem with Popplers," and get ready to roll.
Futurama's Planet Express crew massacred alien infants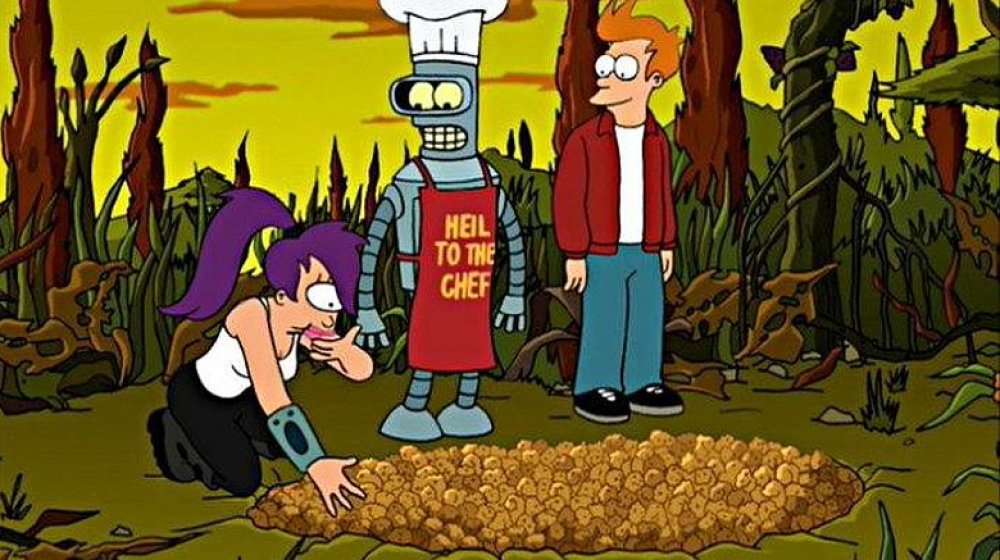 Comedy Central
It all started when Fry, Leela, and Bender were flying back to Earth following drinks on the Planet of the Moochers, who wiped them clean of everything from pants to the food in the ship's pantry. It's a two-day flight back to Earth, and the crew is hungry. They pull off to the nearest alien planet, where they find a new delectable cuisine that Fry describes as "a ditch full of fried shrimp," while Bender adamantly argues it's a "hole full of fried prawns." Anyway, Leela scans the food with her wrist computer thingy and discovers they're, in fact, edible. She takes her first bite and proceeds to gorge herself at light speed.
The crew brings their discovery back to Earth, where they brand the cuisine as "popplers," and begin to distributing to a slimy Fishy Joe's franchise owner. All is going well, as the world scarfs down bags of popplers like there're diamonds buried at the bottom — then one of the popplers starts to talk. These popplers, as it turns out, are actually infant Omicronians, and the world has eaten 198 billion of them, invoking the righteous outrage of the mature Omicronians.
The Omicronians demand to eat one human for each of their children consumed in this mass murder, but they settle for eating Leela instead since there aren't 198 billion humans in existence. Lrrr, the leader of the Omicronians, is swayed to make peace thanks to some moving words from the talking poppler, Jrrr. Leela and the crew are saved from being held accountable for their catastrophic behavior, once again — which is probably why they never learn.