Exclusive Clip: Get A Sneak Peek At Family Guy's Season 19 Premiere
There's only one word to describe how fans should feel about the fast-approaching return of Family Guy: "giggity."
On Sunday, September 27, Fox's long-running adult-oriented animated comedy Family Guy will drop its season 19 premiere — which also marks its 350th episode overall. Ahead of its debut, Looper is excited to share an exclusive sneak-peek clip that teases a sub-plot of the premiere episode.
The clip drops in on the bumbling, blue-collar father Peter Griffin (voiced by Seth MacFarlane) and his pals Cleveland Brown (originally Mike Henry, with Arif Zahir moving forward), Glenn Quagmire (also MacFarlane), and Joe Swanson (Patrick Warburton) gathered around a dumpster. With wonder in his eyes, Peter spots a Magic-8 Ball sitting atop clothes, shoes, and books in a box on the ground. He insists that the Magic 8-Ball can accurately predict the future, a claim that his friends initially reject. 
However, when the Ball tells Peter to "ask again later" when he inquires about the chances of it snowing on Christmas, he believes that the plastic toy truly is magical, and makes a valiant vow: "Guys, from now on, I am living my life according to the Magic 8-Ball. It will lead me like the shorebird that led the first pilgrims to Boston."
The season 19 premiere of Family Guy centers on a milestone for Stewie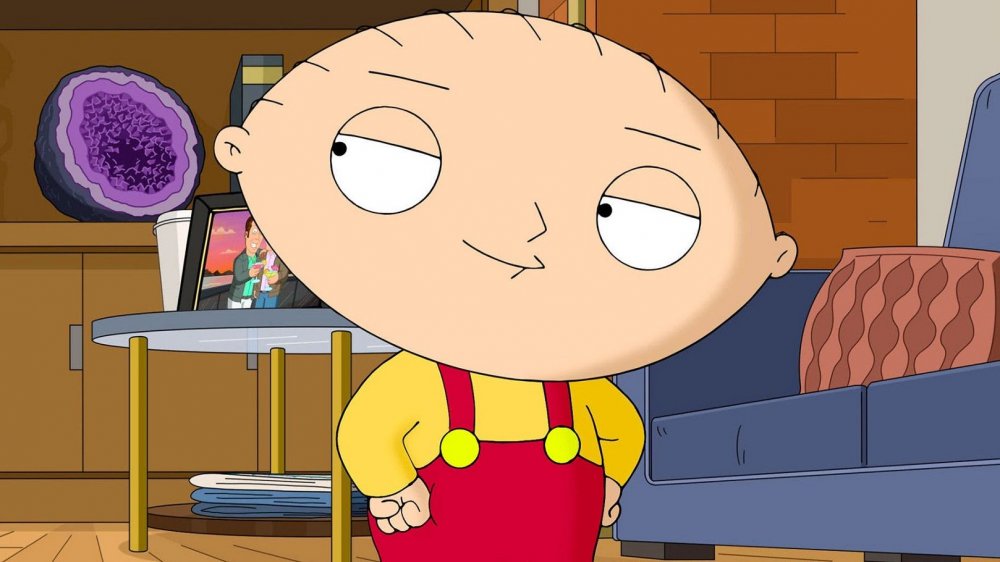 Fox
Of course, Peter Griffin living his life according to the vague answers a Magic-8 Ball produces upon being shaken isn't the only plot that the episode will involve. There's a bigger one at play on the Family Guy season 19 premiere: the central plot that's all about little Stewie Griffin (also voiced by MacFarlane).
As its title, "Stewie's First Word," suggests, the season 19 premiere of Family Guy will see Stewie uttering his first word. It goes without saying that fans know the diabolical infant is actually fluent in English — and well-versed in a few other languages, too — but to most people in the in-series world, he's just a blabbering baby. That all will change on "Stewie's First Word," which reveals that the first word out of the mouth of Stewart Gilligan Griffin is ... a swear word.
Griffin family matriarch Lois (Alex Borstein) is mortified over the situation, and the other mothers in the neighborhood begin shunning her for Stewie's foul mouth. Determined as ever, Lois ventures to find out how Stewie even learned that sour word in the first place. 
It certainly sounds like fans are in for an epic night of Family Guy fun when the series returns with its 350th episode on Sunday, September 27 at 9:30 PM on Fox.