Todd McFarlane Promises 'Dark' And 'Scary' Spawn Reboot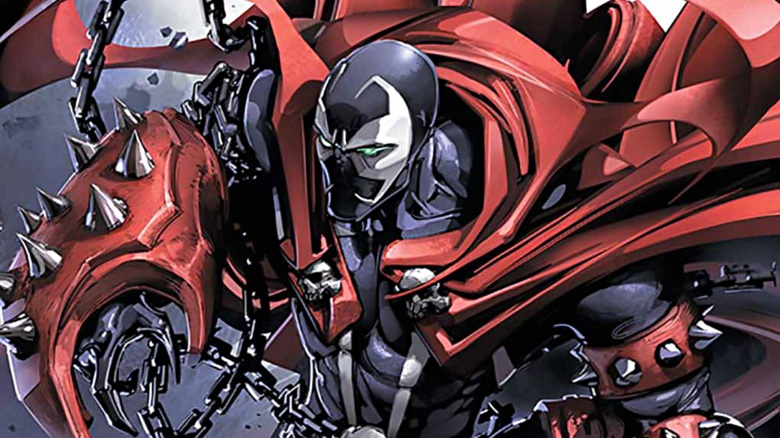 Image Comics
Two decades after the original Spawn movie, there's a second film in the works, and Todd McFarlane wants you to forget everything about the first one.
The Image Comics co-founder and Spawn creator is set to appear in an upcoming episode of Kevin Smith's AMC series Geeking Out, and ComicBook.com has a sneak peek at his conversation with Tiffany Smith of DC All Access.
In the clip, McFarlane confirms there's definitely a new Spawn movie coming, and he says it has a "dark, R-rated, scary, badass sort of script." The world in the movie will also be based in more realism than Mark A.Z. Dippe's 1997 adaptation. "The world's going to be real, except for one thing that's going to move," he says. "You're never going to see a dude in a rubber suit."
McFarlane also unveils concept art for the character we might only see glimpses of in the film. "In the background, there's this thing moving around, this boogeyman," he says. "That boogeyman just happens to be something that you and I, intellectually, know is Spawn. Will he look like he did in the first movie? No. Will he have a super-villain he fights? No. He's going to be the spectre, the ghost."
As for when we might see a new Spawn in theaters, McFarlane said he's still whittling away at the screenplay. "I've finished the script, and I'm in the process of editing," he said. "It's 183 pages, and [producers] usually like 120. I still think it's going to end up being about 140, because I'm putting in details for myself."
Watch the interview clip and be sure and catch the full episode of Geeking Out, which premieres Sept. 18.