Exclusive Clip: Disney Television Animation's Gravity Falls X Line Rider, The First In A Brand-New Series
Ready to head back to the place just west of weird, just south of strange, just north of normal, and just east of eerie — in a way you never have before? 
Disney Television Animation has announced that a new short entitled "Gravity Falls x Line Rider" is just around the corner. Inspired by the popular internet-game-turned-phenomenon Line Rider, created in 2006 by then-student Boštjan Čadež, the soon-to-debut short will drop on the Disney Channel YouTube page on Friday, September 11, 2020. Ahead of the clip's debut, Looper is excited to share the exclusive first look at "Gravity Falls x Line Rider."
Fans of Gravity Falls, the animated mystery-comedy series created by Alex Hirsch that aired on Disney Channel and Disney XD, will grin from ear to ear upon spotting three of the series' most beloved characters in the clip — drawn up in the distinctive Line Rider style, zipping down slopes and flipping through the air. Dipper Pines (voiced on Gravity Falls by Jason Ritter) and his twin sister Mabel (Kristen Schaal) are seen riding the lines on their twee toboggans, while their great-uncle "Grunkle" Stan (Hirsch) catches air in the Mystery Cart, the golf cart used at Grunkle Stan's Mystery Shack. The action is set to a stirring orchestral version of the Gravity Falls theme song, written by Brad Breeck and arranged by Emmy Award-winning composer Kevin Kliesch.
Gravity Falls isn't the only property getting the Line Rider treatment with Disney Television Animation's new series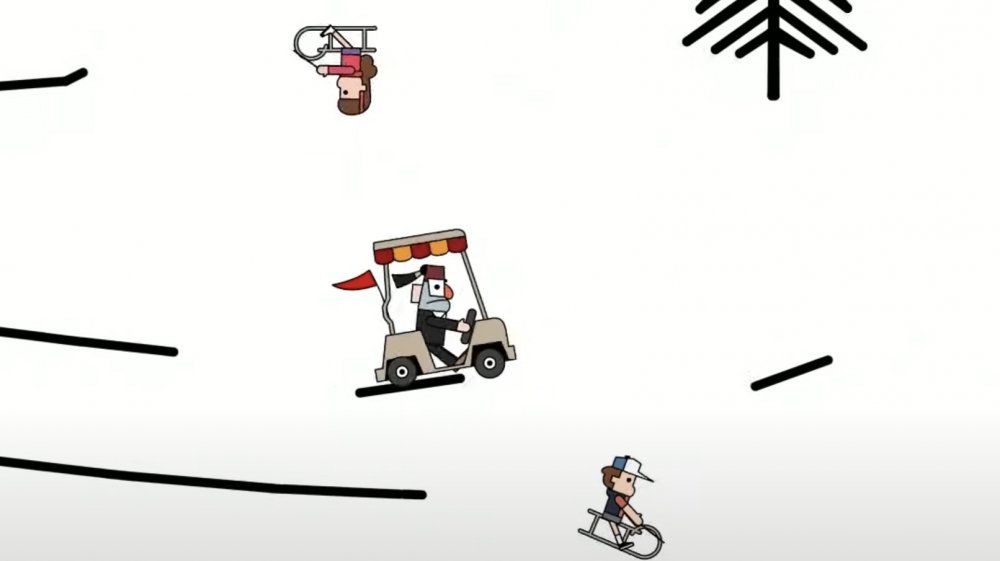 Disney Television Animation
The exciting news doesn't start and stop there. "Gravity Falls x Line Rider" is actually the first installment in a brand-new short-form series from Disney Television Animation. The company has partnered — in its first-ever YouTube collaboration — with Line Rider artists Mark Robbins (also known as DoodleChaos), Ben Harvey (aka Rabid Squirrel), and David Lu (aka Conundrumer) to create a series of shorts inspired by the game everyone was hooked on in the mid-2000s. 
Known collectively as "Disney x Line Rider," the series will kick off with "Gravity Falls x Line Rider" on Friday, September 11, and continue with more shorts that will premiere beginning in 2021.