Why Jason Momoa's Instagram Story Has Witcher Fans Buzzing
It's safe to say, at this point, that if you love Henry Cavill, you probably also have a deep abiding fondness for Jason Momoa. 
While the two men have been part of multiple big franchises, the only time they've teamed up — so far —was in Justice League, where they starred as Superman and Aquaman, respectively. The release of the the so-called Snyder Cut will hopefully improve that crossover, but in the meantime, both actors have claimed some pretty legendary credits on their own: Cavill has been a part of the Mission: Impossible and Hellraiser universes (the 2005 film Hellraiser: Hellworld, to be precise), Momoa appeared in Stargate, Conan the Barbarian, and, of course, Game of Thrones. 
However, there's a rumor going around that Cavill and and Momoa might find themselves sharing another popular franchise. If true, it means that Momoa might be sailing over to Netflix, to appear in The Witcher. Exciting as this may sound, though, is is actually happening — and if so, how? 
Did Jason Momoa confirm this Witcher rumor on Instagram?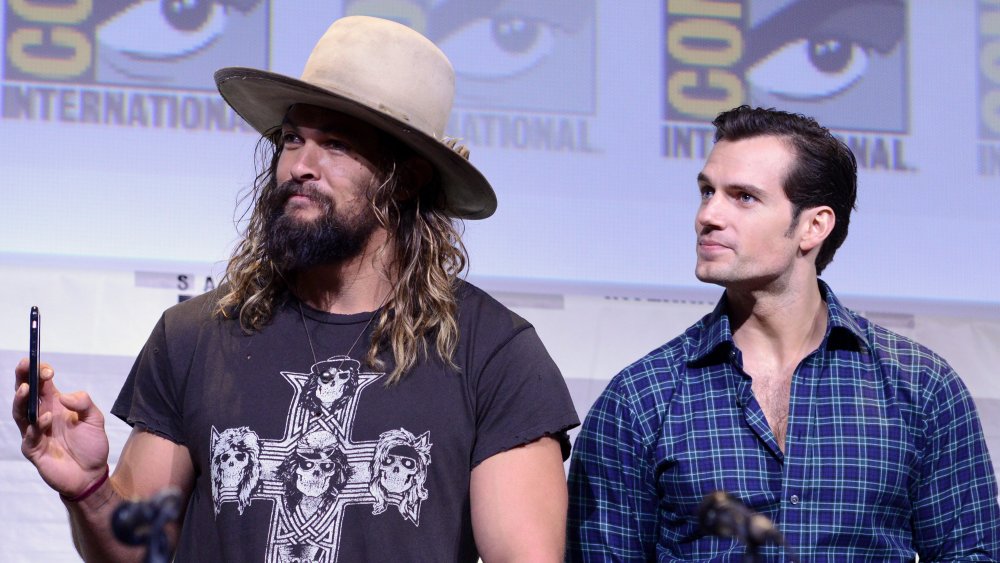 Albert L. Ortega/Getty Images
First, the facts: The second season of The Witcher will wrap filming in February 2021, at the earliest. Meanwhile, Netflix has designs on a six-part prequel series called The Witcher: Blood Origin. According to Netflix themselves, the story will be set 1,200 years before Geralt, and will focus on the very first Witcher. The rumor, then, is that this first Witcher could, hypothetically, be played by Jason Momoa.
Unfortunately, credible sources are scarce. This casting rumor first surfaced on We Got This Covered, which isn't particularly reliable. On the other hand, it's also been reported by some sites that Production Weekly also commented on Momoa being "mentioned" for the lead, which is something. Still, as Screen Rant reports, perhaps the biggest indicator that Momoa is interested — regardless of whether Netflix has pondered his casting or not — occurred when he shared a piece of fan art by @SPDRMNKYXXIII on his Instagram, featuring Momoa back-to-back with Cavill's Geralt, captioned simply, "what's up homie." 
Whether or not this is simply Momoa joking around, or subtly implying the rumors are true, is anyone's guess. For now, what can be confirmed is that The Witcher writer/producers Lauren Hissrich and Declan de Barra will be involved with Blood Origin, with de Barra acting as showrunner. "As a lifelong fan of fantasy, I am beyond excited to tell the story The Witcher: Blood Origin. A question has been burning in my mind ever since I first read The Witcher books — What was the elven world really like before the cataclysmic arrival of the humans?"
There is no release date for The Witcher: Blood Origin, but 2022 is likely.