Bryan Singer Confirms Mister Sinister In Wolverine 3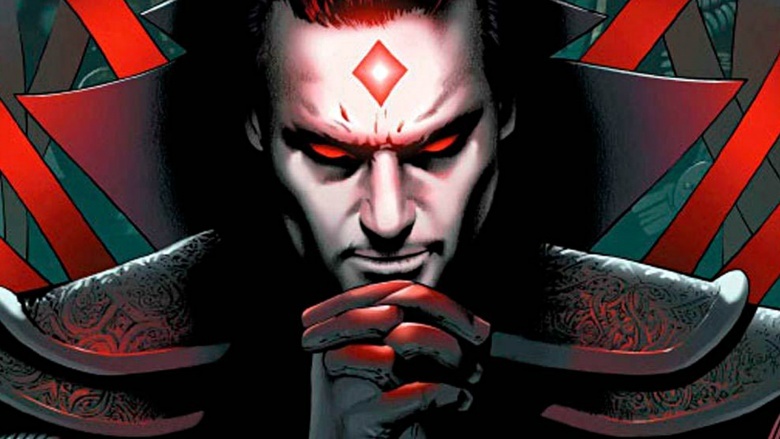 Marvel
Thanks to a post-credits scene in this year's X-Men: Apocalypse, we knew Mister Sinister would soon appear in the Marvel Cinematic Universe. Now we know when it will happen.
X-Men director Bryan Singer revealed that the classic Marvel villain will debut in the upcoming Wolverine 3. Singer and writer Simon Kinberg offered up the news during their audio commentary (via CinemaBlend) on the digital release of Apocalypse, released just last week.
For those who didn't catch it, the sequence takes place at the Weapon X facility at Alkali Lake, still a bloody crime scene after the events of Apocalypse. A man in a business suit and thick, black glasses leads a team during what appears to be a clean-up operation until his, well, sinister motives are made clear. The man in glasses (Bryan Singer jokingly calls him "Elvis Costello"), snatches the blood and DNA of Weapon X, otherwise known as Wolverine. It's then that we see he works for Essex Corporation, the company owned by Nathaniel Essex, a.k.a. Mister Sinister.
There's no official word on who will play the villain in Wolverine 3, but as CinemaBlend points out, it might have been right under our noses. A few months back, THR announced that Richard E. Grant had joined the cast to play a mysterious "mad scientist."
James Mangold will direct the flick, which revolves around Wolverine (Hugh Jackman) and Professor X (Patrick Stewart). Although details are hard to come by, ScreenRant says the film could follow the Old Man Logan comics storyline. Wolverine 3 is slated for release March 3, 2017.