Keanu Reeves And Alex Winter Dish About Working Together Again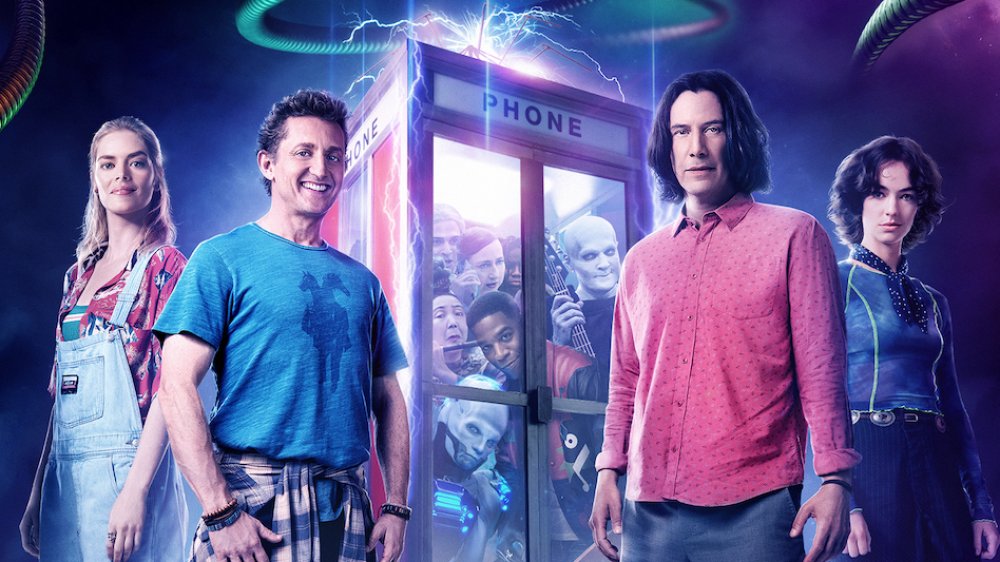 United Artists Releasing/Orion Pictures
It's been over 30 years since Bill and Ted's Excellent Adventure put Keanu Reeves and Alex Winter on the Hollywood map. Since then, Reeves has starred in numerous blockbuster films and franchises — including Speed, The Matrix, and John Wick – while Winter has moved behind the scenes as a writer and director.
But when talking about either of the actors, it all comes back to their breakout roles as Bill S. Preston, Esq. (Winter) and Ted "Theodore" Logan (Reeves), two slackers who travel back in time to wrangle historical figures for their high school history report. The film was a box-office success – earning over $40 million in the U.S. off of a budget of less than $10 million — and spawned a sequel (Bill & Ted's Bogus Journey), two short-lived spin-off TV shows, a comic book series, and video games.
After three decades, the legacy lives on, and a third installment of the Bill & Ted franchise is finally coming to fruition in 2020. Bill & Ted Face the Music premieres simultaneously on streaming services and in select movie theaters on Friday, August 28, reuniting Reeves and Winter for the first time since 1991's Bogus Journey.
During a recent Zoom interview attended by Looper, Reeves and Winter discussed getting back into character, as well as what it was really like to work together again on Bill & Ted Face the Music.
Keanu Reeves and Alex Winter had 10 years to prepare for Bill & Ted Face the Music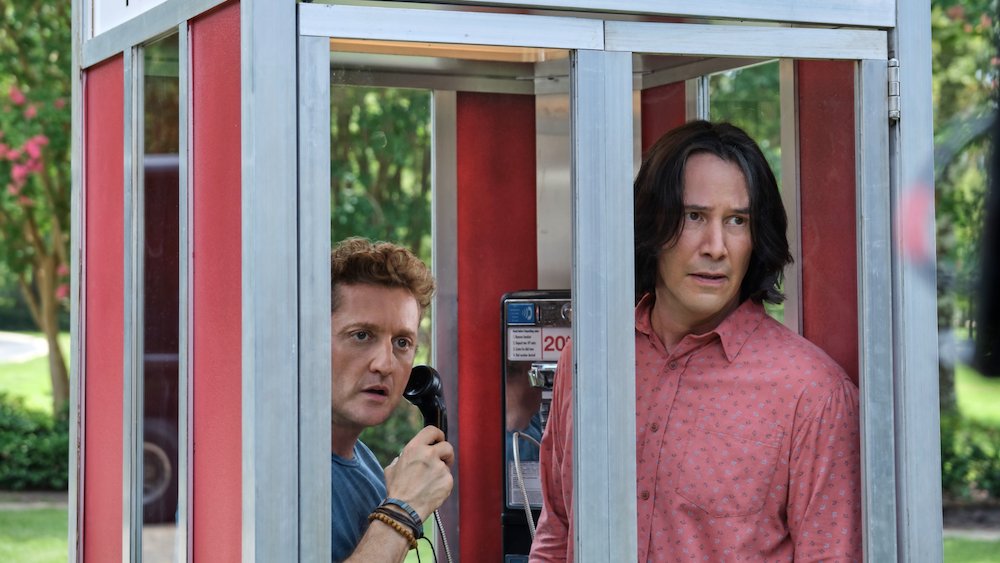 United Artists Releasing/Orion Pictures
It's taken ten years for Bill & Ted Face the Music to see the light of day, with Reeves first revealing a third installment all the way back in 2010 (via MTV News). That time gave Reeves and Winter plenty of leeway to figure out how to step back into the iconic characters.
"We had time. The script went through a lot of iterations ... [and] during that time, it gave me a chance to wrap my head around who this guy was at this age," said Winter. "Keanu and I spent a lot of time talking about those things. So it wasn't like I just had to suddenly turn it on like a switch — I had time to prepare. And then there's also a familiarity to working with Keanu and ... the instinctive nature of the way we riff on the dialogue. That stuff just kicked in on its own. But it was helped by the fact that we had a lot of time to rehearse and prep and discuss it."
Still, even with all that time to prepare, it was a pinch-me moment when the duo finally got on set.
"Our first day [of shooting] was actually in the phone booth. When we started to get into the phone booth, I think that's where it [hit] us. Like, 'Okay, here we go,'" Reeves shared. "And it was cool that we got to do it in the phone booth. That was like a touchstone."
Added Winter, "I don't think it was intentional, but it was helpful to start that way. For me, it [hit] a few days into production. There was a moment while filming a marriage-counseling scene where I just felt like Keanu and I were in a real groove. Suddenly, something was there that I didn't expect, that I hadn't quite remembered. It was just back. And that was nice."
Keanu Reeves and Alex Winter's real-life friendship fuels Bill and Ted's on-screen chemistry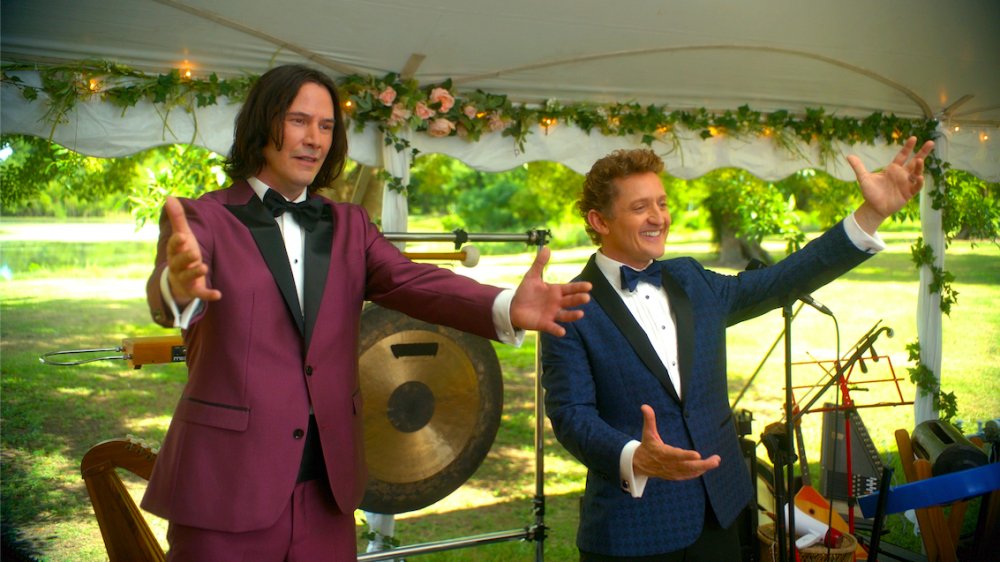 United Artists Releasing/Orion Pictures
Winter said it's been a "strange and very lovely" experience being so intertwined with Bill & Ted's Excellent Adventure for all these years, and credits the characters' on-screen chemistry with his real-life friendship with Reeves.
"Keanu and I have been friends all these years," he shared, "[and] it's a lot like being in a band, especially the way comedy works. It's so much about timing — and to have the opportunity to come back and do that again — I didn't think about it that way going in because there was so much work to do, but during the first week [on set], I found myself just playing again with Keanu, and it was really fun and instinctive."
The love and respect between the two actors is palpable, and their appreciation of the Bill and Ted characters runs deep.
"It's such an honor to work with Alex, and the way that we can share our sense of humor and laugh in the work is something that I don't get anywhere else," said Reeves. "It's pretty extraordinary, and I'm very grateful for it."
Winter summed it up best in saying, "The feeling is mutual, and the whole experience had a warmth to it. That's always been the case with playing these guys because they are joyful, optimistic people, even if they're experiencing hardships and challenges and have fear and doubt and all the human traits that we all have. It wasn't easy — there were difficult days — but I felt very good about what we made, and I felt great appreciation for having had the experience."
Bill & Ted Face the Music hits theaters and video-on-demand platforms tomorrow — Friday, August 28.