The Intense First Look At For All Mankind Season 2
The race is far from over.
During the San Diego Comic-Con@Home panel for Apple TV+'s sci-fi drama For All Mankind, co-creator Ronald D. Moore and several of the show's cast members ushered in a rousing first look at the upcoming second season. 
Starring Joel Kinnaman as Edward Baldwin, a fictional NASA astronaut, For All Mankind grounds itself in a question that will flip your brain inside out: What if the Space Race never stopped? In reality, the United States won its decade-plus-long competition with Cold War rival the Soviet Union when it successfully put the first humans on the Moon — the crew of Apollo 11 — on July 20, 1969. For All Mankind takes place in an alternate timeline in which the Soviet Union trumps the U.S. in the Space Race when its cosmonaut Alexei Leonov (a real person!) touches down on the Moon. Though it initially crushes NASA's spirits, it isn't long before U.S. astronauts are fighting to catch up to and eventually outdo the Soviets — sending to space people who were mostly excluded from earlier exploration.
The first-look clip for For All Mankind season 2 teases where the series is headed following the events of season 1. The debut batch of episodes took place across the late 1960s and through the 1970s — and centered around Baldwin, the Apollo 11 crew, and characters like Gordo Stevens (Michael Dorman), Margo Madison (Wrenn Schmidt), Tracy Stevens (Sarah Jones), Danielle Poole (Khrys Marshall), Ellen Wilson (Jodi Balfour), and more. Season 2 will kick off in the early 1980s, as evidenced by footage of characters watching a broadcast from U.S. President Ronald Reagan, who was in office from January 1981 to January 1989.
What remains the same on season 2 is the intensity of the Space Race. Astronauts are now bringing guns with them on their missions to the Moon, and an incident that takes place warrants a designation of DEFCON 3 — the mid-level defense readiness condition alert the United States Armed Forces uses in emergency situations. All the while, Reagan's voice is heard urging the American people to remain strong. The clip ends with Edward Baldwin stating, "Once we do this thing, there's no going back."
What's the release date for For All Mankind season 2?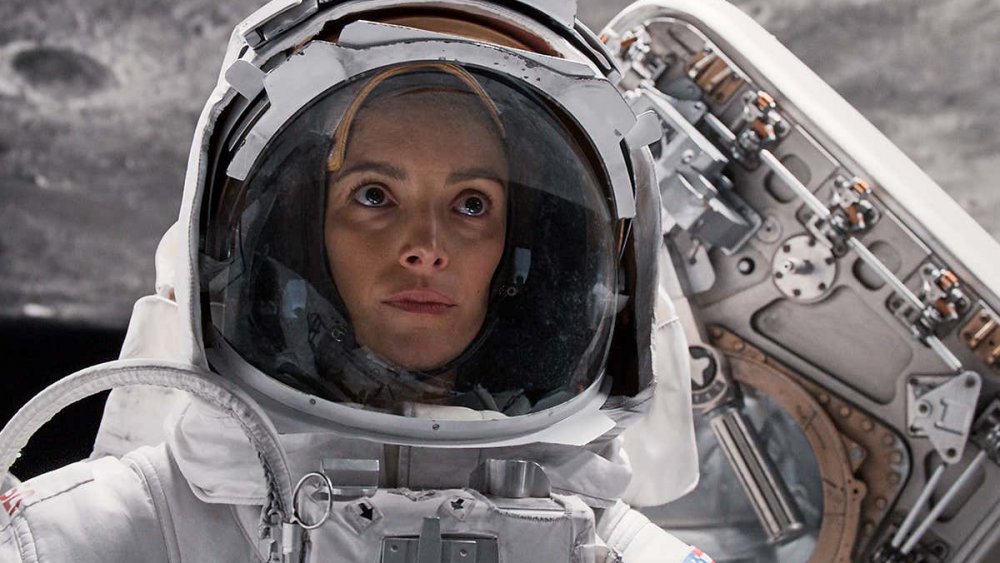 Apple TV+
Unfortunately, Apple TV+ hasn't yet announced a release date for the second season of For All Mankind, so we aren't certain when exactly fans will be able to head back to the alternate reality of 1980s America. However, there are a few key facts we can look to in order to speculate about a potential release date. 
Firstly, Apple TV+ renewed For All Mankind for a second season in October 2019. Usually, it takes about a year (give or take a few months) from the date a series is renewed for the show to drop its newest season. It's July 2020 as of this writing, and an October 2020 debut date for the second season of For All Mankind doesn't seem like an improbable possibility. 
Now, one may be quick to argue that For All Mankind won't return for season 2 anytime soon given the fact that its production was shut down earlier this year due to the coronavirus crisis. That's a valid argument — tons of television shows and films have faced massive delays as a result of the cast and crew needing to halt filming indefinitely. However, as Moore revealed during the series' Comic-Con@Home panel, For All Mankind season 2 was fortunate enough to have completed eight of its ten total episodes prior to the production shutdown, so there isn't too much work left to do to finish the season.
Everything considered, it seems plausible that For All Mankind season 2 may hit Apple TV+ either in fall or winter 2020. Short of that, the series may premiere its newest collection of episodes early next year. One thing's for certain no matter what: The wait will be oh-so worth it.