Katheryn Winnick Reveals The Vikings Easter Egg You Didn't Know Existed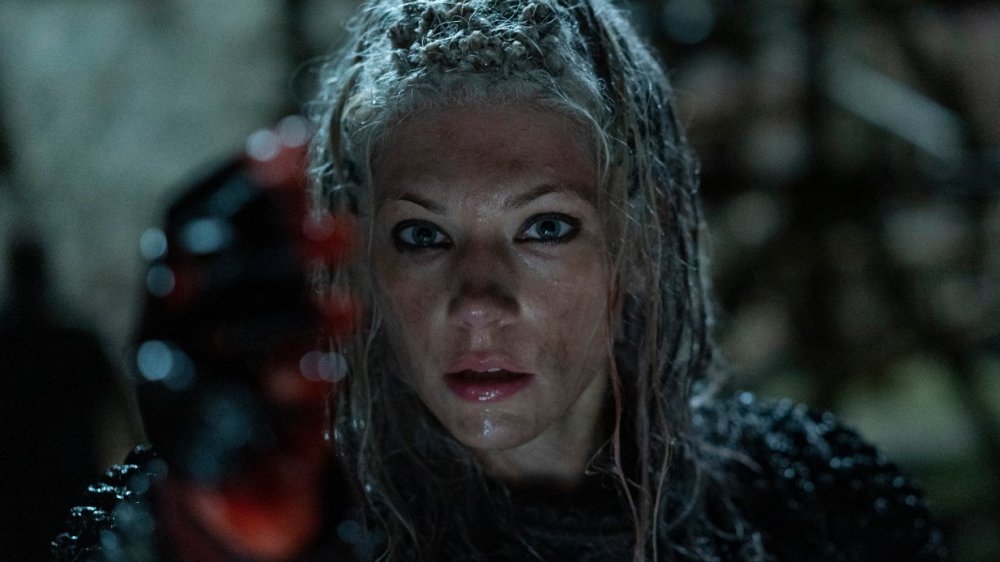 History
They say a picture is worth a thousand words, but on Vikings, seven words are worth countless more.
During the 2020 Comic-Con@Home panel for the beloved historical drama series, Vikings actress Katheryn Winnick revealed a secret connection between her own past and the very last line her character Lagertha ever says. A single sentence uttered after Lagertha's death — which took place on season 6 after Hvitserk (Marco Ilsø) hallucinated and stabbed Lagertha to death, believing she was someone else — comprises a Vikings Easter egg you likely didn't even know was an Easter egg in the first place. 
As Winnick explained, there's a moment on Vikings season 6 where Lagertha's body falls in the water and lands next to her husband, Ragnar Lothbrok (Travis Fimmel), who had passed on to Valhalla during season 4. The last line heard from Lagertha as she settles next to Ragnar's body is, "In my dreams, we are always together." As it turns out, Winnick said those words many, many years ago ... during her audition for Vikings.
"That actually was my audition line, when I auditioned as Lagertha," revealed Winnick. "So it was just a full-circle [moment] to see it all come together."
How Katheryn Winnick feels about Lagertha's death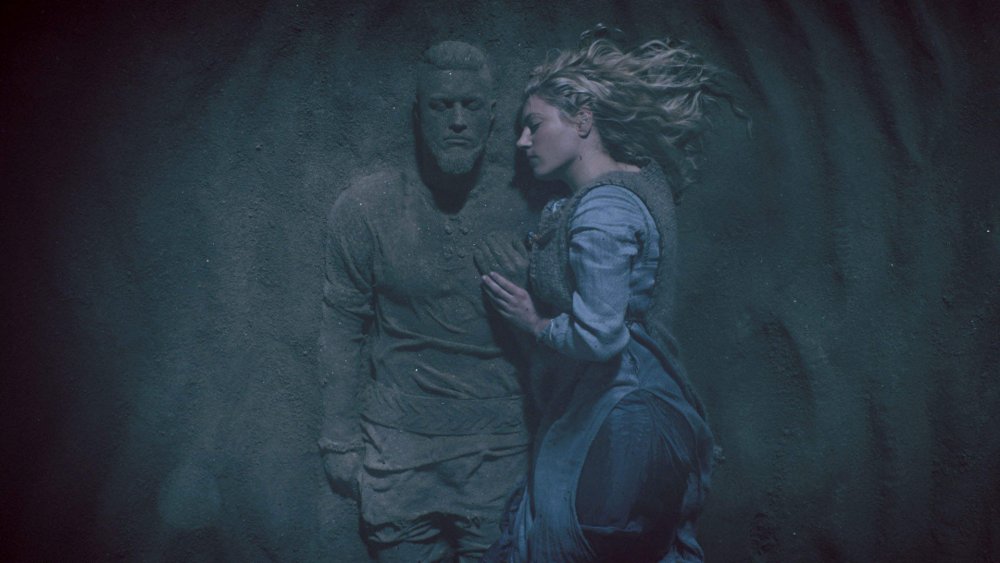 History
The moderator for Vikings' Comic-Con@Home panel, TV Guide Magazine senior writer Kate Hahn, also asked Winnick how she feels about the series continuing on without Lagertha and Ragnar. In answering, Winnick opened up about her emotions surrounding the death of Lagertha, whom she had played on Vikings since its inception in 2013.
"I guess it's bittersweet, if I'm 100-percent honest, just in terms of being on the show for so long and having [Lagertha's death] aired," said Winnick. "It was definitely harder than I thought [to] go through personally, seeing my death and seeing Lagertha transition over to Valhalla. It was definitely a bittersweet moment in a lot of ways. Obviously, all the hard work. I made some amazing friends. But also, sad just to see it end."
The actress then shared that she couldn't be too devastated about Lagertha going to Valhalla considering Vikings writer-creator Michael Hirst devised "such a great death and a funeral" for the character. 
"It was a brilliant death. It was over two amazing episodes – fantastic," Hirst added, piggybacking off Winnick's comments to address both Lagertha's death and Ragnar's passing. "These deaths were brilliant and very highly emotional, and no one's going to forget them."
Though she's gone, Lagertha certainly won't be forgotten — not within the context of the show's lore and definitely not to Vikings fans around the world. As Winnick told Variety in a January 2020 interview, she's honored that so many people have connected with Lagertha and viewed her as a representation of headstrong women who fight for what they believe in and never back down even in the face of adversity.
"I definitely feel that Lagertha was ahead of her time. But the reason I feel that women around the world are drawn to her is because she is such a role model. She sticks up for what she believes in. She is that poster child for the times, that movement, she won't put up with less. She speaks her mind and will defend herself and her loved ones, and fights for equality. And she has a definition of feminism, which is equality," said Winnick. "I do believe Lagertha has paved the way for more strong women characters on television. I just hope it continues that way."
Vikings is expected to air the second half of its sixth and final season sometime later in 2020.