Peter Pan And Wendy - Everything You Need To Know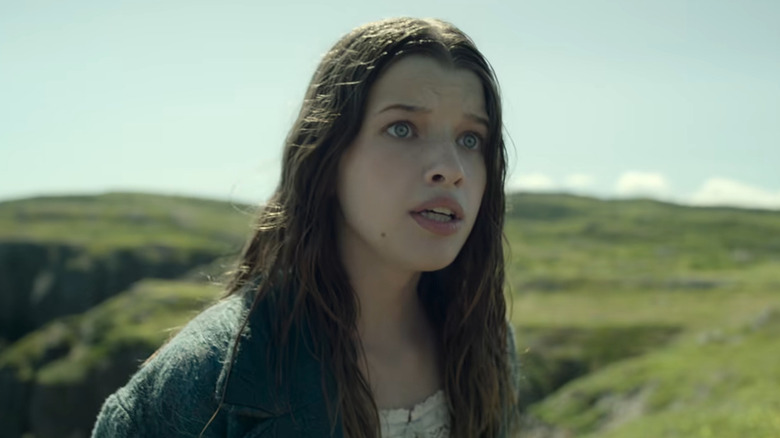 Disney+
We all know Peter Pan doesn't grow up, but it also seems he'll never die. Ever since J.M. Barrie introduced the world to Peter in his 1904 play — followed by his 1911 novel — the green-clad kid has appeared in film after film after film. Hollywood can't get enough of this timeless tale, whether it's told via animation or with Robin Williams running around making rooster noises.
Of course, perhaps the most cherished — albeit controversial — adaptation is Disney's 1953 feature film. The animated classic taught us about faith, trust, and pixie dust, gave us beloved songs like "The Second Star to the Right," and created one of Disney's most iconic mascots: Tinker Bell. And now, it looks like Disney is going back to Neverland for a new take on Peter, Captain Hook, and the Lost Boys.
That's right — with titles like "Aladdin," "Mulan," and "Beauty and the Beast" in the bag, Disney has been steadily remaking every entry in its catalog. And now, "Peter Pan" is getting the live-action treatment with "Peter Pan and Wendy." So what do we know about the upcoming film? Who will be playing the two title characters? And when will we see them battling pirates and meeting mermaids? Well, think of your happiest thought and read on as we discuss what we know so far about "Peter Pan and Wendy."
When will Peter Pan and Wendy be released?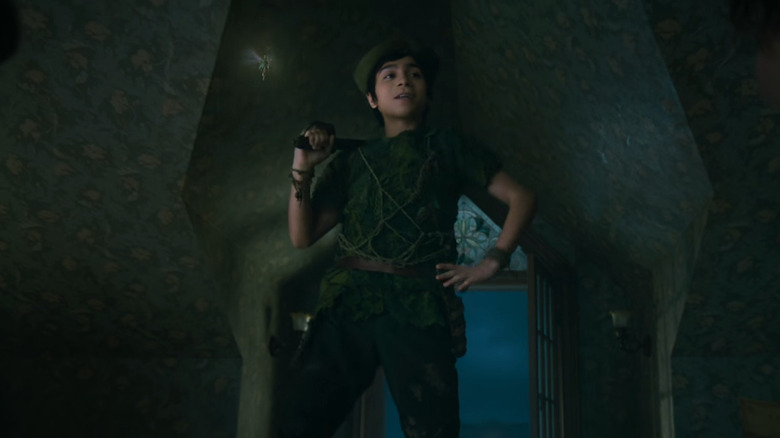 Disney+
Much like Peter Pan spends his time flying back and forth between London and Neverland, his upcoming adaptation has been hopping between the big screen and the small screen.
"Peter Pan and Wendy" was first announced in 2016, and at one point, it was thought the movie would land on Disney+. However, in March 2020, it was reported the movie would actually soar into theaters ... and then COVID-19 happened. Filming shut down on "Peter Pan and Wendy," and in the meantime, Disney decided to prioritize its streaming service. As a result, by the time "Peter Pan and Wendy" was done shooting, it had been shuffled back to Disney+.
And that's where you'll be able to see the film when it's finally released. So when will you be able to press play and see the magic of Neverland in your own living room? "Peter Pan and Wendy" will hit Disney+ on April 28, 2023.
What is the plot of Peter Pan and Wendy?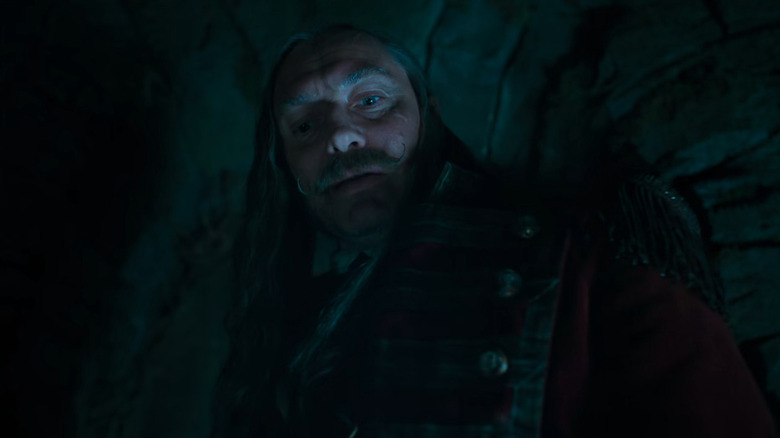 Disney+
The upcoming live-action remake will be drawing inspiration from two sources: Disney's animated 1953 classic, "Peter Pan," and the original story by J.M. Barrie. In other words, don't expect a "Hook"-style movie that puts a completely new angle on things. While the film will definitely be updating certain elements for modern sensibilities — notably the depiction of Indigenous people, as their portrayal in the '53 flick is one of the most racist moments in Disney history — it's not majorly reinventing anything.
As for the nitty-gritty details, the official plot synopsis reads, "'Peter Pan & Wendy' introduces Wendy Darling, a young girl afraid to leave her childhood home behind, who meets Peter Pan, a boy who refuses to grow up. Alongside her brothers and a tiny fairy, Tinker Bell, she travels with Peter to the magical world of Neverland. There, Wendy encounters an evil pirate captain, Captain Hook, and embarks on a thrilling and dangerous adventure that will change her life forever."
Who is starring in Peter Pan and Wendy?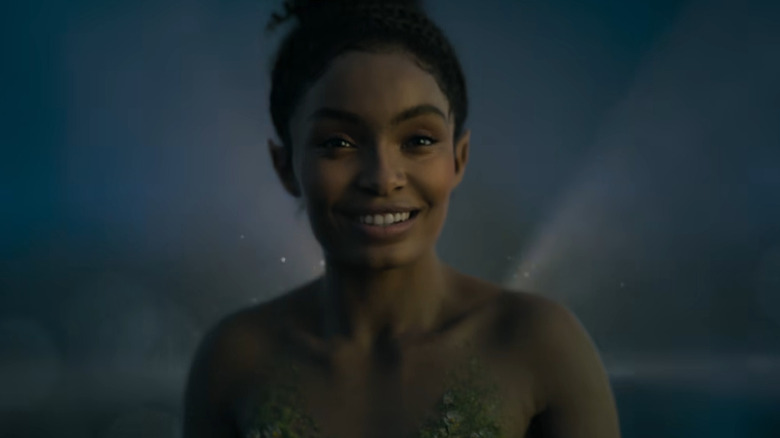 Disney+
"Peter Pan and Wendy" boasts a delightful roster of A-list talent and up-and-coming stars. So let's start off with the title characters — Peter and Wendy. 
Who's playing the boy who never grew up? The sword-wielding sprite will be portrayed by Alexander Molony, and for most people, this will be the first time they've ever seen Molony on the screen. He's done some voice work in projects like the British children's series "Claude," alongside veteran actor Simon Callow, and he was also in the TV movie "The Bad Seed Returns" with McKenna Grace. But "Peter Pan and Wendy" is his first feature film, and we're excited to see what he brings to the role of Peter.
As for Wendy, she's being played by Ever Anderson. Now, Anderson might look familiar, and there are two reasons for this. As for the first reason, she played the Red Queen in "Resident Evil: The Final Chapter," and she also starred as a young, blue-haired Natasha Romanoff in the MCU prequel flick "Black Widow." As for the second reason, she's the daughter of director Paul W.S. Anderson and actress Milla Jovovich, and she's the spitting image of her mom. In her few film roles so far, Anderson has made quite the impression, and based on the trailer, she seems like the perfect part for Wendy.
Of course, what's a "Peter Pan" movie without Captain Hook? Here, the murderous pirate will be played by none other than Jude Law, who's starred in everything from "The Holiday" and "Captain Marvel" to "The Young Pope" and the "Fantastic Beasts" movies. He'll be joined by comedian Jim Gaffigan as Hook's right-hand man, Mr. Smee. As for Tinker Bell, she'll be portrayed by Yara Shahidi, best known for "Black-ish" and "Grown-ish." Newcomer Alyssa Wapanatâhk will play Tiger Lily, while Molly Parker of "Deadwood" and Alan Tudyk of every Disney movie in recent memory will star as Wendy's parents.
Who is writing and directing Peter Pan and Wendy?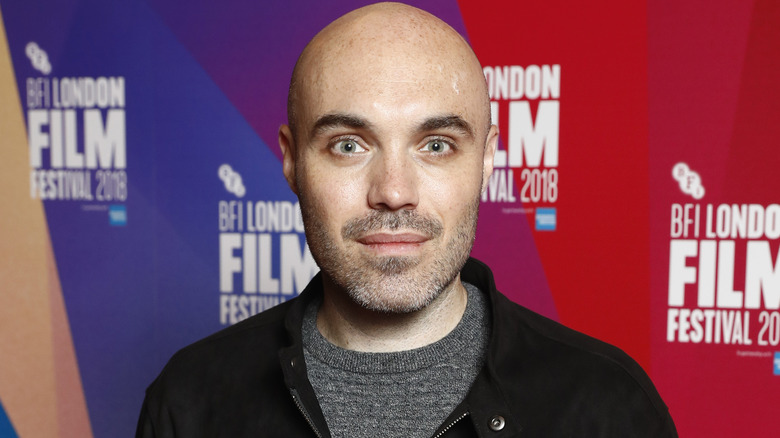 John Phillips/Getty Images
Disney absolutely loves remaking their classic films for new generations. Of course, some of their efforts are better than others. Titles like Robert Zemeckis' "Pinocchio" and Tim Burton's "Dumbo" are just pale imitations of the beloved originals, while Jon Favreau's "The Jungle Book" and Kenneth Branagh's "Cinderella" have found acclaim from critics and moviegoers alike. And one of Disney's best-reviewed remakes is "Pete's Dragon," which takes the barest essentials from the original 1977 film and creates a captivating new story.
David Lowery was the filmmaker behind that 2016 adaptation, and he's also helming "Peter Pan and Wendy." Lowery has quite the eclectic filmography. In addition to his Disney movies, he also directed a nearly wordless treatise on loss with "A Ghost Story," a psychedelic Arthurian trip with "The Green Knight," and two separate romantic tales of bank robbers with "Ain't Them Bodies Saints" and "The Old Man & the Gun."
Speaking with Collider about "Peter Pan and Wendy," Lowery expressed that this film is especially important to him. "I think, personally speaking, it's my favorite thing I've ever made," he said, before adding, "I've never been as in love with a movie as I am with this one." He also admitted there's a certain responsibility that comes with adapting this classic tale. "It'll be an entire generation's first 'Peter Pan' movie, and that's something I don't take lightly. I want this to be a movie that is important to the children who see [it]. And I want to make a movie that will matter ... that the kids will look back on fondly and think that they got something from it, that they learned something from it, that it mattered to them."
Lowery is also co-writing the film, alongside Toby Halbrooks. He's a long-time collaborator of Lowery's, having also co-written "Pete's Dragon" with the director and producing several of his films.
Is there a trailer for Peter Pan and Wendy?
The official trailer for "Peter Pan and Wendy" opens with a despondent Wendy Darling. She doesn't want to grow up, or for anything to change. Her mother assures her both things are inevitable — but then, Tinker Bell and Peter Pan show up. With a sprinkling of magic, Wendy and her brothers are off to Neverland, where they encounter the Lost Boys (and their awesome hideout), pirates, and the benevolent Princess Tiger Lily, who seems to be a lot less stereotypical and a lot more heroic in this version of the story.
All is not well in Neverland, however. We soon catch a glimpse of Captain Hook and his ruthless crew, and they're just as eager to take Peter Pan down as ever. Hook is so incensed by the boy in the green tunic that he blasts a door onto a hapless buccaneer who committed the crime of saying Peter Pan's name. Notably, Wendy appears to do battle on Hook's ship and even take over the steering wheel at one point, while Tiger Lily chases it down on horseback. Finally, the crocodile emerges, bigger than ever. If this trailer is any indication, this movie promises to bring new glory to Peter Pan's classic name.
What is Peter Pan and Wendy rated?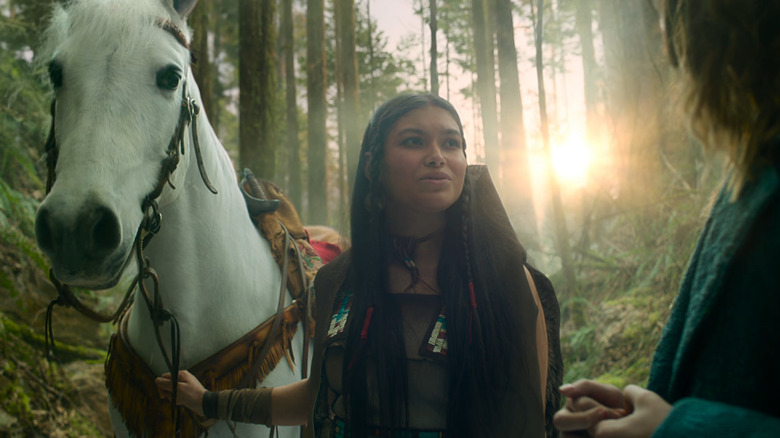 Disney+
As this is a family film hitting Disney+, we're not surprised to learn that "Peter Pan and Wendy" has a PG rating for "violence, peril, and thematic elements." As far as the violence and peril goes, we're expecting some bloodless swordfights and some intense sneering from Captain Hook. There will also be a hungry crocodile about, as the official trailer reveals. Hook's reptilian foe looks bigger than ever in this brief glimpse, and, of course, accompanied by his iconic clockwork ticking sound. As for those thematic elements, it seems the nature of fear will play a big part in the plot, with Wendy learning to overcome her worries about growing up.