Movies Like Eurovision Song Contest You Have To Watch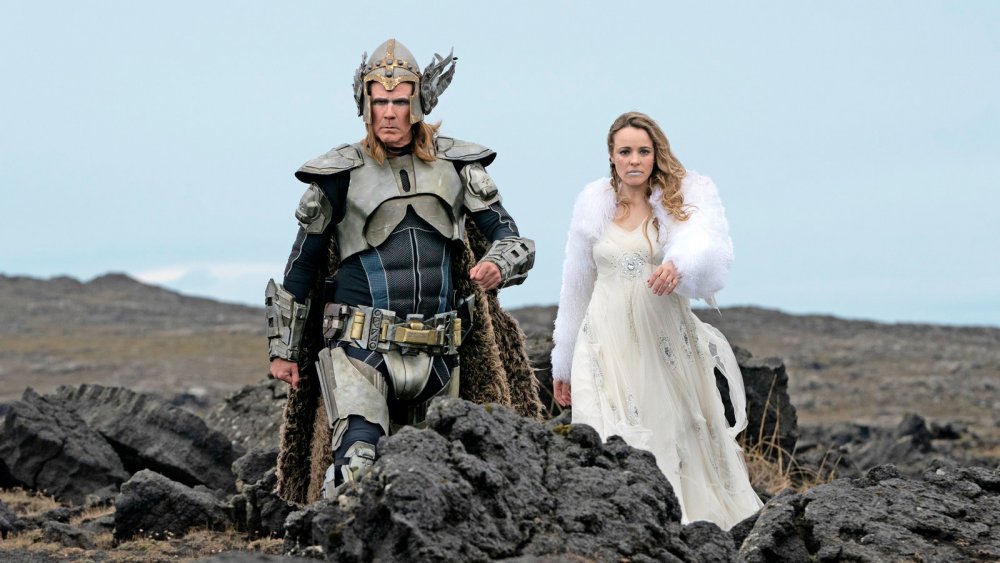 Netflix
Since it dropped on Netflix, the Will Ferrell and Rachel McAdams-led comedy Eurovision Song Contest: The Story of Fire Saga has been the talk of the internet. And it's no wonder why. The actual pan-European contest is a wonderfully weird showcase of the best musical talent the continent has to offer, and regularly features over-the-top performances that make Lady Gaga look norm-core by comparison. Obviously, once you put the Ferrell spin on it, you get something that is too outlandish to not be curious about.
If you already watched and loved Eurovision Song Contest you're probably hoping for a sequel, or a prequel, or really anything that captures the delightful and absurd world of the film. At the time of writing, there hasn't been any announcement about a follow-up. However, the good news is that plenty of other movies are vibing on a similar wavelength as Eurovision Song Contest. Whether it's the eccentric characters, the wild costumes, or the lovingly detailed satire of a very specific cultural institution, there are a few other places for you to get your fix.
Here are some of the best movies to watch if you loved Eurovision Song Contest.
Popstar: Never Stop Never Stopping delivers hysterical pop music satire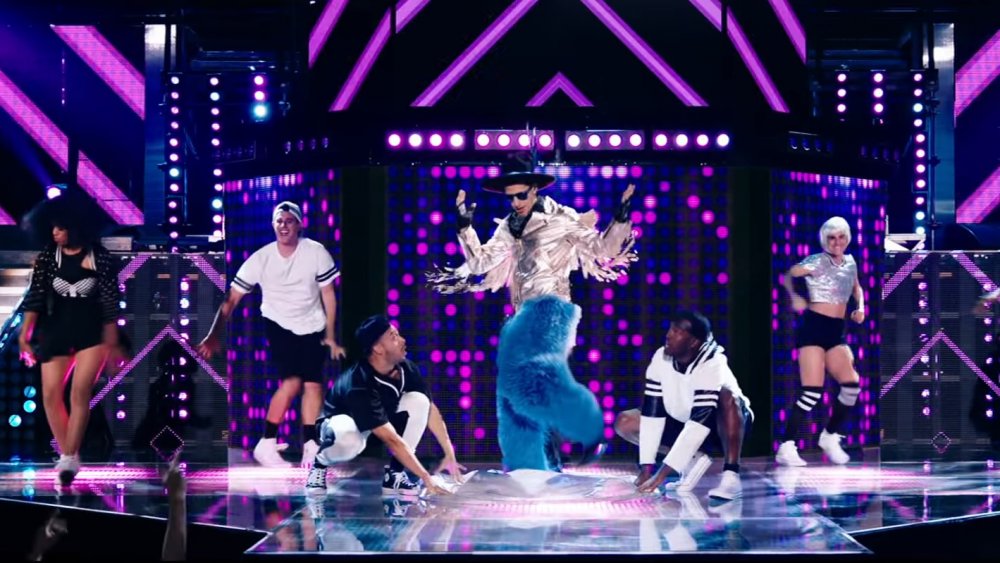 Universal Pictures
One thing Eurovision Song Contest revels in is recreating the extravagant live performances that are at the heart of the actual contest. If that was one of the high points of the film for you, then may we suggest the 2016 mockumentary Popstar: Never Stop Never Stopping? The film follows Conner Friel, a.k.a. Conner4Real (Andy Samberg), a former boyband member who is launching his own solo career. Similar to Lars and Sigrit, Conner's ambitions far outshine his actual talents.
Popstar has an element of hyperreality that can also be found in Eurovision Song Contest. Conner's music videos and live performances are satirical, but only just. While the lyrical content is obviously meant to directly invoke parody, the absurdity of the productions themselves are often not a far cry from actual contemporary pop acts, the same way Eurovision Song Contest rides a fine line between satirizing and mimicking the performances it's portraying.
The film also makes great use of celebrity cameos. Like the former Eurovision contestants that appear in Eurovision Song Contest, pop stars such as Adam Levine, P!nk, and Justin Timberlake all appear to do guest verses on Conner4Real tracks. Their good-humored inclusion makes the movie feel less like a sneering mockery, and more like a fun joke among pals.
Will Ferrell set his satiric sights on the world of figure skating in Blades of Glory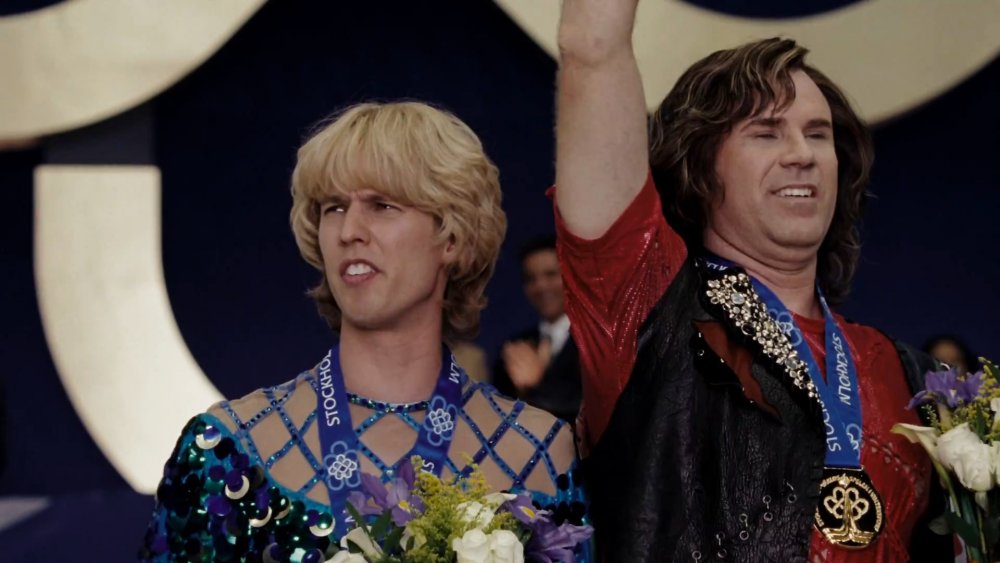 Paramount Pictures
In terms of costuming and theatrics, there is a lot of overlap between the worlds of Eurovision and professional ice skating. Will Ferrell certainly seems to think so. Before Eurovision Song Contest, he starred in the figure skating comedy Blades of Glory.
A key difference between the two films is the setup. In Blades of Glory, Ferrell's Chazz Michael Michaels is already at the top of his field. However, that all changes when he is banned from competing in singles skating events after getting in a physical altercation with his rival, Jimmy MacElroy (Jon Heder), when the two tie for first at the 2002 World Winter Sports Games. Both men are devastated by the bans, until they come up with a plan to get back onto the ice. If they aren't allowed to compete as singles, they'll put their differences aside and compete together in pair skating.
The concept of two men competing in a doubles skating competition is (hopefully) no longer as crazy as it sounded when the film came out in 2007. However, like Eurovision Song Contest, the real power behind Blades of Glory is in the attention to detail. The campy costumes and melodramatic skating performances are just the right amount of silly fun. It also doesn't hurt that Amy Poehler and Will Arnett co-star as the villainous sibling duo Fairchild and Stranz Van Waldenberg.
Goofy characters take center stage in Best in Show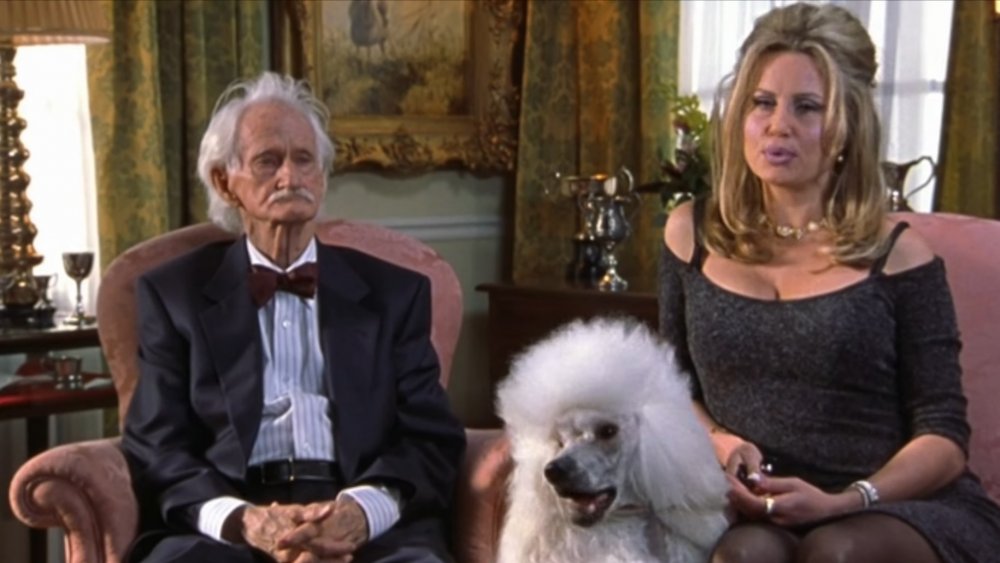 Warner Bros.
Best in Show wasn't the first mockumentary. It wasn't even the first mockumentary directed by the legendary Christopher Guest. Still, it is one of the titans of the genre. On paper, its premise — a documentary that follows several dogs who are competing in the prestigious Mayflower Kennel Club Dog Show — feels only tangentially related to the over-the-top absurdity of Eurovision Song Contest. However, it's the odd people behind the dogs that make both films feel cut from the same cloth.
In their own small, weird ways, each of the subjects of Best in Show gives the pan-European popstars of Eurovision Song Contest a run for their money. For instance, Meg and Hamilton Swan (Parker Posey and Michael Hitchcock) are terminally neurotic, so much so that they bring their dog to psychoanalysis when they fear they've traumatized her after she walks into the room while they're having sex. Meanwhile, Eugene Levy plays mild-mannered Gerry Fleck, who literally has two left feet and is in a terrier-themed musical duo with his wife, Cookie (Catherine O'Hara).
The moments of comedy in Best in Show are on a much smaller scale than Eurovision Song Contest, but they hit just as hard.
Talladega Nights pokes fun at NASCAR culture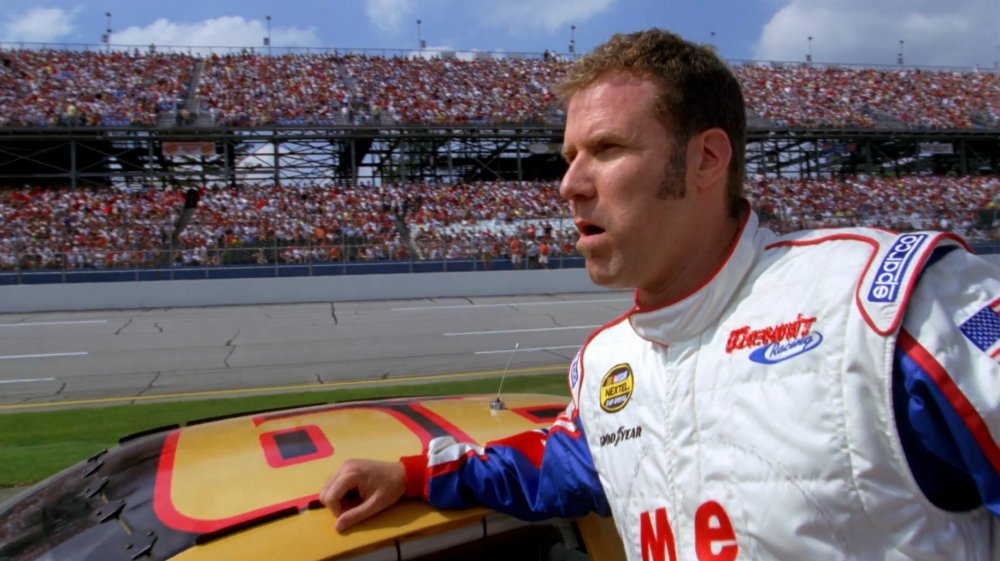 Sony Pictures
Before Adam McKay was using his comedic chops to take on high-level political topics in movies like The Big Short and Vice, he teamed up with Will Ferrell to satirize one of America's most popular pastimes. In Talladega Nights: The Ballad of Ricky Bobby, Ferrell plays the titular Ricky Bobby, a once-beloved NASCAR driver who is pushed out of the spotlight by a French Formula One star (Sacha Baron Cohen) who arrives on the American racing scene.
The movie utilizes a lot of the same tropes as others of its ilk. Ferrell has played more than a few characters who are mavericks in their field until their career takes a downward turn after their ego gets the better of them. But similar to Eurovision Song Contest, the devil is in the details in Talladega Nights. The movie approaches the world of NASCAR with enough knowledge and pointed humor to really make the satiric jabs land. And although Ferrell is the star of the show, the ensemble cast featuring John C Reilly, Amy Adams, Michael Clarke Duncan, and Molly Shannon (to name a few) is exceptional.
Whether you loved it for the characters, the music, or just the Will Ferrell of it all, if Eurovision Song Contest left you with an itch, Talladega Nights is just one of quite a few spiritually-related films that should be able to help you scratch it.