Why April From Feel The Beat Looks So Familiar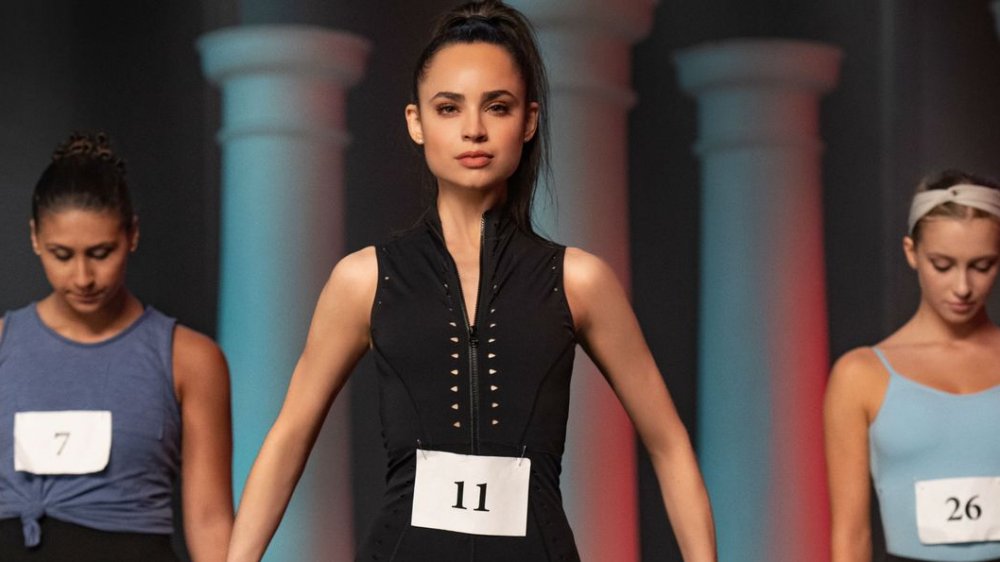 Netflix
Netflix's weekly top ten list has been exceptionally musical lately, and that's thanks in part to family dance dramedy Feel The Beat, directed by Australian filmmaker Elissa Down.
The film follows up-and-coming dancer April Dibrina, a young performer whose Broadway dreams are dashed after she blows a major audition by offending Ruth Zimmer (Pamela MacDonald), the show's vengeful producer. April flies back home to Wisconsin with her tail between her legs. Once there, she encounters an old dance instructor who offers her a job coaching a local dance troupe ahead of the upcoming New Hope competition, in which they are already enrolled to perform. April is still pretty salty about the disappointment in New York, so she initially declines the job offer. Later, she finds out that winning the New Hope competition will give her the opportunity to get back in front of a Broadway producer, reviving her dreams and potentially saving her career. Needless to say, April trots back over to see her old dance instructor and let her know she's reconsidered. The competition doesn't go exactly how April planned, but the journey is a fun, often heart-warming affair, appropriate for the entire family. 
If you think the young starlet in Feel the Beat's leading role looks familiar, she very well should. April Dibrina is played by Sofia Carson, and she's been ascending the gilded staircase to Hollywood stardom for some time.
Sofia Carson plays Evie in the Descendants franchise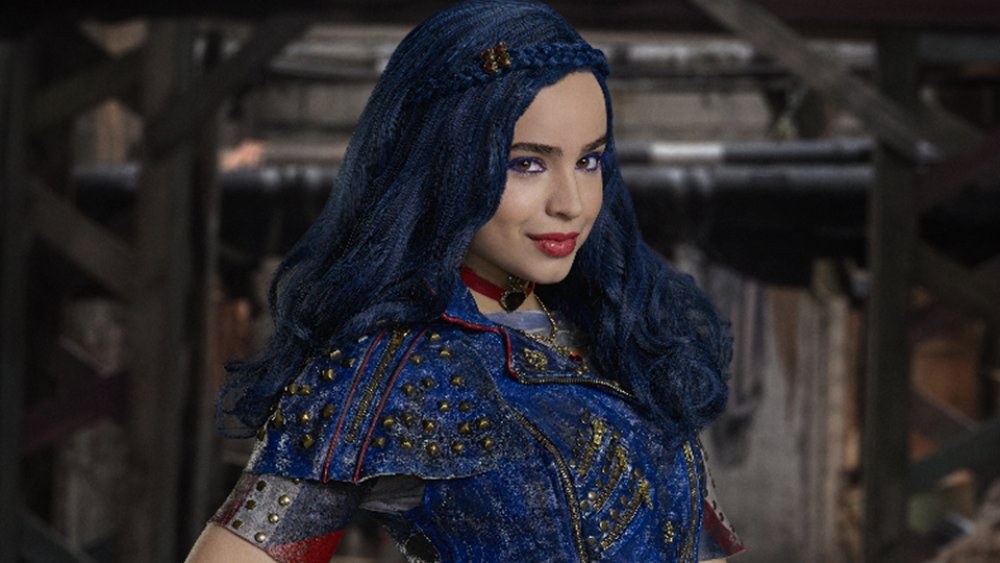 Disney Channel
Carson's most recognizable and enduring role is also one of her first. In 2015, the 22-year-old actress was cast to play Evie in the Disney Channel TV movie Descendants. Little did she know at the time, but that kiddie film would launch a franchise that has already spanned television, film, video games and the better half of a decade. Carson has not only played Evie in every live-action iteration of the fecund property, but she's also lent her voice to several animated versions of the character, as well.
The original Descendants is a musical fantasy adventure film starring Carson alongside Dove Cameron (Dumplin'), Booboo Stewart (X-Men: Days of Future Past) and Cameron Boyce (Jessie). The movie sets its young cast up as the musically inclined teenage children of classic Disney villains like Maleficent, Jafar and Cruella de Vil. Carson's Evie is the daughter of Evil Queen from Snow White and the Seven Dwarves. She and the other young "descendants" join forces on a mission to steal the Fairy Godmother's powerful magic wand in hopes that they can use it to free their evil parents from island captivity.
Descendants was a breakout hit on the Disney Channel, and the House of Mouse decided to milk the popular concept for all it's worth. Since 2015, Carson has starred in no fewer than four proper Descendants projects including the 2017 sequel, Descendants 2: Ways to Be Wicked, and 2019's Descendants 3. She's also appeared in countless pieces of related media, including the 2020 Disney Family Singalong.
Descendants doesn't appear to be going anywhere soon, so look for Carson to reprise her role as Evie at least a few more times before she really outgrows the part.
Sofia Carson went on an adventure in babysitting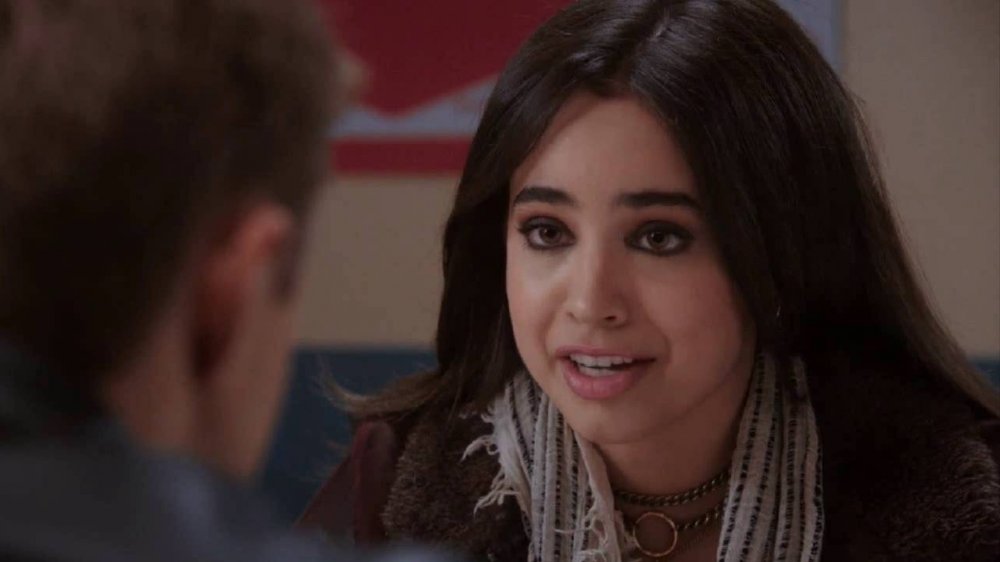 Disney Channel
2016's Adventures in Babysitting is actually a remake of a little-known 1987 film of the same name. The newer version originally aired on the Disney Channel, and starred Carson alongside Sabrina Carpenter as Lola Perez and Jenny parker, two teenagers with a shared passion for photography, but personalities that mix like oil and water.
Carson's Perez and Carpenter's Parker originally cross each other's paths when they are both selected as finalists for their dream internship. The two girls accidentally mix-up their phones during the interview, and they leave before realizing the switcheroo. Perez discovers she has the wrong phone only after fielding a desperate phone call from Helen Anderson (Gillian Vigman) practically begging Parker to take a babysitting job. Perez — instead of clearing up the misconception — actually accepts Parker's babysitting job. Apparently, she really needs the money.
The Disney Channel flick may have been a made-for-TV movie, but it gave Carson the opportunity to extend her resume beyond the massive Descendants franchise, and no doubt opened new doors in her career. It wasn't long after Adventures in Babysitting dropped, that the fresh-faced actress starting fielding more mature offers outside the Disney ecosystem.
Sofia Carson was a pretty little liar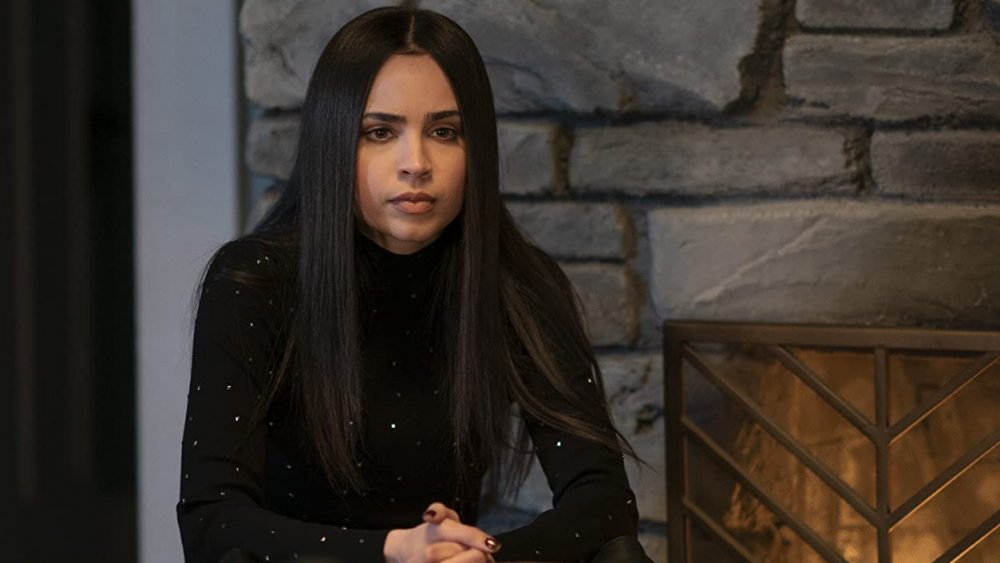 Warner Bros. Television/Freeform
In 2017, Carson made a big leap out of the Disney family and onto Freeform's short-lived Pretty Little Liars spinoff, Pretty Little Liars: Perfectionists. The show only lasted one season on the cabler, but it did offer Carson the opportunity to reach a slightly older audience in the lead role of Ava Jalali. Perfectionists was actually the third series in the Pretty Little Liars franchise, and its cancellation marked the official end of the popular property's extended run.
The show follows Alison DiLaurentis (Sasha Pieterse), a Beacon Heights University teaching assistant. In the pilot episode she suspects Ava and a few of her pretty little friends of plagiarizing a paper and confronts them about it. This act of petty academic fraud leads to a convoluted conspiracy involving BHU's new Big Brother-ish security system "Beacon Guard," which Ava and her crew have sworn to overthrow. The plot of the series was, perhaps, a little much, or maybe Pretty Little Liars had just run its course. Whatever the reason for the quick cancellation, it likely didn't have anything to do with Carson's performance.
While a flop like Perfectionists might have set back a lesser actress, Carson's career remained full steam ahead. No sooner was her series cancelled than she was cast in Feel the Beat. With all the success she's found on Netflix, we're sure this young triple-threat performer's future is looking bright.