Hulu Nabs One Of Andy Samberg's Most Underrated Comedies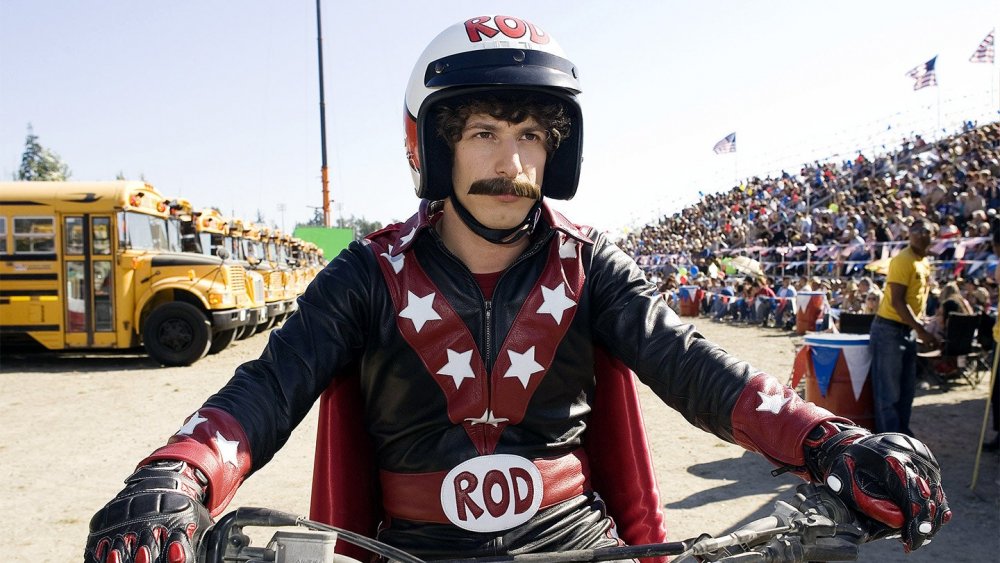 Paramount
If you're looking for a seriously silly comedy, Hulu's got you covered.
Hot Rod, an underrated comedy from the Lonely Island, has come to the streaming platform, and if you forgot about this film in the years since its 2007 release, you're definitely missing out.
After getting their start on Saturday Night Live, comedy group the Lonely Island — made up of Andy Samberg, who appeared on the show, and Jorma Taccone and Akiva Schaffer, who worked in the SNL writer's room — branched out on their own to make Hot Rod, a goofy, irreverent movie about a stuntman with big dreams. If you haven't caught Hot Rod yet, now is definitely the time, thanks to its particular brand of escapist, dumb comedy.
The movie focuses on Rod Kimble, an aspiring stuntman who believes that he's following in the footsteps of his late father, who worked with Evel Knievel. But when it comes down to it, Rod is a pretty terrible stuntman. To make matters more complicated, Rod's stepfather Frank (Ian McShane) has no respect for him. When their nightly fights are put on hold due to Frank's dangerous heart condition, Rod decides to raise money for Frank's life-saving surgery so that he can finally beat his stepfather in hand to hand combat.
With a supporting cast rounded out by Taccone, Bill Hader, Danny McBride, Isla Fisher, Will Arnett, and Academy Award winner Sissy Spacek, Hot Rod isn't exactly Citizen Kane, but it's superbly silly and is sure to lift your mood with its joyous demeanor and goofy, nonstop jokes.
What has Andy Samberg been up to since Hot Rod?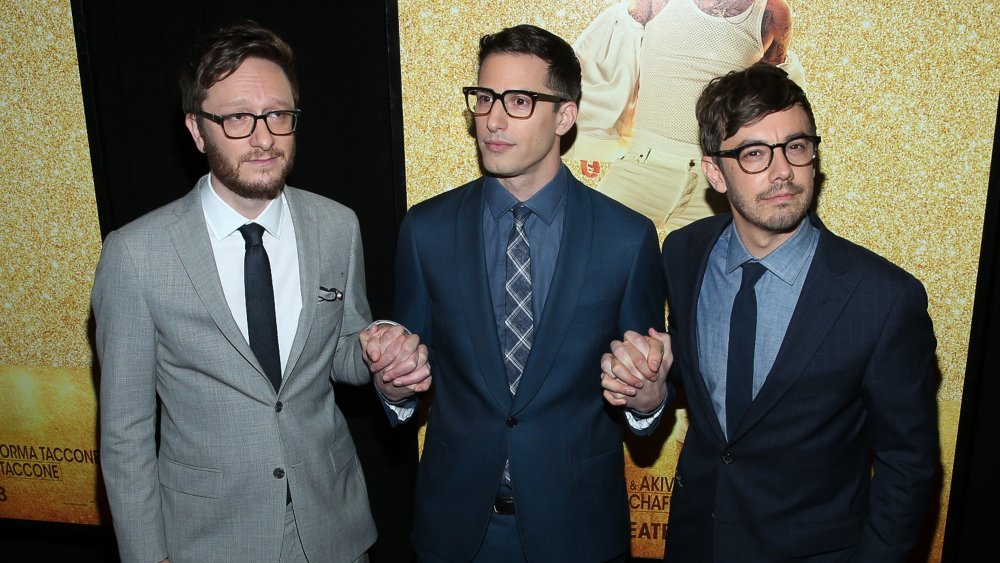 Rob Kim/Getty Images
Hot Rod might be an endlessly enjoyable comedy, but when it came out, it didn't fare particularly well with critics or at the box office. Over time, though, it's become a beloved cult film, especially for fans of Samberg. (One of the movie's only original champions was actually famed film critic Roger Ebert, who gave the film a positive review.) However, that didn't bother Samberg, Taccone, and Schaffer, as the Lonely Island anticipated bad reviews for their extremely weird passion project.
If you already love Hot Rod, however, Samberg and the Lonely Island have plenty of other projects you should check out. Beyond the trio's Saturday Night Live Digital Short series — which helped define an entire era of the late night show with sketches like "Lazy Sunday" and "D*** in a Box" — they also went on to produce another feature film, 2016's Popstar: Never Stop Never Stopping. A loose parody of music documentaries like Justin Bieber's Never Say Never, Popstar, directed by Schaffer and Taccone, stars all three members of the Lonely Island, with Samberg headlining as the self-absorbed and mostly talentless popstar Conner4Real.
The Lonely Island is still going strong — in 2019, they even embarked on their first ever concert tour — and their newest Samberg-fronted effort, Palm Springs, will join Hot Rod exclusively on Hulu. A Groundhog Day-style story about a time loop that traps both Samberg and his co-star Cristin Milioti, Palm Springs earned rave reviews after its premiere at Sundance, with distribution rights selling for a record amount. Taccone and Schaffer produced the film along with Samberg, proving that the Lonely Island always sticks together.
Palm Springs will premiere on Hulu on July 10, 2020, and Hot Rod is available to stream now.