Get Your First Look At Millie Bobby Brown And Henry Cavill As Siblings In Enola Holmes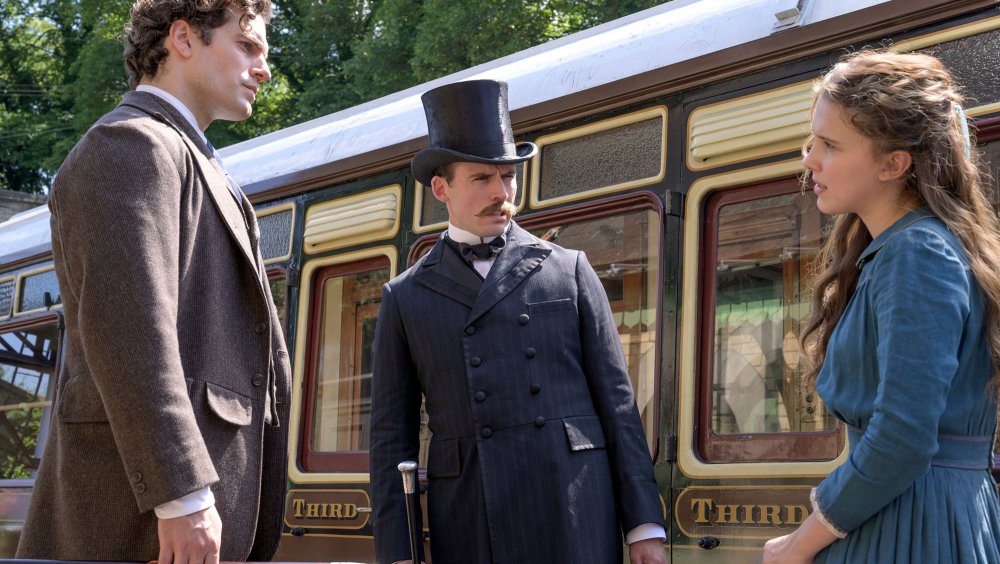 Netflix
Dust off your magnifying glass, because Sherlock Holmes is back for another outing. 
The legendary detective will be appearing in a new Netflix original film — but not the way you might think. Though Enola Holmes does feature Justice League and The Witcher star Henry Cavill as Sherlock Holmes, it's actually his younger sister, Enola (Millie Bobby Brown), who's the star of this tale. The upcoming film is based on the book series The Enola Holmes Mysteries by Nancy Springer, which follows the adventures of the youngest Holmes sibling as she makes her own name for herself as a detective.
We've known about the film for a while, and now, Netflix has released the first official batch of images from Enola Holmes. The film centers on 16-year-old Enola, who's aghast when her mother (Helena Bonham Carter) goes missing. She's determined to track her down, but her older siblings, Sherlock and Mycroft (Sam Claflin), want to send her to a finishing school instead. However, Enola foils their plan by slipping away and traveling to London in search of their missing mother.
The first-look images from Enola Holmes that Netflix released give us a glimpse at the style of the forthcoming feature, as well as the chance to see the actors in their roles as these beloved characters.
Netflix dropped the first Enola Holmes images and release month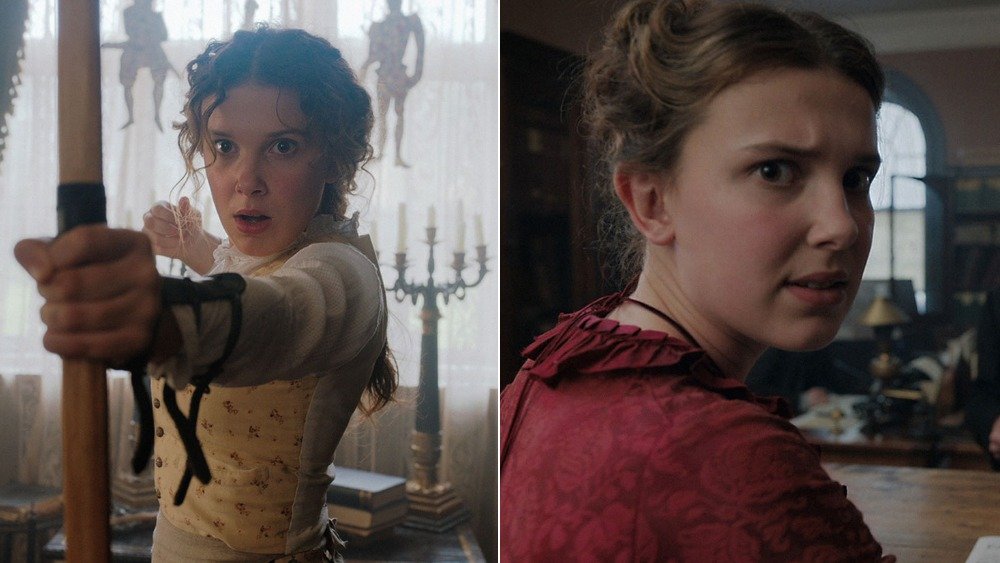 Netflix
Netflix released the three stills in a tweet posted to its official Twitter account. The most notable of the images includes the three Holmes siblings standing in front of a train. Sherlock and Mycroft are holding suitcases and looking befuddled, while Enola fidgets with her hands, a look of concern on her face. This fits in with what we know about the sibling conflict that lies at the heart of the story.
Another notable one is a head-on shot of Enola holding a bow. She's wearing a bracer to protect her arm from getting damaged while shooting, but there's no arrow loaded in the bow itself. The astonished look on her face implies that she's already shot it — however, it's unclear what (or who) the target is.
The last is another shot of Enola. Here, the young sleuth is seen sitting at a desk across from an older man who appears to be reviewing some documents. Her face is turned toward the camera and her brows are furrowed in concern. As with the other photos, we're not sure exactly what the context for this still is, but it's clear that Enola has run into some trouble in her quest to find her mother.
The final, but perhaps most important, detail in the Netflix tweet is that Enola Holmes will be available to stream in September 2020.