Margot Robbie Put More Work Into Birds Of Prey Than Anyone Realized - Exclusive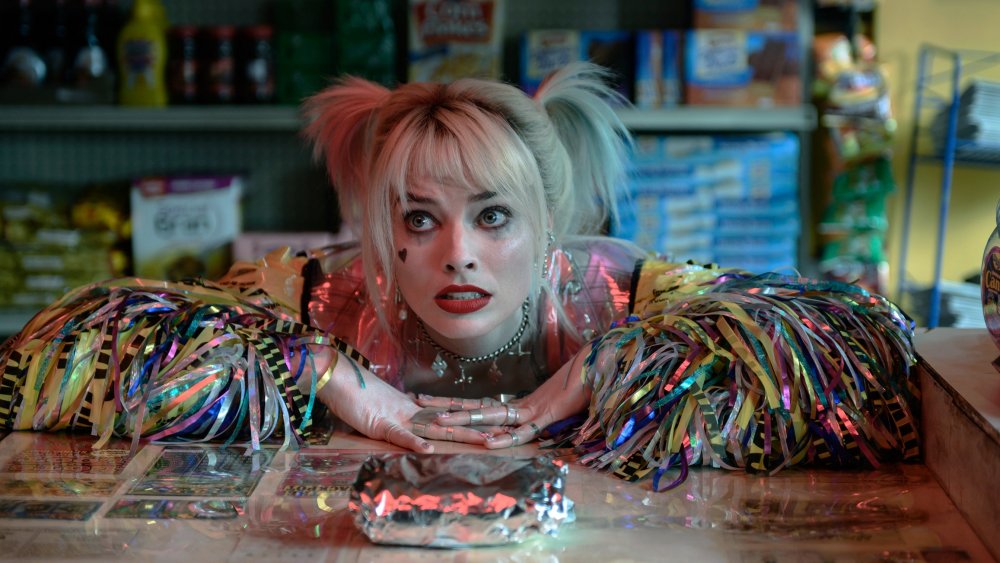 Warner Bros.
When Margot Robbie first appeared on screen as Harley Quinn in 2016's Suicide Squad, fans of the iconic DC Comics character finally had a live-action face to associate with their much-beloved anti-heroine. While the film garnered poor reviews, there was near-universal praise for Robbie's performance from fans and critics alike, leading to a lot of anticipation as to when we might see the colorful character at the movies again — especially as she shook free from the shadow of Jared Leto's much-maligned turn as the Joker.
The answer came in the form of 2020's Birds of Prey (and the Fantabulous Emancipation of One Harley Quinn), which teamed Robbie up with a killer cast that included Mary Elizabeth Winstead and Rosie Perez to kick off Harley's cinematic life sans the Clown Prince of Crime. Directed by Cathy Yan, the film was action-packed, featuring over-the-top fight sequences shot in long, wide-angled takes that showcased the insane choreography crafted by coordinators Jon Valera and Jonathan Eusebio. In the middle of it all was Robbie, who not only starred in the film, but also produced it, having pitched the idea to Warner Bros. nearly five years prior to Birds of Prey's release.
Robbie was wearing a lot of hats when it came to Birds of Prey, and according to at least one person involved, she tore into all of it with aplomb. That person is accomplished stunt performer Renae Moneymaker, whose résumé includes multiple X-Men movies, Captain Marvel, and the Hunger Games franchise, and who served as Robbie's stunt double on Birds of Prey. 
In an exclusive interview with Looper, Moneymaker shed some light on what it was like working with Margot Robbie and the team behind Birds of Prey.
Birds of Prey and the Maniacal Multitasking of Margot Robbie
You would think it might be difficult to serve as producer on a film in which one is also starring and taking part in long, elaborate fight scenes — but according to Moneymaker, Robbie crushed it with a laser-like focus. 
"She was the star of the film," Moneymaker tells Looper. "She was a lead producer. She was a busy girl, right? Sometimes, she'd come in and be like, 'I'm sorry, guys. I got 25 minutes,' and she set a timer and she'd be like, 'But I'm here, so let's go.' For that time, she would be completely focused with us and give everything she had for that 25 minutes and then be like, 'Okay, got to go. Got a meeting. Bye.'"
That'd be a lot of work, and perhaps too much for most mere mortals. Robbie, however, seems to have the skills to pay the bills. " She is a specimen," says Moneymaker. "She really is. You can demonstrate something, let her practice it, like, three times, and then she's got it. I caught her one time before she came into practice in the car and she was reviewing reference videos from the training before. When she came in, she already knew the choreography. It was fresh in her head. It was just very impressive. She was next-level with all that stuff."
Renae Moneymaker and the Riotous Birds of Prey Reshoots
The focus and dedication Robbie brought to bear on Birds of Prey were absolutely necessary: The film, unlike many American action movies, relied on long takes shot at wide angles, which means mistakes were harder to hide in edits. "When you get into the flow of something and you can see the big picture of what's happening, sometimes great things happen. The problem with long takes is that, if you're doing one big long take, it's really hard to hide bad performances," explains Moneymaker.
The solution? Moneymaker says it's preparation. "If you're going to do a long take and you're going to make it look good, you can't just choreograph anything and say, 'Great, we're going to do one big long take,'" she tells Looper. "You have to know the camera's path. You have to know where you're going and what you're doing and you have to know what's going to look good."
Fortunately, Birds of Prey benefited from Valera and Eusebio's experience, along with that of John Wick director Chad Stahelski, who worked on stunts for the reshoots. "It trickled down from him," says Moneymaker. "We always had a very clear idea of what we were going to do and how we were going to do it. There wasn't a lot of guessing. It's just this feeling of, 'I just need to do my job. Everyone's just doing the job that they're there to do and it's all working together.'"
Although Birds of Prey (and the Fantabulous Emancipation of One Harley Quinn) didn't blow up the box office, we'll likely get the chance to see Robbie and her team in action again, as Yan is already plotting a sequel. We have little doubt the cinematic face of Harley Quinn will once again bring her A game when the time comes to break out the comically oversized mallets again.