The Darkest Easter Egg Everyone Missed In The Star Wars Universe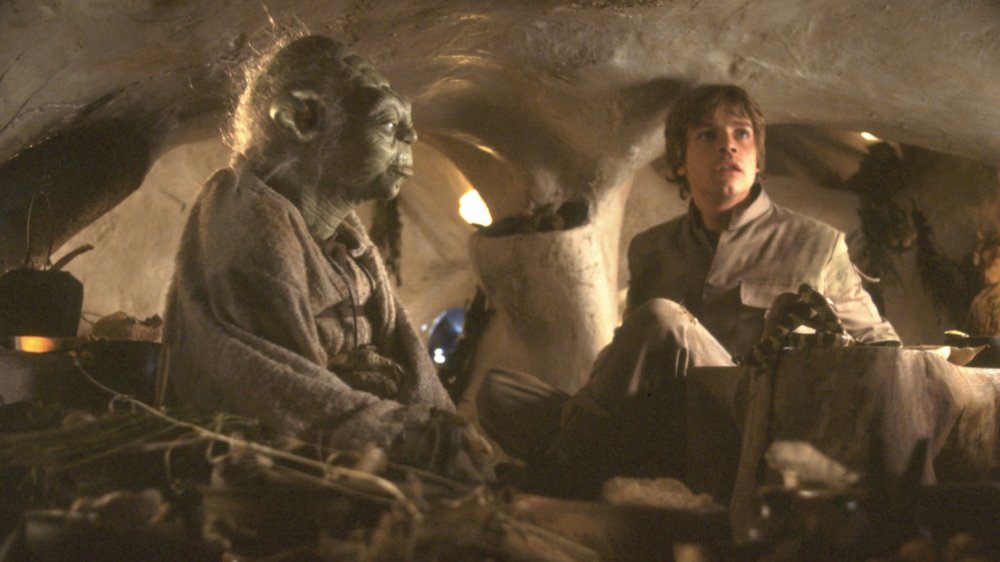 The Star Wars universe is a messed-up place. Whether it's chopped-off hands, youngling genocide, or Luke Skywalker's (Mark Hamill) poor auntie getting burnt to a crisp when she was just trying to sweep outside her house, things get pretty dark in that far, far away galaxy.
There's an inevitability to darkness in Star Wars when you consider there are 11 live-action feature films, over 380 books, around 150 video games, and a metric ton of action figures, comic books, and cartoon carnage to contend with. But for every tragic story you've heard a thousand times before, there's always that evil Easter egg even the most ardent Star Wars fan might miss. Afraid, are you? No? You will be.
Speaking of weirdly menacing promises, let's talk about Yoda for a moment, because that little guy lives inside the saddest, darkest Easter egg Star Wars ever slipped past you. He's a Jedi Master, he fought in the Clone Wars, he talks backwards, and he can flip around with a lightsaber better than almost anyone. Everyone knows that stuff, but what you might not have caught is a detail about Yoda's narrative arc that makes for Star Wars' darkest Easter egg.
In a way, Yoda never escaped his escape pod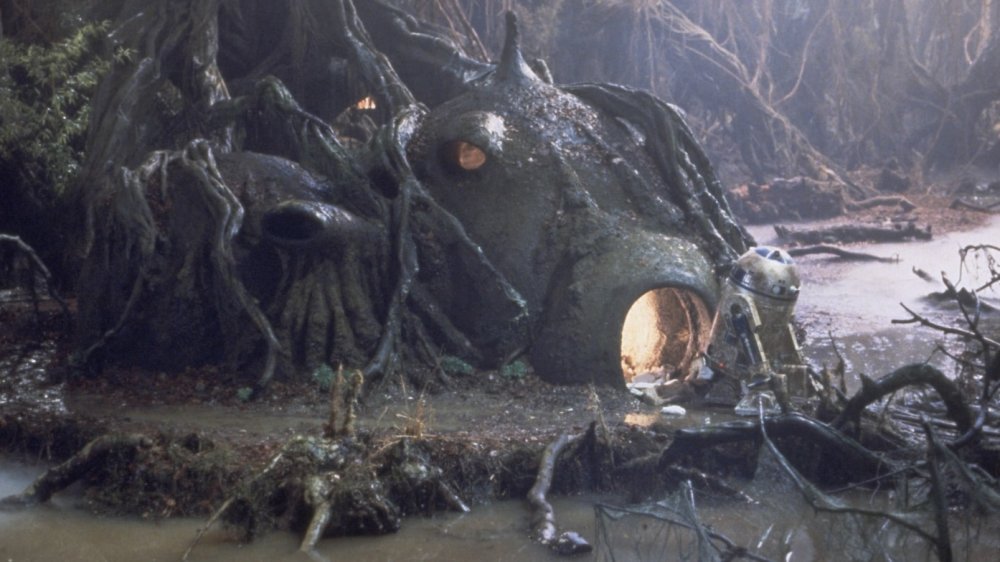 In Star Wars: Episode III – Revenge of the Sith — after Palpatine (Ian McDiarmid) dissolves the Galactic Senate, executes Order 66, and turns all the clone troopers against the Jedi – Yoda bids farewell to his friend Chewbacca on the planet Kashyyyk, then gets in an escape pod. Yoda heads to Coruscant, where he battles Palpatine while Obi-Wan Kenobi (Ewan McGregor) takes on Darth Vader, aka Anakin Skywalker (Hayden Christensen). 
Senator Bail Organa (Jimmy Smits) then rescues Yoda, and the two meet up with Obi-Wan and Padmé Amidala (Natalie Portman) on Polis Massa, where she gives birth to her twin children (Luke and Leia) and then dies. Following Padmé's death, Obi-Wan, Bail, and Yoda have a meeting to discuss where the children will go; Bail and his wife adopt Leia, and Obi-Wan takes Luke to Tattooine, where Owen and Beru Lars adopt him. Obi-Wan goes into exile — and Yoda does as well, as he told Bail he would need to do as they were leaving Coruscant. 
Yoda ends up on Dagobah, though his flight there isn't shown in Star Wars: Episode III – Revenge of the Sith. However, based on what his home on the swamp planet looks like, it's evident that Yoda constructed his Dagobah dwelling out of the pod he used to get there — which is a different one than the one in which he fled from Kashyyyk. It's canon that Yoda's escape pod is an E3-standard starship lifeboat, and it's been specifically noted that that type of pod is indeed the one he flew in when heading to his self-imposed exile. Looking at illustrations of the E3-standard starship lifeboat and detailed drawings of Yoda's Dagobah home (plus the way it appears on screen), it's clear that he used the pod to make his tiny house.
The cross-sections and informative details provided in the 2007 book Star Wars: Complete Cross-Sections – written by David West Reynolds and Curtis Saxton, and illustrated by Richard Chasemore and Hans Jenssen — shows Yoda's two different escape pods. Look closely at the Dagobah pod in the illustration above.
You can see in a cutaway of Yoda's hut (shown above) from Inside the Worlds of Star Wars Trilogy: The Ultimate Guide to the Incredible Locations of Episodes IV, V, and VI illustrated by Richard Chasemore and Hans Jenssen that the front entrance is entirely metallic, unlike most of the rest of the structure. It's also the same shape as the E3-standard starship lifeboat.
What makes this so sad is that, if you think about it, this means Yoda never really left the escape pod he used to go to Dagobah. He lived inside that thing from 19 BBY until his death in 4 ABY. In a way, it's like Yoda never stopped trying to escape. Even his final moments are in the remnants of that pod. It doesn't get much darker or more tragic than that.
Yoda's future is so bright, the Child's gotta wear shades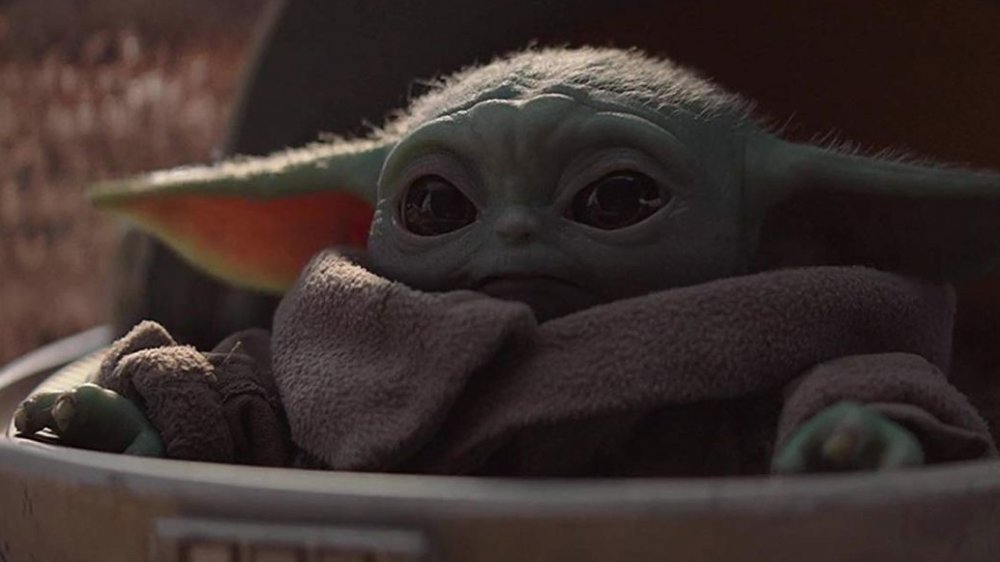 One of the most infamous aspects of Yoda's identity is that George Lucas stridently refused to reveal anything about his species, which is still listed as "unknown" in the Star Wars website's database. In fact, up until recently, there was only ever one other character in the Star Wars universe we met that's from Yoda's same home world: his distaff counterpart Yaddle. Sadly, Yaddle, like Yoda, is no longer living. After 100 years serving on the Jedi Council, Yaddle was killed on the planet Mawan after absorbing the full blast of a bio-weapon.
Thanks to The Mandalorian showrunner Jon Favreau and the rest of the series' crew, however, our Yoda-free life finally changed. The biggest shock from the debut of the Disney+ series was the reveal that the titular character would be caring for the Child, whom fans have taken to calling "Baby Yoda." After taking on all comers, Din Djarin (otherwise known as Mando, played by Pedro Pascal) is tasked by the Mandalorian Armorer on Nevarro to take the Child home: "By creed it is in your care. You have no choice, you must reunite it with its own kind."
Where is Yoda's home? That still remains a mystery. It is, however, a mystery we won't have long to wait for. All filming for The Mandalorian's second season was completed before the outbreak of COVID-19 ground so many other TV and film productions to a halt. Favreau revealed to The Hollywood Reporter during the virtual ATX Television Festival, "We were lucky enough to have finished photography before the lockdown."
The Mandalorian season 2 will drop in October 2020 on Disney+. Din Djarin and the Child will be joined by a host of returning Star Wars characters. Boba Fett will return and be played by Temuera Morrison, who previously portrayed Jango Fett. The Clone Wars favorite Ahsoka Tano will also appear for the first time in a live-action capacity, portrayed by Rosario Dawson.
With a focus on returning the Child to his people, Yoda's legacy on The Mandalorian is sure to be full of bright spots. Likewise, though, tragedy will inevitably follow. But will anything in the pantheon of Star Wars stories ever be as sad, tragic, or dark as Yoda dying inside the escape pod he used after the Jedi were all but obliterated? Only time will tell.