Original Star Wars 9 Concept Art Puts Finn, Rose, And Poe On The Frontlines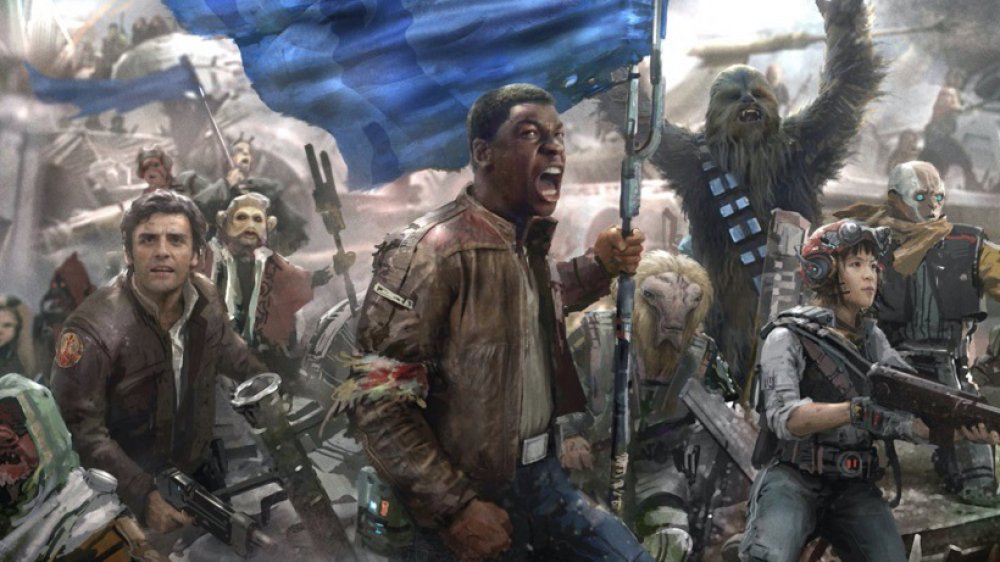 Disney/Lucasfilm
Few Star Wars fans would disagree that Rise of the Skywalker was a controversial end to J.J. Abrams' trilogy. While the movie delivered some enthralling battle sequences and jaw-dropping twists, many felt it didn't retain the quality of the prior films, and that some of the characters fans had come to love got a lackluster final outing. These feelings were further stoked in January when a scrapped Star Wars: Episode IX script by Jurassic World director Colin Trevorrow emerged.
Trevorrow's script, written under the working title Duel of the Fates, introduces many unused elements to the trilogy's final installment. One of the most notable changes is the expanded role that Finn (John Boyega) and Rose Tico (Kelly Marie Tran) have in the script compared to what made it to the screen in The Rise of Skywalker. Continuing the dynamic introduced in The Last Jedi, the two travel to the planet Coruscant, where they activate a beacon in an ancient Jedi temple and lead a revolt of reformed stormtroopers against the First Order. Ultimately, Trevorrow left the project due to creative differences with Lucasfilm, and his version of Episode IX was never filmed.
Now, new concept art from Trevorrow's script has been released, and it's making some fans even sadder that this version of Star Wars: Episode IX never made it to theaters.
Finn leads his allies in a revolt against the First Order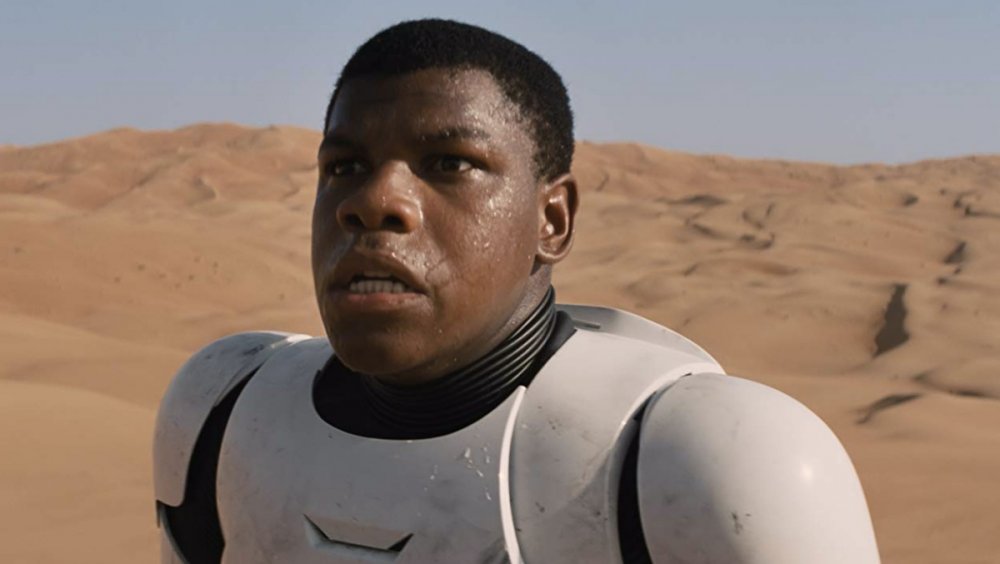 Disney/Lucasfilm
The piece of concept art in question was shared by Steven Wintraub, the editor-in-chief of Collider, on his personal Twitter page. While there is no caption to the image, it clearly depicts the uprising on Coruscant from Trevorrow's script. We see Finn at the front of an interspecies army, yelling in defiance. Rose is by his side, ready for battle, with Poe (Oscar Isaac) and Chewbacca (Joonas Suotamo) in the midst of the crowd. In a separate Tweet, Wintraub confirmed that it was official concept art from Trevorrow's version of Star Wars 9.
If you're paying attention, it's hard to miss that the image has an uncanny correlation to current events. Images of John Boyega speaking passionately at Black Lives Matter protests in London bear a striking resemblance to the concept art of Finn leading his fellow defecting stormtroopers in rebellion. Clearly, Wintraub and others are sharing the art in solidarity with the actor, who has also received social media support from Lucasfilm's official accounts, as well as his Star Wars directors J.J. Abrams and Rian Johnson, not to mention Luke Skywalker himself, Mark Hamill.
While we'll never see Trevorrow's version of Episode IX on the big screen, fans of Finn and his fellow revolutionaries now have a galvanizing image to remember their heroes by.