The Office's Michael Scott Was Almost A Murderer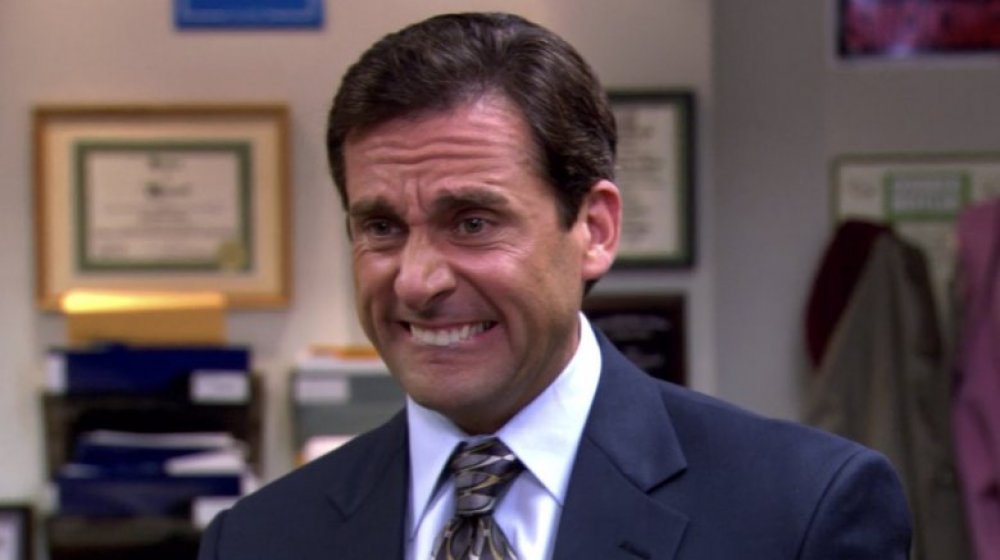 In the years since The Office premiered on NBC and quickly became one of the network's most popular shows, many viewers may have forgotten that it was actually a spin-off of a popular British television show. Though Ricky Gervais' classic British workplace sitcom was short-lived compared to the American Office's nine seasons, showrunner Greg Daniels used it as a jumping off point to create the American version, and part of that meant retooling the show's main character.
David Brent, Michael Scott's British counterpart, had many of Michael's same idiotic impulses, including the instinct to harass and humiliate many of his colleagues. Ultimately, however, David had a much crueler bent to him. As Daniels and his creative team figured out how to adapt The Office for an American audience, they had to figure out how to make such a difficult, unlikable character someone who could carry a series past just a couple of seasons.
In the end, Daniels and his team put in the work to make Michael endearing despite his numerous flaws, which meant avoiding jokes that took things way too far. Here's how the team — and Carell — made Michael relatable and irritating at the same time, and the one joke they just couldn't make.
How Michael Scott almost became a murderer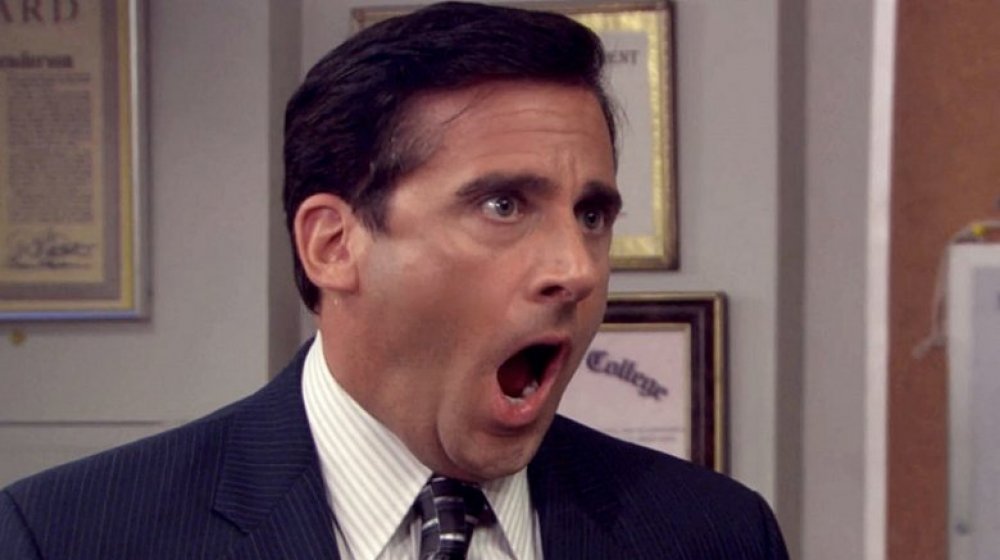 Many Office fans remember the show's fourth season premiere, "Fun Run," which opens with Michael driving into the Dunder Mifflin parking lot only to hit Meredith Palmer (Kate Flannery), one of his employees, head-on with his car. Meredith survives — and, as it turns out, has rabies, spurring Michael to launch a "fun run" — but in an alternate universe, Michael might have dealt her a deadly blow.
According to The Guardian, Daniels had to turn down some seriously dark jokes that would take things too far. "There were times where [the writers] would become enamoured with a joke and I'd have to put my foot down," Daniels said. "For instance, they really wanted Michael to kill Meredith with his car. That was an early pitch, where he runs her over in the parking lot and then comes back, gets a [tire] iron and finishes the job. I was like 'You can't do that, that's crazy!'"
The idea of Michael literally beating his employee to death is probably pretty shocking to any average Office fan, especially when you think about Carell's sweet-yet-ridiculous performance. As writer and star B.J. Novak put it, "Steve naturally brings so much truth and emotion to everything he plays that we could write the most extreme comedy scenarios for him, such as stepping on a George Foreman grill and declaring himself disabled or falling in love with a chair model from a catalogue and asking the office to help him find her. In anyone else's hands that might sink the character, but Steve had a three dimensionality that let him dig himself out of any situation."
If you want to rewatch "Fun Run," which thankfully doesn't feature Michael Scott murdering anybody, you can catch The Office on Netflix.