Netflix Just Added A Severely Underrated Matthew McConaughey Movie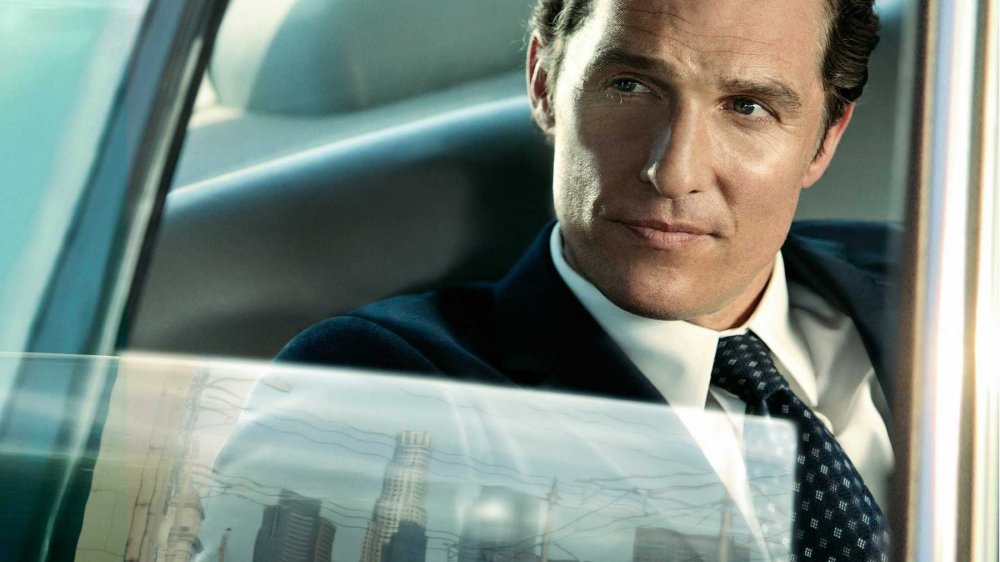 Lionsgate
Contains spoilers for The Lincoln Lawyer
We all love it when Netflix drops an exciting new original film, but finding older, overlooked gems in the streamer's catalog can be just as satisfying. In that spirit, we'd like to inform you that Netflix recently added one chronically underrated Matthew McConaughey flick from 2011 that you would be remiss not to check out.
The Lincoln Lawyer is a classic courtroom drama adapted from the novel of the same name by popular thriller scribe Michael Connelly. Connelly is the king of pot-boiler fiction, and his 2005 book transfers well to the screen. The film stars McConaughey as a trial attorney named Mickey Haller, a character that will be familiar to fans of Connelly's writing. The Lincoln Lawyer novel is the first of five in a series featuring Haller that concluded in 2013 with the publication of The Gods of Guilt. The film, like the series, has nothing to do with the capital of Nebraska or the 16th President of the United States Instead, the title refers to Haller's propensity for working out of the back of a Lincoln Town Car instead of a standard legal office. McConaughey has been raking in commercial bucks hawking Lincoln automobiles for the better part of a decade now, so he likely felt right at home in the role. 
According to Connelly canon, Mickey Haller is the paternal half-brother of Hieronymous "Harry" Bosch, another popular character who made the successful transition to screen on the Amazon Prime original series Bosch. Though Titus Wellever's Bosch does not appear in The Lincoln Lawyer, one could imagine Amazon commissioning a pretty rockin' crossover, even though the original flick's is already ten years old. Just imagine Welliver and McConaughey chewing the same courtroom scenery. Are you listening, Jeff Bezos? Make it happen.
The Lincoln Lawyer is a legal thriller done right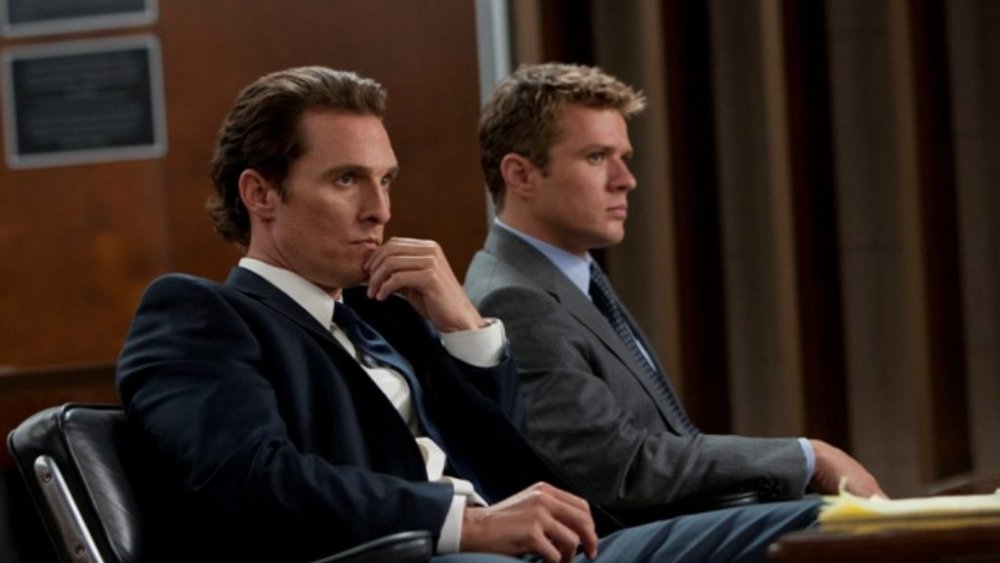 Lionsgate
Joining McConaughey in The Lincoln Lawyer is a full cast of A-list talent, including Marisa Tomei as Haller's ex-wife Margaret McPherson, Ryan Phillippe as nightmare client Louis Ross Roulet, John Leguizamo as Val Valenzuela, Michael Peña as Jesus Martinez, William H. Macy as Frank Levin, and Bryan Cranston as Detective Lankford.
The plot of the film hews pretty close to its source material. Louis Roulet, the son of a wealthy Los Angeles businesswoman, hires Haller to defend him in a pending assault case. Ever the champion of the accused, Haller takes the job, and soon discovers that the details of the case parallel a former case of his that ended poorly. As the Lincoln Lawyer dives deeper into the details, he realizes that these parallels may be more than mere coincidence, a condition that places him in an ethical bind.
Roulet proves to be a thoroughly hateable character, played to loathsome perfection by Ryan Phillippe at his smarmiest. The playboy son of a Beverly Hills real estate magnate, Roulet stands accused of brutally assaulting Regina Campo, a prostitute with whom Roulet had contracted for services. Roulet insists on his innocence, and even concocts a convoluted story about how he must have been set up. After Haller and his chief investigator, Frank Levin, get into the evidence, however, they learn the true depth of Roulet's guilt.
Not only is Roulet guilty of beating Campo, but he is also responsible for an old murder for which one of Haller's former clients, Jesus Ramirez, was wrongfully convicted. In an act of supreme privilege and arrogance, Roulet actually confesses his crimes to Haller. This places Haller in an unenviable bind, torn between his legal duty to his new client and his legacy obligation to Martinez. He ultimately decides to thread the ethical needle by defending Roulet zealously in the action for which he was hired, but simultaneously moving against him in the older case to see his previous client exonerated.
The dramatic tension holds until the very last frame, and both critics and audiences agree that it's a winner.
The Lincoln Lawyer didn't set the box office on fire, but viewers liked what they saw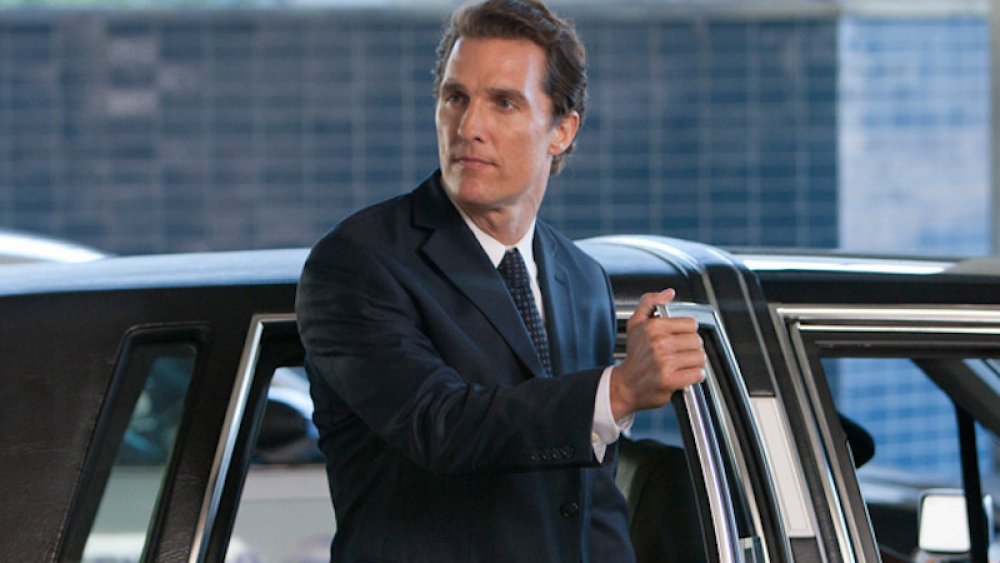 Lionsgate
According to Box Office Mojo, The Lincoln Lawyer earned $86 million worldwide against a $40 million budget. That's hardly boffo by Hollywood standards, especially when you consider it barely squeaked over the break-even line at home with a domestic box office total of $58 million. It's reassuring that audiences are finally discovering this film via Netflix, since the critical response at the time of release was almost universally positive.
Sandra Hall from the Sunday Morning Herald appreciated the opportunity to see McConaughey demonstrate a little range. "It's nice to see McConaughey getting relatively serious instead of coasting through yet another witless romcom," she wrote in her 3.5-star review. Ed Travis at Hollywood Jesus agreed with the acclamatory assessment, writing, "Viewers are treated to a top notch 'who done it,' mixed with a wonderful central character played by a never-better Matthew McConaughey, and sprinkled with dashes of street smarts and authenticity."
Debbie Lynn Elias at Behind the Lens really summed it up with her take, writing, "The verdict is in. 12-0 in favor of The Lincoln Lawyer."
That pretty much says it all. If you're looking for a tense courtroom thriller with a stellar cast, you could do a lot worse than The Lincoln Lawyer.