The Walking Dead Star Teases Something Major About The Season 10 Finale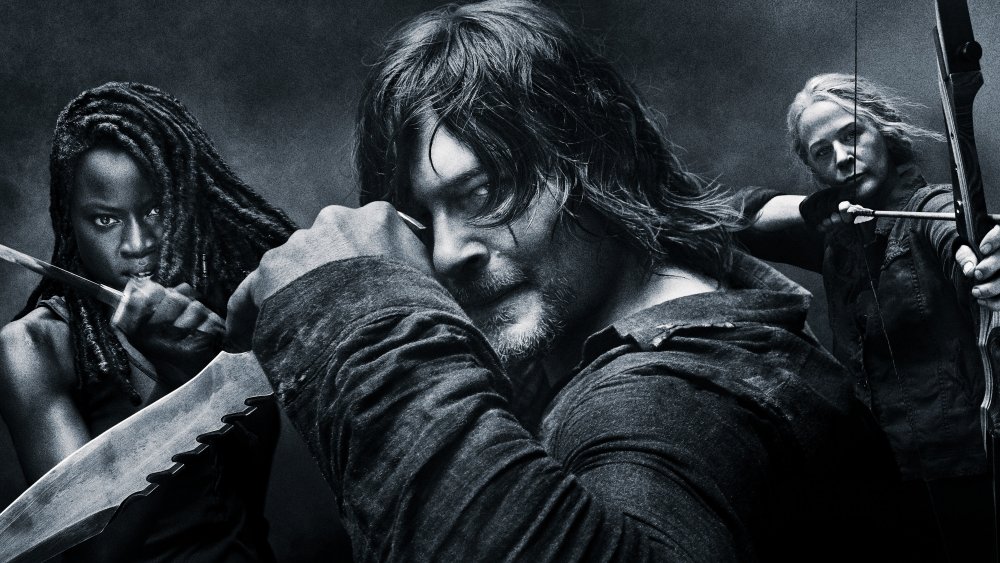 AMC
The Walking Dead's spring finale may not have been the AMC show's intended season-ender, but the cliffhanger-style plot of "The Tower," with its tease of new and returning characters (including an iron-masked fighter), still managed to stick a dramatic landing. 
At the time of the April episode's airing, the cast and showrunner Angela Kang didn't get into many specifics about what fans would have seen had work on the real season 10 finale been finished as planned. But now, one of the show's biggest stars has come forward with a rather exciting tease about what fans can expect whenever "A Certain Doom" does air. One of the last scenes in "The Tower" featured a horde of walkers and whisperers, led by their brutal de facto leader Beta, descending upon the abandoned hospital where several of the show's heroes are hiding out. 
At the time it seemed pretty clear that a confrontation of sorts was being set up, but Norman Reedus, the actor behind fan-favorite Daryl, has promised something bigger than we imagined. In an interview with Entertainment Weekly, Reedus described the impending confrontation not just as a regular fight-for-your-life event, but an all-out war. "It's going to be an epic battle," Reedus told EW. "It's like a full-on Game of Thrones super war battle."
The Walking Dead is famous for its ambitious season finales, something Reedus acknowledged. But the actor also praised the show's team for never shying away from taking on that challenge. "I feel like every time we get to a finale or even a mid-season finale, we could be in over our heads, but there's a confidence there and everybody really brings it."
While this might seem like business as usual for The Walking Dead, "A Certain Doom" appears to be taking the show to a whole new level.
Filming The Walking Dead season 10 finale "exhausted" the cast and crew.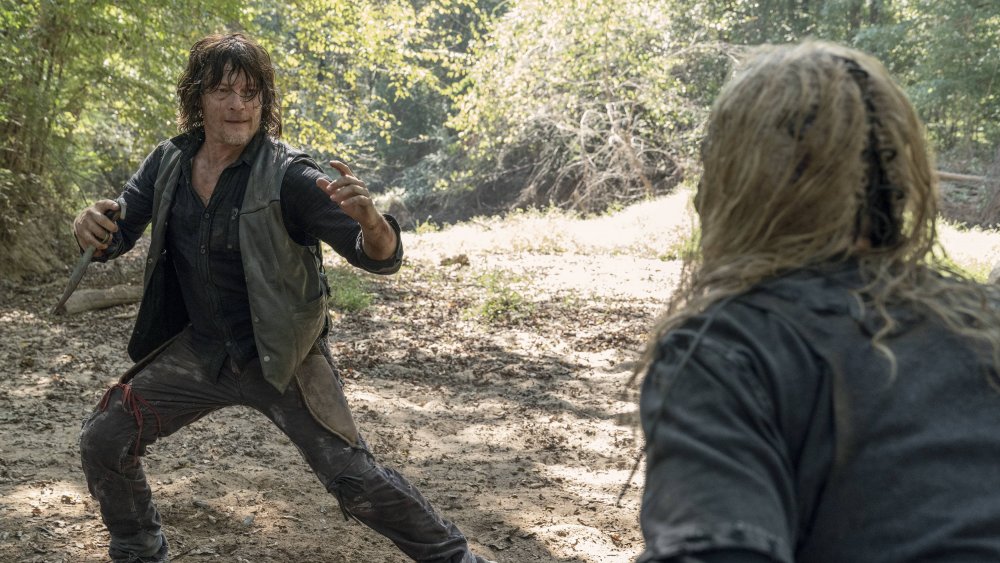 AMC
Prior to Reedus' interview, his fellow Walking Dead star Jeffrey Dean Morgan described the delayed finale as "a big massive episode," while director Greg Nicotero added that there was "a lot teed up, so to speak," in "The Tower" (via Entertainment Weekly).
In his interview with EW, Reedus was more direct, telling the entertainment magazine that production was an exciting but taxing experience all around. The actors and crew were all pushed to their creative limits, something fans will see mirrored on screen when they finally get to watch the episode. "It was a lot of fun to shoot, but we really pushed the crew and pushed the actors on that one," he said. "Everyone really had to dig deep because... talk about exhausting episodes!"
So what exactly had everyone so tired after giving their all for "A Certain Doom"? According to the actor, it was filming those "legendary" battle scenes, which saw people working around the clock. "There were huge battle scenes until the wee hours of the morning consistently, and it looks so grand on an epic scale," Reedus teased. "Those battle scenes are going to be legendary."
Because the episode was unable to be finished in time for airing, AMC and the Walking Dead team released a trailer teasing the finale, which does not yet have an airdate. Based on the sheer size of the horde visible throughout the relatively non-spoilery preview, the survivors have a massive fight ahead of them. "They really stick it to us on that show," Reedus said. "But it always pays off. This show will go down in history."