The Behind The Scenes Drama Of Suicide Squad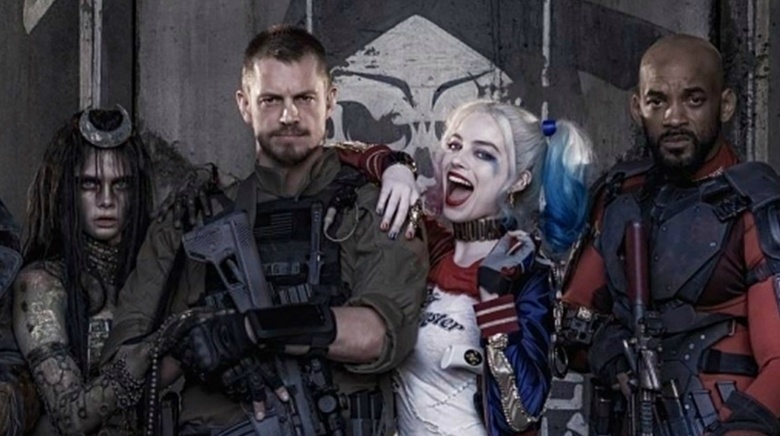 Although early reviews of Suicide Squad are mostly negative, it's just another chapter in the long and strange journey to bring the DC Comics team to the big screen.
The Hollywood Reporter offered a rundown of all the drama that took place long before Harley Quinn saunters onscreen, and it sounds nearly as complicated as the characters' backstories. Warner Bros. first announced the project in 2014 as part of a slate of 10 films based on DC properties that would stretch into 2020. Although the studio believed there was time to make Suicide Squad, a source close to the project said it was rushed from the start. "[Ayer] wrote the script in like, six weeks, and they just went," he said. Another source said that once the film had a release date, pushing it back was not an option. "It's not just that you've told the public the movie is coming, you've made huge deals around the world with huge branding partners, with merchandise partners. It's a really big deal to move a tentpole date."
Then there was the controversy surrounding director David Ayer. Known primarily for End of Watch (2012) and Fury (2014), he was untested in the realm of comic book blockbusters, and some executives were reportedly worried.
By the time the film was finished, multiple editors had been brought on, although only John Gilroy is credited. And a few months prior to release, Warner Bros. still had different versions of the movie to work with: a lighter, studio-favored one and Ayer's darker, more somber version. Just weeks before both versions were played at test screenings, Warner Bros. declined to back Ayer's next project, Bright, which would reunite him with Suicide Squad co-star Will Smith. Instead, Ayer fired and rehired his agent, then signed a $90 million deal with Netflix. In the meantime, another cut of the film screened for audiences, and it was apparently much closer to the studio's vision than Ayer's.
Still, in a joint statement, Ayer and Warner Bros. production president Greg Silverman said they're proud of the finished product. "This was an amazing experience. We did a lot of experimentation and collaboration along the way. But we are both very proud of the result. This is a David Ayer film, and Warners is proud to present it."