How The Voice Of Ahsoka Tano Has Taken Bullying On Head First - Exclusive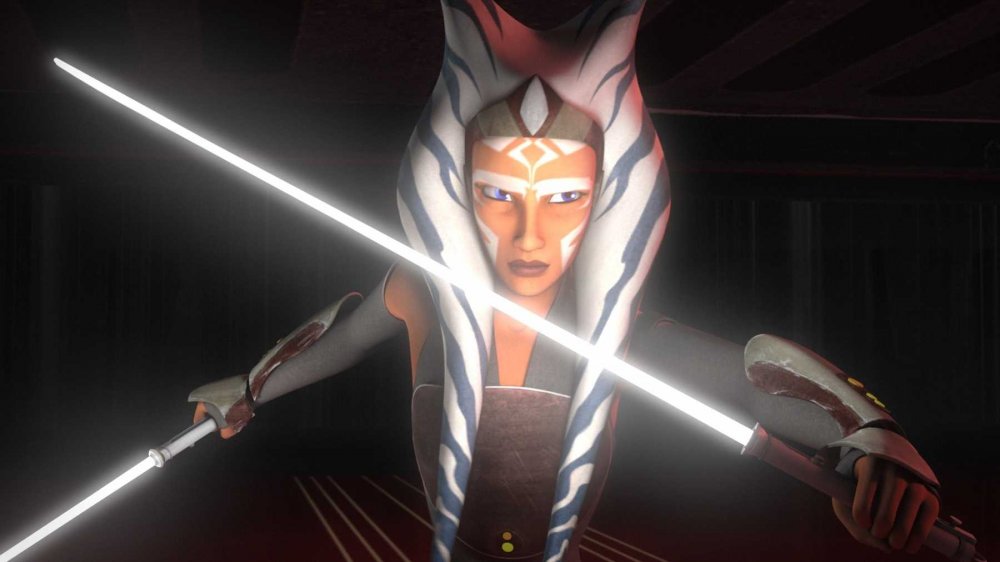 It can be hard to be a geek. While most people who love nerdy comics, TV shows, movies, and video games want nothing more than to share their enthusiasm with others, small but extremely vocal sections of so many communities seem to delight in tormenting anyone who isn't exactly like them.
Over the past few years, gatekeeping and bullying have been especially pronounced in the Star Wars community. Actresses Kelly Marie Tran and Daisy Ridley were forced to close their social media accounts due to harassment from fans, while "toxic" segments of the audience have driven a few high-profile filmmakers away from the franchise.
It's a problem that Ashley Eckstein, who voices Ahsoka Tano on Star Wars: The Clone Wars and Star Wars Rebels, understands all too well. While Ahsoka has become one of the most beloved characters in that galaxy far, far away, Eckstein reminds Looper that that wasn't always the case. "Ahsoka was first introduced to the Star Wars universe in 2008, and many people forget that she actually wasn't met with the warmest of welcomes," Eckstein says. "She was given a lot of hate at first. They thought she was too snippy and too bratty."
Unfortunately, some of that hate extended to Eckstein herself, and while it's gotten better, it hasn't subsided completely. "I've experienced it. I was viciously cyberbullied over something that wasn't even true. It was a complete made up lie that was not true, and I was attacked."
She's not alone. "Female fans were being bullied and being bullied terribly for just liking Star Wars, and I wanted to break the stigma, because Star Wars is not just for men and boys. It's not just for women and girls. Star Wars is for everyone," Eckstein says. "This whole sci-fi and fantasy, our fandom culture, is for everyone."
Unlike regular fans, however, Eckstein was in a position to do something about it... and she did.
Ashley Eckstein created Her Universe as a response to bullying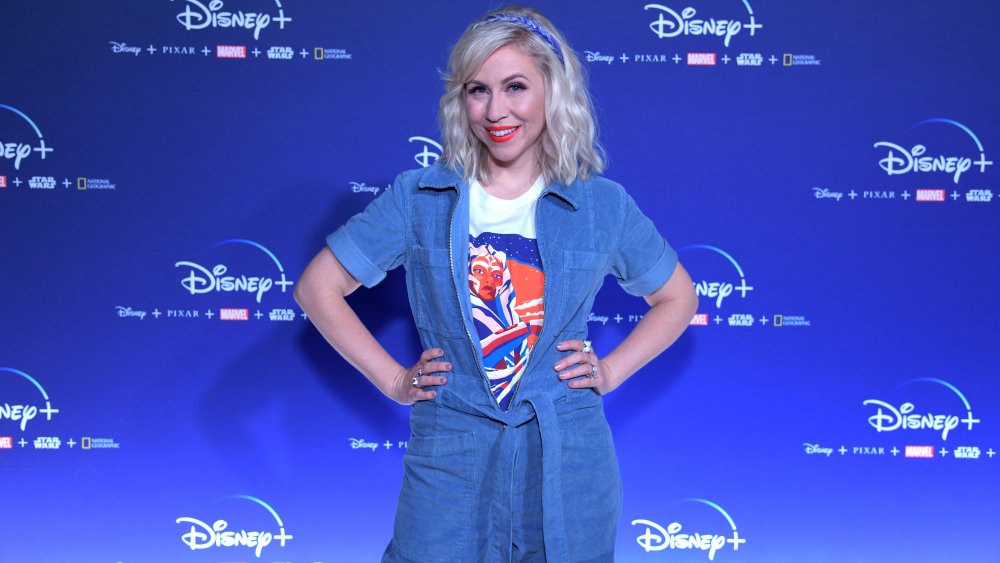 Charley Gallay/Getty Images
In 2010, Eckstein founded Her Universe, a fashion company dedicated to producing fangirl-friendly clothing and accessories for women. While Star Wars was the starting point, over the past ten years Her Universe has added products inspired by Marvel and DC Comics, Pixar, Disney, Jurassic Park, various video games, and so much more to its collection.
It's a successful business — Her Universe was purchased by Hot Topic in 2016, and Eckstein remains heavily involved with the brand — but Eckstein says that making money isn't the goal.
"First and foremost, it's a community," Eckstein says. "I started Her Universe as a way to end the bullying, because female fans were being bullied and being bullied terribly for just liking Star Wars, and I wanted to break the stigma... The community of Her Universe has always guided all of my decisions."
From that perspective, Her Universe has been wildly successful. "I would say, within our community, we've completely broken the stigma," she says. "Now, we actually started a sub-brand called Our Universe. We released clothing for men and boys. And so, I feel like we've achieved that."
Her Universe isn't just Eckstein's way of giving back to the fan community, though — it's changed her perspective, too. "I think the biggest lesson I've learned over the years is how important it is to just listen to people," she says. "One of the worst feelings in the world is to feel invisible... Everyone just wants to be seen and be heard and be listened to. And it's amazing how many things we can change and how many conflicts we can resolve if we just listen to people."
After bullying, mental health is Ashley Eckstein's next big cause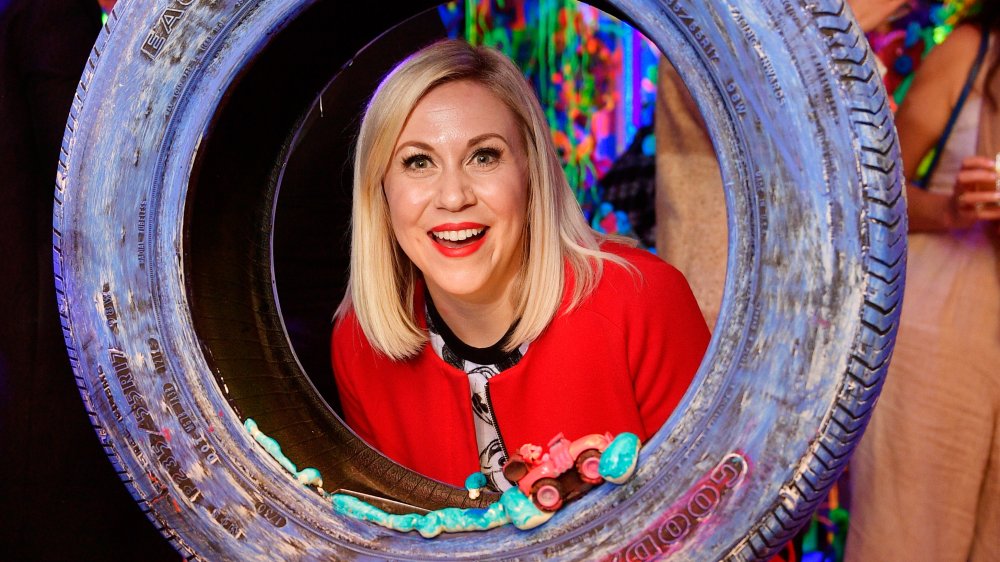 Matt Winkelmeyer/Getty Images
In fact, it was by listening to fans that Eckstein found her next mission. "I went on a nationwide book tour and fans would come up to me, and almost in secret they would share their personal battles with their mental health," Eckstein says. "Whether it be their struggles with anxiety or depression or various mental illnesses or mental health struggles, they would share with me."
Eckstein was moved by those stories, and once again asked herself, "What would Ahsoka do?" The answer was simple. "Ahsoka would stand up for our community and she would be a voice. She would help people," Eckstein says.
"So, that's what I would say what kind of my next mission is," she continues. "I want to be a voice and I want to be an advocate for mental health. Especially with what we're dealing with right now, with this worldwide pandemic, I think we're all seeing our mental health is more important now than ever."
Eckstein has a few different projects related to mental wellbeing in the works, including a collaboration with Disney and Lucasfilm that should be very interesting to Star Wars fans. Eckstein describes the new venture as a combination of "mindfulness and Jedi training," and it won't be surprising if it somewhat resembles the Darth Vader-inspired breathing exercise that Eckstein posted on Instagram.
Given Her Universe's massive success, it's exciting to see Eckstein explore some new frontiers. According to her, we have the fans to thank. "I kind of like to break stereotypes," Eckstein says. "And what I discovered, thanks to our community, is how important mental health is... It has kind of opened up my eyes and given me a voice to speak up about it." From what we've seen, there's no better person than Eckstein to do it.