Ashley Eckstein Reveals What It's Been Like To Play Ahsoka Tano - Exclusive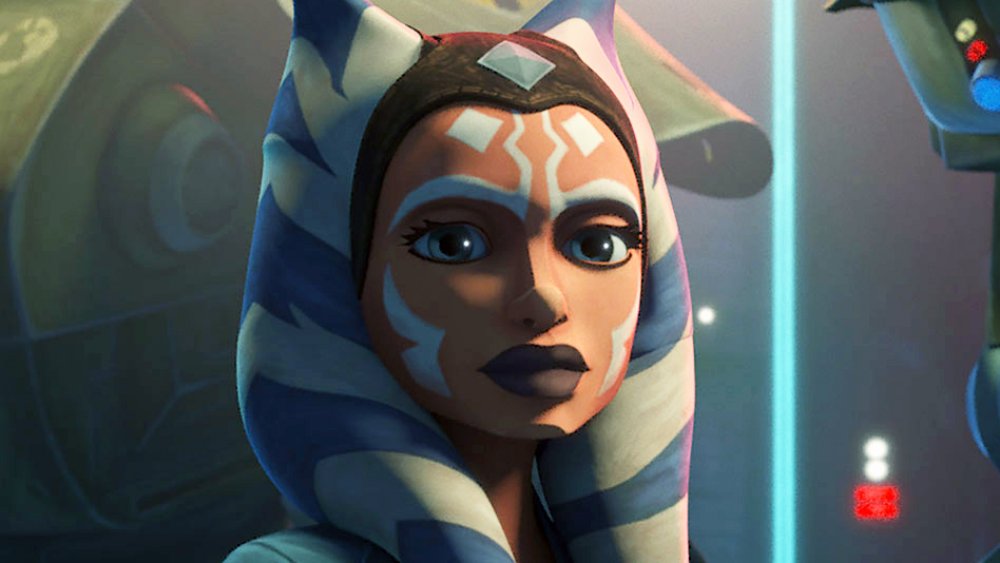 It's safe to say that Ahsoka Tano changed the Star Wars Universe forever. Not only was Ahsoka the first female lead to wield a lightsaber on screen, but as Anakin Skywalker's apprentice, the stubborn young Togruta showed us a whole new side of the man who'd go on to become Darth Vader.
Ahsoka's story isn't ending with The Clone Wars — we already know that the character appears in the sequel series Star Wars Rebels — but with The Clone Wars' big finale now up on Disney+, her first chapter has come to a big, definitive close. To commemorate the event, Looper caught up with actress Ashley Eckstein, who's been voicing Ahsoka since her 2008 debut, to find out what it's like playing one of the most popular Star Wars characters in the galaxy. Unsurprisingly, Eckstein had nothing but good things to say.
"It's something still to this day I do not take lightly. I truly feel like I won the lottery," Eckstein says. "Very few people get to originate a character in the Star Wars universe, and very few people get to kind of be a part of that process... It'll forever be one of the proudest moments of my career and of my life, that I got to be a part of originating Ahsoka Tano."
In fact, while Ahsoka might've had a profound effect on Star Wars, she's had an even bigger influence on Eckstein herself. "I've literally changed my life because of Ahsoka Tano," she says. "In the beginning, you could say that I brought a lot of my own personality and my own wisdom to Ahsoka. But, over the course of the years, I feel like the tables have turned and Ahsoka has brought so much of her wisdom to me and in my own life."
As an example, Eckstein calls out The Clone Wars' season five finale, "The Wrong Jedi," in which Ahsoka reluctantly leaves the Jedi Order. The episode opens with the words, "Never give up hope, no matter how dark things seem." That's a great encapsulation of Ahsoka's character, and Eckstein has taken it to heart.
"Truly, if you follow her story, even in the darkest of times, when you think all hope is gone — I mean, Ahsoka walked away from everything that she knew," Eckstein explains. "All the light is gone, you would think. And Ahsoka chooses to still see light. She chooses to still have hope."
Eckstein thinks that's an important lesson."I think we can all learn that from Ahsoka. Even in times like now, where there's so much sadness and so much loss with everything that's going on, there's always hope. I will always remember that, thanks to Ahsoka."
The lessons that Eckstein learned from Ahsoka don't stop there. "I ask myself every day, 'What would Ahsoka do?' because I feel like Ahsoka would always do the right thing," Eckstein says. "I think about Ahsoka literally daily, and she guides my everyday decisions."
For Ashley Eckstein, playing Ahsoka Tano was a dream come true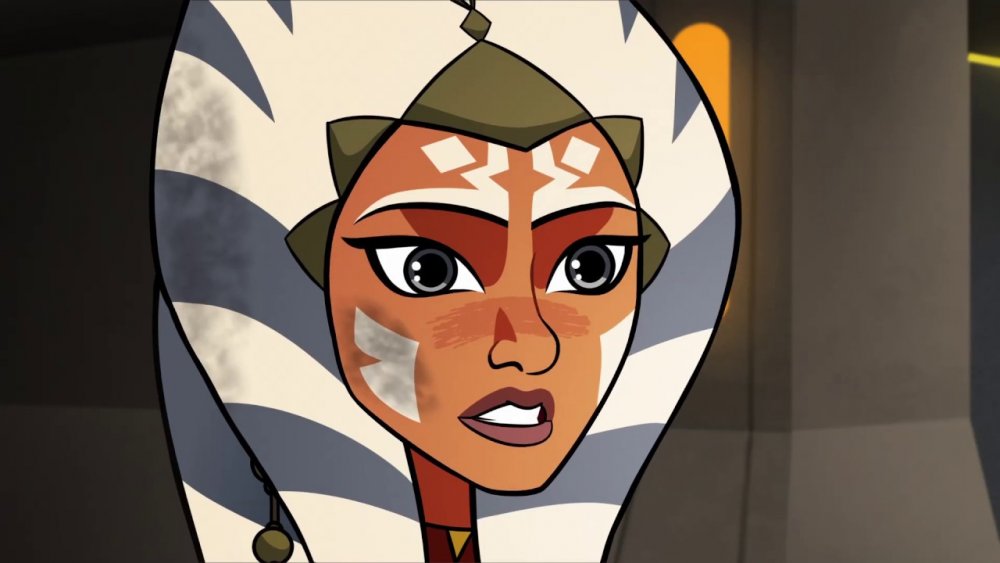 Of course, playing Ahsoka has more tangible benefits for Eckstein, too. Ahsoka's popularity has made Eckstein a perennial fan-favorite, and gave her the sway to launch her own business, the female-focused fashion company Her Universe. Thanks to Ahsoka, Eckstein's gotten to write books like the recent Little Golden Books publication I Am a Padawan, and meet childhood heroes like Princess Leia herself, Carrie Fisher.
"We got to be on a panel together at DragonCon, and it was the only time I got to meet her. Oh my gosh, that moment was everything I could have dreamed of and more," Eckstein recalls.
The actress admits that she was initially nervous to appear on the panel, in which she shared a stage with Fisher, Chewbacca actor Peter Mayhew, and Temura Morrison, who played Jango Fett in Attack of the Clones. "I said, 'Well, I have to be honest, I don't think I should be here. You guys are in the movies, I'm just in the animated show.'"
It was Fisher who set her straight. "She looked at me and she said, 'Don't be silly.' She said, 'You are a part of our family and you absolutely belong on that stage,'" Eckstein remembers, "and then she proceeded to give me a hug and then gave me one of her famous glitter bombs. She just covered my head in glitter."
Of all the people who have appeared in Star Wars, Eckstein says that Fisher is the one she wishes she could've worked with the most, although the actress' passing in 2016 made that an impossibility. " I can only imagine if I would have had more time with her what that would have been like," Eckstein says, "because the time that I did have with her was so magical and she really was such a special person."
What Ashley Eckstein really thinks about another actress playing Ahsoka Tano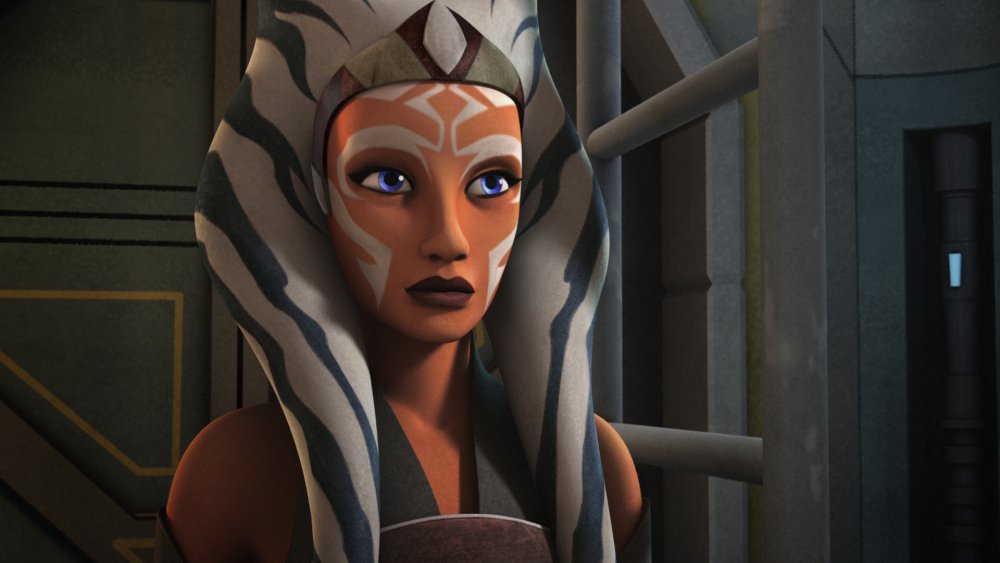 Eckstein is the first to admit that Ahsoka is bigger than just her. "It's never been just me bringing Ahsoka to life. It's always been a group of people," Eckstein says, humbly. "I call it Team Tano, and it's everything from [Clone Wars supervising director] Dave Filoni and the directing, to the animators, to the writers, to the music, to the lighting, to me bringing the voice."
As such, Eckstein wasn't necessarily surprised that the character's next step would be without her, as became clear when rumors began to circulate that Rosario Dawson would play Ahsoka in the second season of the live-action Star Wars series The Mandalorian. That doesn't mean that handing the character to another actress is easy for her, though. "Of course, it's my dream to always be involved with Ahsoka. I'd be lying if I said it wasn't," Eckstein says. "But regardless of what happens, I will always support any Ahsoka story because that means we get more Ahsoka."
Still, Eckstein has some notes for anyone who ends up taking on Ahsoka's role in the future. "Any new actress that would step into Ahsoka's shoes, I would say I just hope she realizes what Ahsoka means to people, because Ahsoka has changed lives. She's saved lives," Eckstein says. "So, I would just ask that anyone that joins Team Tano recognizes how important she is to so many people, and they do their best to continue to carry on her legacy."
Dawson — and whoever ends up playing Ahsoka next, assuming it isn't Eckstein herself — would do well to listen to that advice. After all, nobody knows Ahsoka Tano better than Ashley Eckstein. Absolutely nobody.
The final season of Star Wars: The Clone Wars is now available on Disney+.