The Best Comedy Movies You Can Watch On Netflix Right Now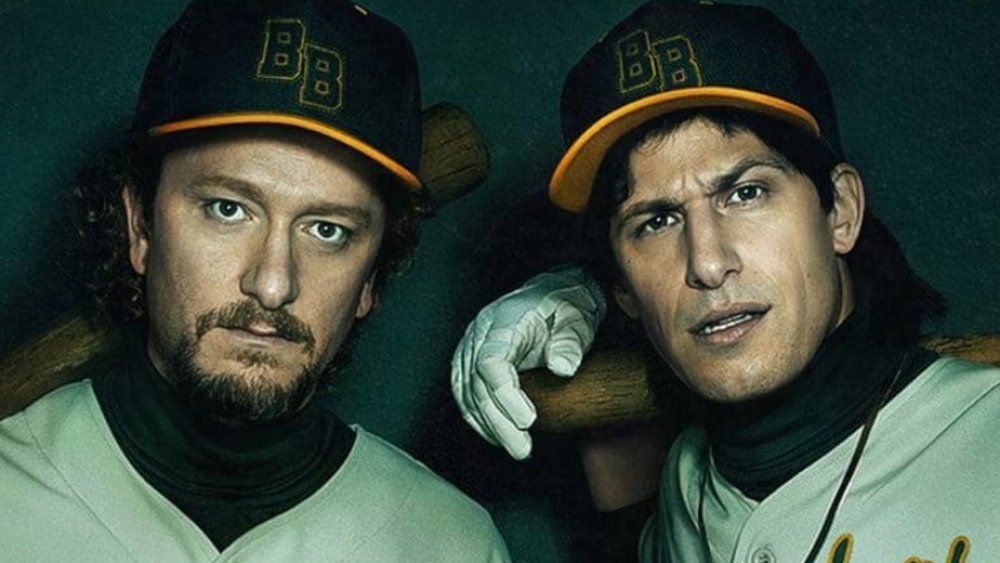 Ever since it expanded its offerings beyond mail order DVD rentals and forged a new frontier in streaming, Netflix has become one of the biggest names in entertainment, placing an incredibly appealing mix of original content and popular movies at your fingertips. There's plenty of television options, from mind-bending shows like Russian Doll and Stranger Things to mesmerizing documentary series like Tiger King to bingeworthy network favorites like The Office — but if you're looking for a good movie, Netflix has you covered there, too.
Sometimes, you might be in the mood for a serious drama, but other times, you might just want a good laugh. Luckily, Netflix has plenty of great comedies available, from goofy romps to classic teen movies, from comic book adaptations to original Netflix genre-benders. No matter what kind of laugh-fest you're looking for, you're sure to find something that works for you. Here's our ever-evolving list of the best comedy movies you can watch on Netflix right now.
Set It Up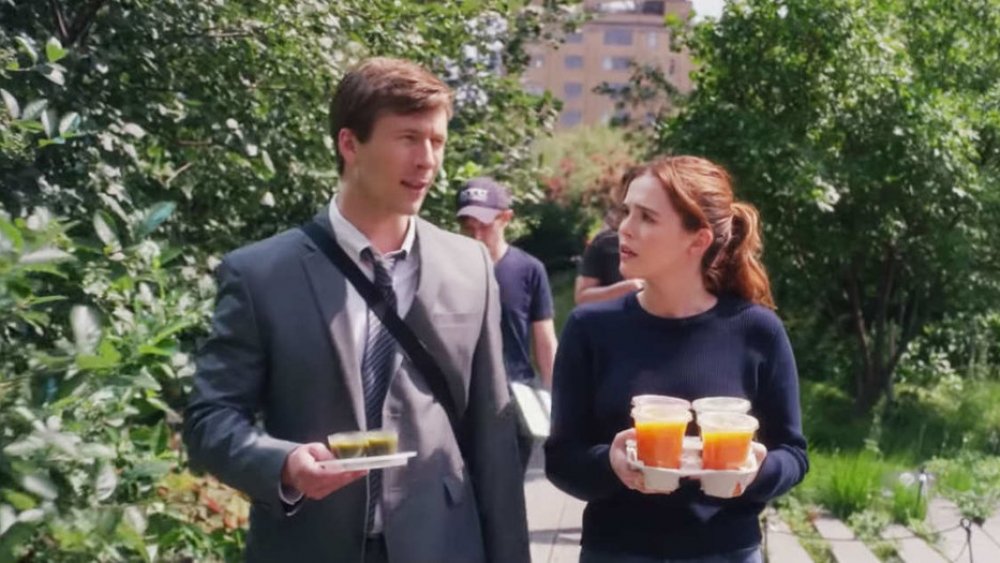 Netflix has produced plenty of original films throughout the past few years, and when it comes to romantic comedies, the service has produced some extremely strong outings with great modern takes on the genre. Claire Scanlon's Set It Up, released in 2018, is one of the very best examples, using a classic romantic comedy structure to great effect thanks to the chemistry between its two leads and some very familiar faces playing supporting roles.
The film tells the story of two overworked assistants, Harper (Zombieland: Double Tap star Zoey Deutch) and Charlie (Top Gun: Maverick's Glen Powell) who realize that if they set up their demanding bosses, editor Kirsten Stevens (Lucy Liu) and entrepreneur Rick Owens (Taye Diggs), they might be able to lead normal lives. However, when their bosses do get together, the two realize that their mission might be harder than they anticipated, complicated by the fact that they're clearly developing feelings for each other as well. Thanks to supporting turns by Saturday Night Live star Pete Davidson and Search Party standout Meredith Hagner — not to mention pitch-perfect leading performances by Deutch and Powell — Set It Up is a perfect addition to the romantic comedy genre, blending whip-smart jokes with a believable central romance and well-rounded characters.
Between Two Ferns: The Movie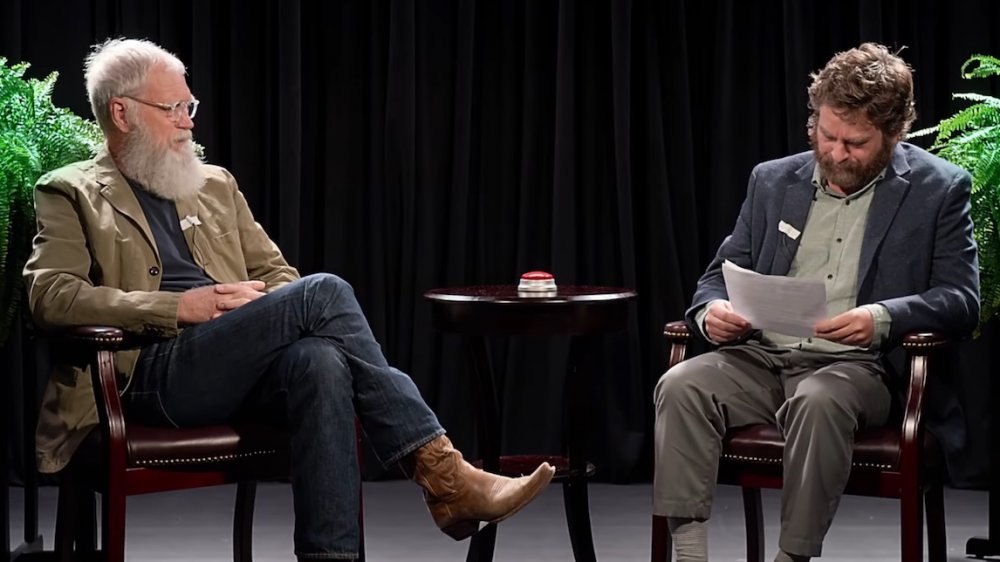 Ever since The Hangover, stand-up comic and actor Zach Galifianakis has become one of comedy's most recognizable stars, and throughout the years, you've probably caught an episode of two of his cringe-inducing "interview" show Between Two Ferns. The Internet series, produced by Funny or Die, imagines Galifianakis as a crude bully interviewing huge Hollywood stars on an extraordinarily low-budget public access show — and as the title suggests, he conducts every interview sitting between two potted ferns. Throughout its run, everybody from Brad Pitt to Natalie Portman to President Barack Obama appeared on the show. In 2019, Galfianakis returned to his spot between the ferns for a full-length original Netflix movie.
In the film, Galifianakis, playing a fictionalized version of himself, must conduct interviews with as many Hollywood stars as possible to keep the show on the air, embarking on a road trip along with his intrepid crew to track down as many famous faces as they can. From Tessa Thompson to Peter Dinklage, from David Letterman to John Legend and Chrissy Teigen, the film is packed with as many stars as the original series, and even though Between Two Ferns might seem like a one-off joke, the film delivers thanks to a nonsensical narrative, constant cameos, and Galifianakis' sheer commitment to the bit.
Ferris Bueller's Day Off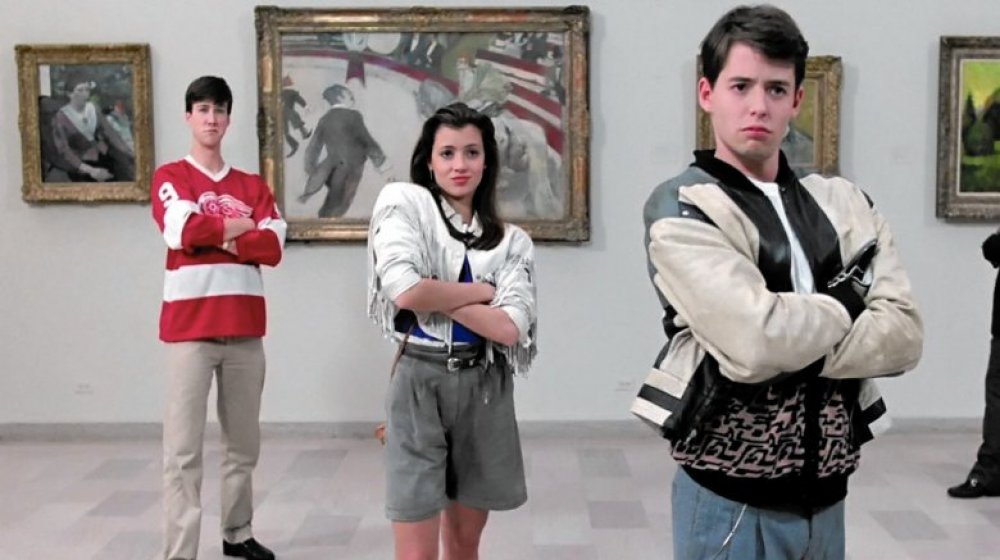 When you think of classic teen comedies, 1986's Ferris Bueller's Day Off is probably among the first examples that come to mind. Directed by teen movie king John Hughes, Ferris Bueller features Matthew Broderick in the career-defining title role of a smart, irreverent teenager in the Chicago suburbs who decides to plan the most epic skip day of all time rather than spend his time bored at school. After faking an illness, Ferris gets his cool, beautiful girlfriend Sloane (Mia Sara) and his skeptical, deeply anxious best friend Cameron (Alan Ruck) on board, and the three set off to have the perfect day in Chicago, complete with a parade, a baseball game, and the world's coolest car. Meanwhile, Ferris' principal Ed Rooney (Jeffrey Jones), convinced that his teenage nemesis is up to no good, wastes his day hunting Ferris down to no avail.
Throughout the years, Ferris Bueller has become one of the most beloved high school movies of all time, and no matter when you watch it, Ferris' antics remain pretty delightful. The film's success even inspired a spin-off television series, but the less said about that, the better. Whether you're watching it for the thousandth time or haven't spent a day with Ferris before, Ferris Bueller's Day Off is guaranteed to give your mood a total boost.
The Other Guys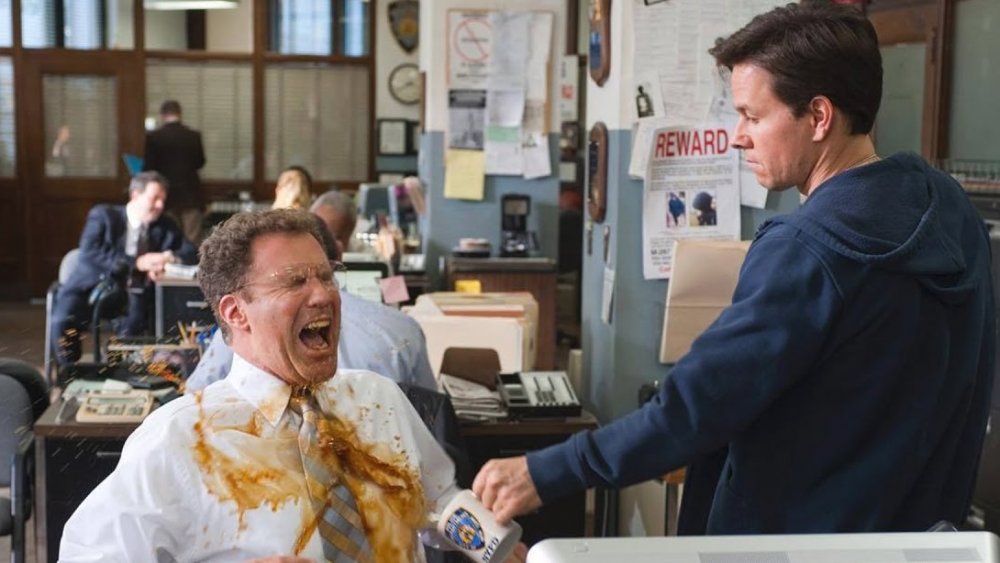 The "odd couple" comedy has been a go-to formula for years, and with frequent collaborators Will Ferrell and Adam McKay at the helm, you've got a surefire hit on your hands. This is on perfect display in 2010's The Other Guys, which stars Ferrell and Mark Wahlberg as two cops constantly at odds who must work together under particularly difficult circumstances.
As the film begins, Allen (Ferrell) and Terry (Wahlberg), two NYPD detectives, couldn't be more different. Allen is a forensic accountant and Terry, who's usually in the field, struggles with a quick temper. Other detectives in the precinct look down on both of them, especially since they seem so poorly paired, but when the two start investigating the high-profile deaths of two other detectives (played by Dwayne "The Rock" Johnson and Samuel L. Jackson in brief roles), they inadvertently uncover a huge conspiracy involving a corrupt billionaire and teams of mercenaries. Ultimately, the two unlikely allies have to work together to protect the precinct, their families, and themselves. Ferrell and Wahlberg work perfectly together on screen, and thanks to McKay's sharp direction and a super-funny script, The Other Guys is a surefire bet if you need a good laugh.
Hot Rod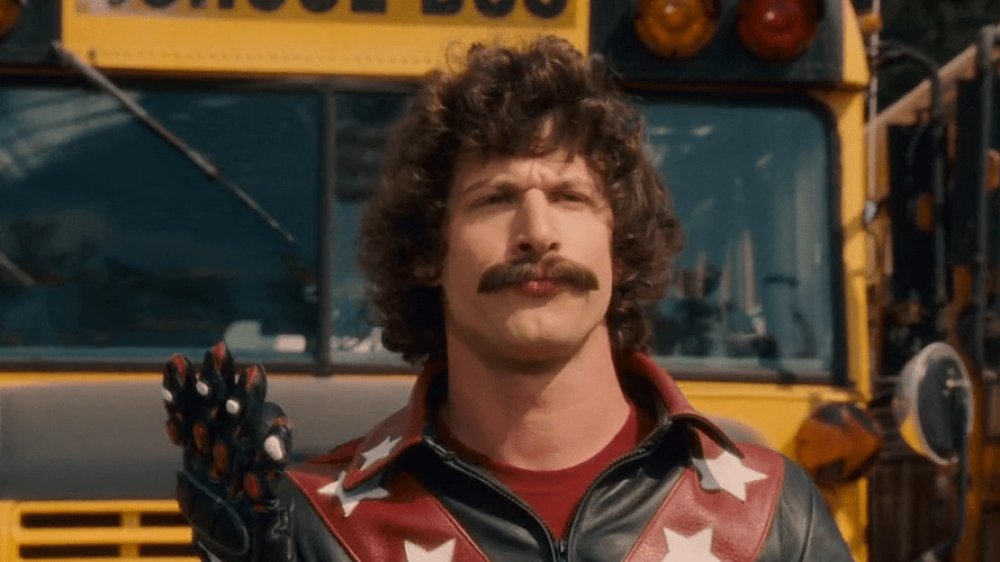 You might know the Lonely Island best for their Saturday Night Live digital shorts, but they've also made a handful of films, the first of which is available on Netflix for your viewing pleasure. In 2007, after gaining fame on Saturday Night Live — Andy Samberg spent time on the show as a cast member, while his cohorts Jorma Taccone and Akiva Schaffer worked as writers and appeared in the group's short films — the trio took over an ill-fated Will Ferrell vehicle about a subpar stuntman at Lorne Michaels' suggestion, and with Schaffer as director, they made their very first feature film.
Samberg stars in Hot Rod as Rod Kimble, who believes that his late father was a successful stuntman and is desperate to follow in his footsteps. With the help of a ragtag crew that includes his half-brother Kevin (Taccone) and his friends Rico and Dave (Danny McBride and Bill Hader), he frequently performs stunts for small audiences, despite the fact that he never pulls any of them off. However, when Rod's aggressive, macho stepfather Frank (Ian McShane) needs a heart transplant, Rod decides to stage the greatest stunt ever to raise money for the surgery and win over his crush Denise (Isla Fisher), all so that he can eventually beat Frank in physical combat. Hot Rod is definitely a weird, wild ride, but if you're a fan of the Lonely Island, you'll love watching these three comedians in their first ever film.
Scott Pilgrim vs. The World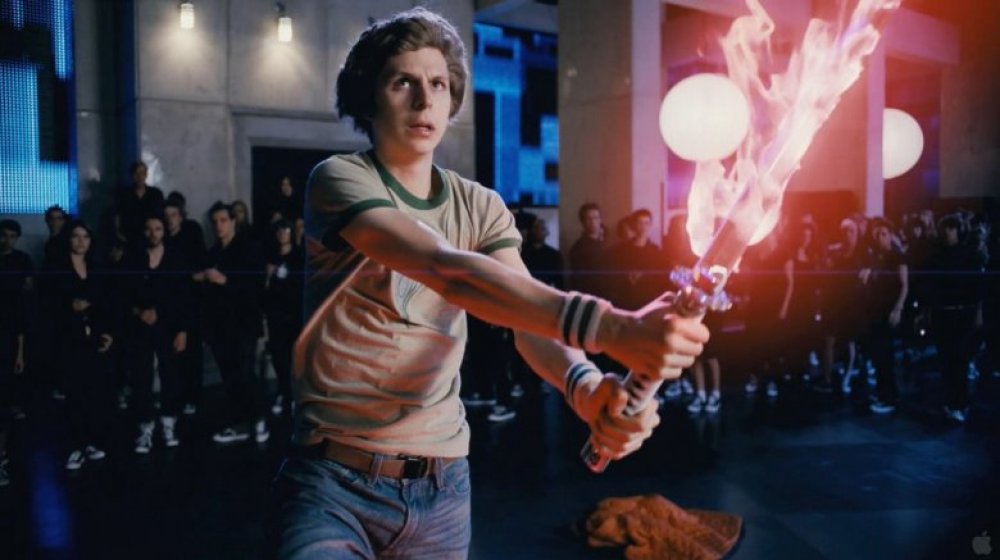 Comic book movies might feel a dime a dozen these days, but few of them are filled with as much whimsy, humor, and heart as 2010's Scott Pilgrim vs. The World. Starring Michael Cera as Scott, the film tells the story of a sweet, dorky guy who meets the girl of his dreams, Ramona Flowers (Mary Elizabeth Winstead), only to discover that she has seven evil exes that he must fight to fully win her heart.
By using video game and comic book visual effects (pulled directly from Bryan Lee O'Malley's comic series), not to mention director Edgar Wright's signature quick cuts, Scott Pilgrim employs a fantastic supporting cast that includes Aubrey Plaza, Anna Kendrick, Alison Pill, Jason Schwartzman, Succession standout Kieran Culkin, and even future Marvel Cinematic Universe superheroes Brie Larson (Captain Marvel) and Chris Evans (Captain America). This cult confection earned its place in the comic book and video game movie halls of fame, despite having a much cooler, weirder vibe than your average modern superhero blockbuster. If you're looking for a fun ride filled with laughs, quick jokes, and Wright's finely honed sense of humor, look no further than Scott Pilgrim.
Monty Python and the Holy Grail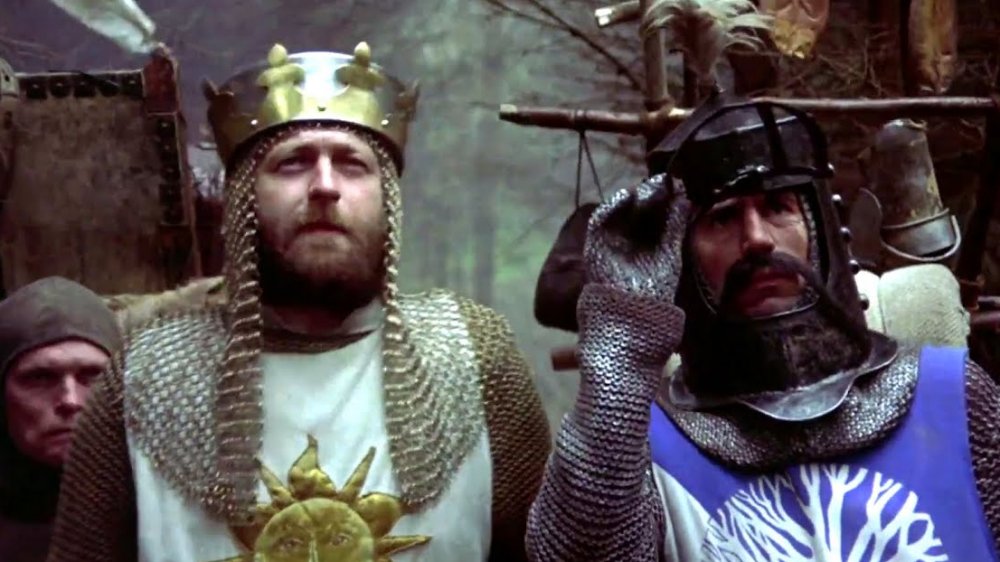 A list of great comedy movies definitely wouldn't be complete without the most popular effort from one of England's most enduring comedy troupes. The six men known as Monty Python are legendary for their classic sketches and feature films, but 1975's Monty Python and the Holy Grail, their absurdist take on the legend of King Arthur and Camelot, is probably their most beloved effort of all. With the usual crew playing a wide cast of characters, including Graham Chapman, John Cleese, Terry Gilliam, Eric Idle, Terry Jones, and Michael Palin, Holy Grail uses bizarre animation, song and dance, a framework involving a historian's murder, and insane jokes to perfect effect. The irreverence extends right into the opening credits, which devolve into an ode to Sweden and its moose population.
Holy Grail's legacy is undeniable, leaving a mark on comedy for the next several decades and even spawning its own Broadway musical — Spamalot, which opened 30 years later in 2005 and scooped up several Tony awards. Ultimately, Holy Grail's title is perfectly apt, in that it's truly the holy grail of comedy films.
The Lonely Island Presents: The Unauthorized Bash Brothers Experience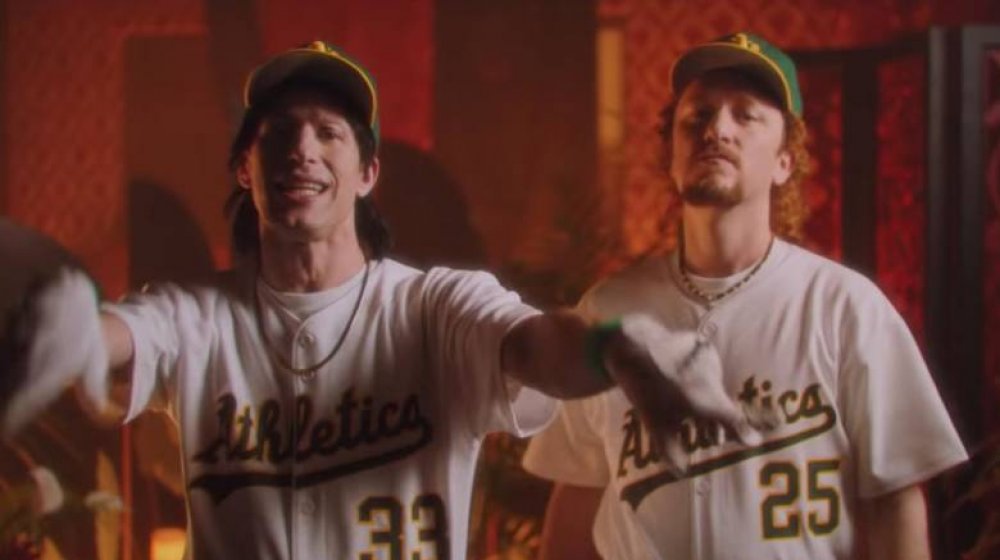 After Beyoncé made waves with two groundbreaking visual albums — 2013's Beyoncé and 2016's Lemonade — plenty of artists tried to copy her success, and some realized the style was ripe for parody. It took a few years, but in 2019, the Lonely Island took cues from Lemonade to create The Lonely Island Presents: The Unauthorized Bash Brothers Experience, a Netflix original film that imagines what would have happened if the famous baseball duo Mark McGwire and Jose Canseco had recorded an album... of raps.
Andy Samberg and Akiva Schaffer lampoon the two players, who were actually known as the "Bash Brothers" when they were both with the Oakland Athletics in the 1980s — Samberg plays Canseco, while Schaffer plays McGwire — infusing the entire thing with original Lonely Island songs and cameos from Jenny Slate, Sterling K. Brown, Maya Rudolph, Jorma Taccone, and more. The Unauthorized Bash Brothers might seem like a pretty specific joke, but thanks to the Lonely Island's joyful, lewd, weird sense of humor and ridiculously clever wordplay, there's something for everyone in this short film.
Sleeping with Other People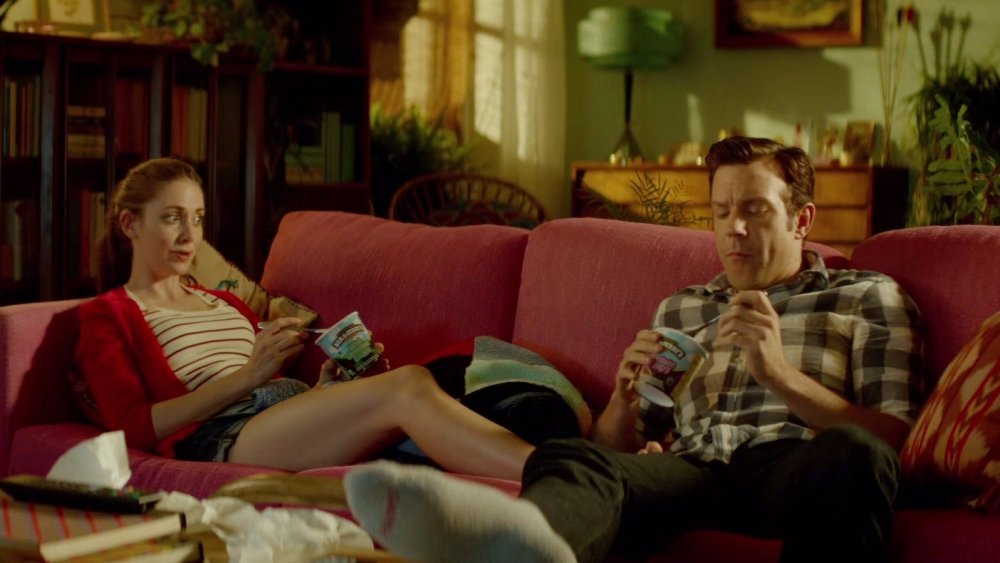 Before she turned her talents to creating acclaimed Netflix original shows like Russian Doll, writer and director Leslye Headland had a few feature film credits to her name, including the acerbic, clever romantic comedy Sleeping with Other People. Released in 2015, the film stars Alison Brie and Jason Sudeikis as Lainey and Jake, who meet in college and lose their virginities to each other before setting off to make their way in the world. Years later, they meet each other again in New York at a group for sex addicts, realizing they're both struggling with their romantic lives. Jake can't commit to anyone, and Lainey has just broken up with her long-term boyfriend after cheating on him for years with Matt (Adam Scott), her other college flame who's now engaged to someone else.
Though it's clear that Lainey and Jake still share a romantic connection, they struggle to avoid it, worried that they will only damage each other. Despite the fact that the film seems to follow a traditional romantic comedy structure, Sleeping with Other People is a much darker, stranger, funnier take on the genre, and definitely worth a watch for all kinds of audiences.