The Easter Egg You Probably Didn't Know Existed In Avengers: Endgame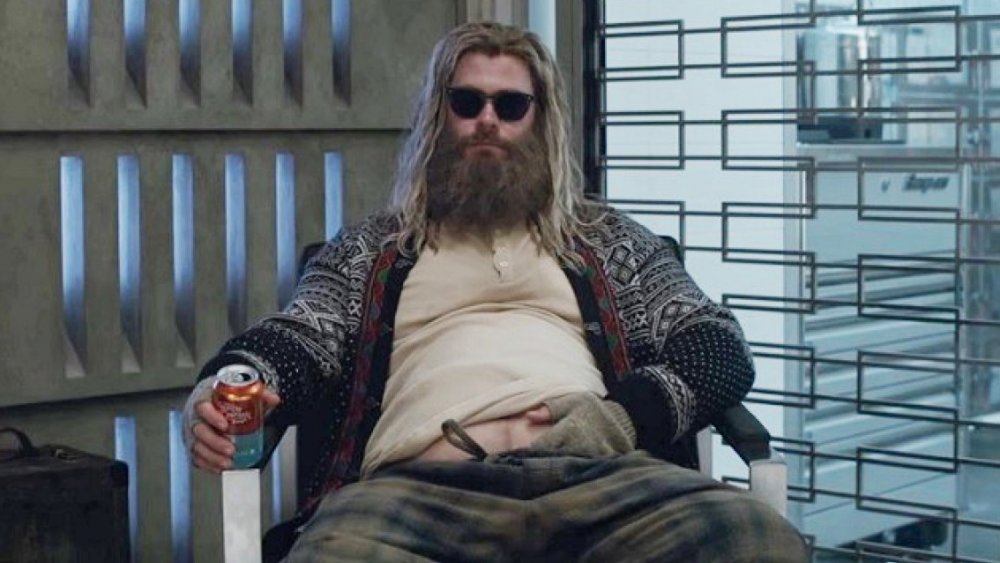 Disney/Marvel Studios
Avengers: Endgame is full of callbacks and amusing Easter eggs — not the least of which is Thor's (Chris Hemsworth) Fortnite addiction built in the five years after he beheaded the Mad Titan Thanos (Josh Brolin) in a fit of rage — but some of them are such inside jokes that someone who was there has to explain it to you. 
Such an explanation happened when the Russo Brothers, Joe and Anthony, hosted a livestream-slash-live-tweet event for Avengers: Endgame to celebrate its one-year anniversary of release to theaters. The co-directors went through their personal archive of memories, pictures, and videos to give Marvel Cinematic Universe fans something special for such a momentous occasion.
These personal anecdotes have revealed a particular deep cut reference: a set-favorite beer that comprises a Thor-related Easter egg that most of us probably didn't know existed in Avengers: Endgame. In a tweet posted to their joint Twitter account, the Russos explained that in the movie, Thor isn't drinking just any beer like water's going out of style — it's one that's special to the Endgame cast and crew.
"The entire crew was OBSESSED with a local Georgian beer called Tropicália. From an amazing brewery called @creaturebeer," the tweet reads. "We had to sneak it into the movie... you'll find it's Thor's drink of choice at the compound. #AvengersAssemble."
Apparently, this tropical IPA was such a hit for cast and crew to net a quiet little endorsement — though a few Atlantans replied to the Russos' tweet exclaiming how delighted they were to notice the local brew, with its characteristic orange-and-blue can, in the movie. Even at his lowest emotional point, Thor still has a cosmopolitan palate.
Tropicália: Thor's precious libation in Avengers: Endgame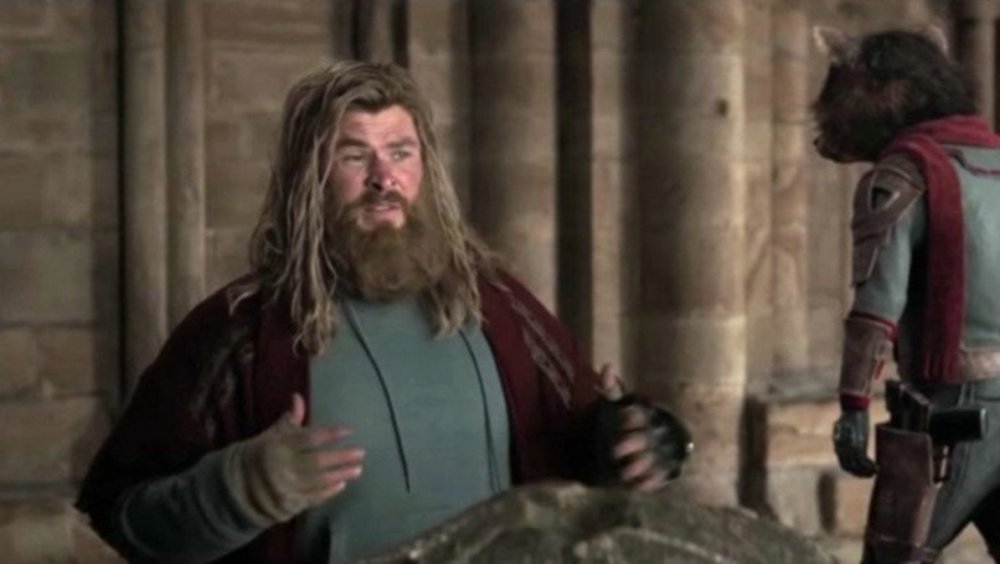 Disney/Marvel Studios
Creature Comforts' Tropicália is one of those microbrews that has attained legendary status in its hometown of Atlanta. It's astoundingly well-rated by Beer Advocate, but began as a simple passion project by David Stein in his free time before he took off on his own to found Creature Comfort in 2014. A 2017 Thrillist article dedicated an entire interview with Stein to asking questions just about this beloved beer, and even included an explainer on secret ways locals employ to get ahold of a six-pack, as Tropicália is so popular that it can be impossible to find in grocery stores.
One can't help but wonder whether the Russos and their team might've been responsible for a minor shortage of Tropicália during Avengers: Endgame's production due to their little workplace obsession. No doubt that demand will skyrocket anew with this extremely high-profile shoutout, too. It's not every day a beer gets a directorial duo's personal recommendation; we just hope the brewers print the tweet out and frame it somewhere in their facility. It's what Thor would want.