American Horror Story: First Look At Season 6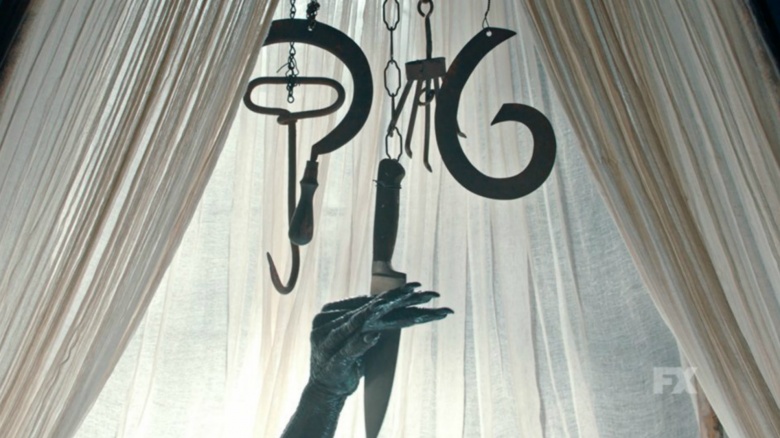 The long-awaited first teasers for American Horror Story season 6 have finally made their way online, but they'll make their way into your nightmares almost instantly.
Showrunner Ryan Murphy has always been cryptic when revealing clues about the themes and plots of the hit FX anthology series, but he's taken even longer than usual for season 6. The snippets are brief, but they offer a tantalizing glimpse at the horror to come. Season 5 co-star Lady Gaga tweeted all the teasers (via Entertainment Weekly), and her appearance in one confirms her involvement with season 6.
The first teaser shows a baby crib with a mobile adorned with a knife and pitchfork looms above it. When the sound of a baby crying stops, a green hand quickly grabs the knife. In the second teaser, a woman runs down a dark staircase while hands grab at her feet and ankles. In the third, a centipede crawls down Lady Gaga's face as her eyes glow bright green. In the fourth, a family approaches the camera at dusk with glowing eyes similar to Village of the Damned (1960). Next, there's a man who has the season 6 logo stapled into his scalp. And in the final one, we see a farmhouse in the distance with a black pillar of smoke rising from the chimney in the shape of a question mark.
What does it all mean? Mostly, it means we'll likely have to wait to learn all the details until the premiere on Sept. 14.