Here's How Much Money Joe Exotic Is Worth
Netflix
It's the question that's been on everyone's mind since Netflix dropped its zeitgeist-y docuseries, Tiger King: Murder, Mayhem and Madness: Just how much money is there in hoarding big cats in a cult-slash-zoo?
Joe Exotic (real name: Joe Maldonado-Passage; birth name: Joseph Schreibvogel) is the standout star of Tiger King. The true crime docudrama chronicles his outrageous lifestyle at the Greater Wynnewood Exotic Animal Park, better known as the G.W. Zoo. While the untold story of Joe Exotic's life is often stranger than fiction, some of the details hint at a substantial fortune that the series never quite quantifies. For example, Exotic was once married to two men at the same time, John Finlay and Travis Maldonado, and though Exotic lived his life as an openly gay man, it's been claimed that Finlay and Maldonado were likely straight. According to John Reinke, a former zoo manager, Exotic allegedly won the men over with drugs and many lavish gifts (via USA Today).
Exotic began life on a working farm in rural Kansas — a far cry from the exciting life he lead during his time wrangling big cats. He left home in the '90s and purchased an old horse farm, which ultimately transmogrified into the bizarre G.W. Zoo. Since the over-the-top presents and illicit substances that Exotic purportedly purchased and gifted to Finlay and Maldonado tend to cost a pretty penny, one might wonder exactly how much cash Exotic had on hand, and how a humble Kansas farm boy made his money.
Exotic inherited a small fortune, and grew it at the zoo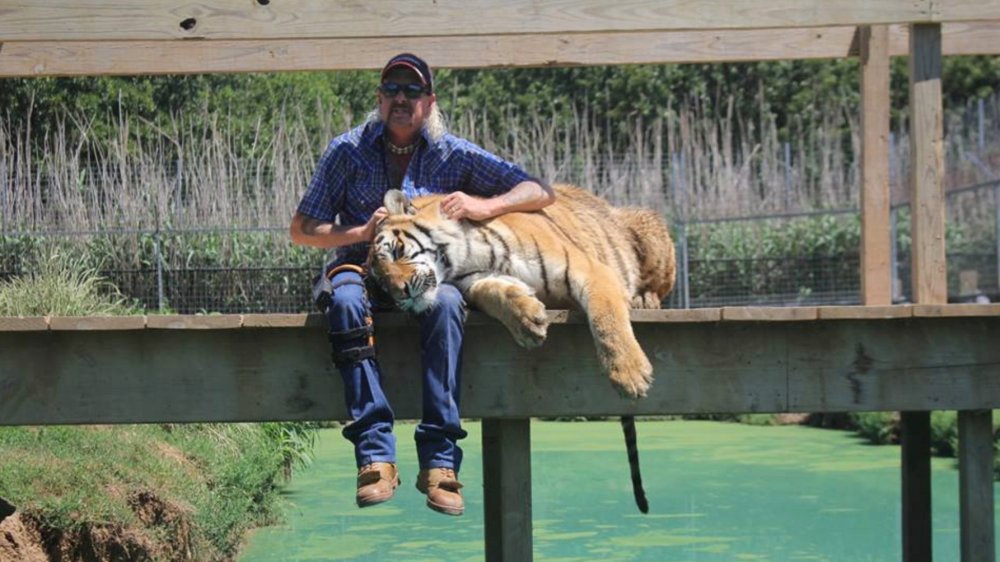 Netflix
According to The Cinemaholic, the best estimates peg Exotic's net worth at somewhere around $10 million. Big cat wrangling must be good work, if you can get it. 
Despite his ostensibly humble farm boy roots, Exotic had the benefit of a sizable inheritance that allowed him to get G.W. Zoo off the ground. He received $250,000 from a rich grandfather who passed away, and another $140,000 from a lawsuit against the trucking company that killed his brother in a highway accident.
That's a nice bit of seed capital, but it's a far cry from the $10 million he had reportedly amassed by the time he went to jail for the crimes documented on Tiger King. Where did the rest come from? Shockingly, G.W. Zoo was actually a pretty healthy business. According to Texas Monthly, G.W. Zoo's annual revenue grew from $117,022 in 2001 to $539,320 in 2006. Revenue likely increased on a similar scale over the ensuing years.
Even though Exotic is now doing time for the attempted murder-for-hire of his archnemesis, animal rights activist Carole Baskin, he hasn't given up trying to increase his fortune. According to the New York Post, Exotic has filed a jailhouse lawsuit against the U.S. government, seeking $94 million in damages. Among the claims in Exotic's filings is a demand for $78.8 million from the U.S. Department of Fish and Wildlife Service for the loss of his prized tigers. He's also seeking a presidential pardon for his crimes; if granted one, Exotic could be reunited with most of his $10 million fortune upon release.